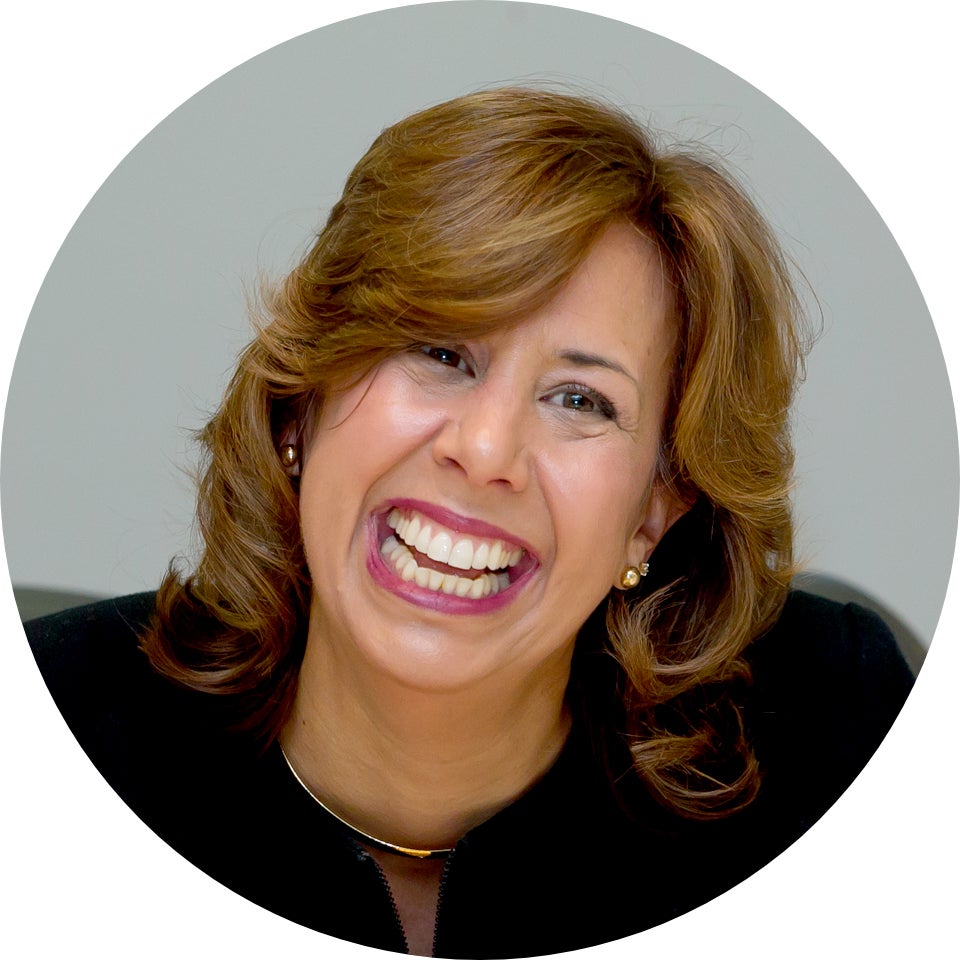 2021 represented a pivotal year for us all. The development, approval and ultimate distribution of the COVID-19 vaccines helped us improve public safety and provided chances to resume a sense of normalcy in our daily lives. We were able to enhance messages of lockdowns, mask mandates, quarantining and social distancing to include information about life-saving vaccines. As we began returning to our physical workspaces and reconnecting with colleagues in person, hope, backed by science, replaced our former fears and uncertainty.
A new normal emerged — a hybrid of our pre-pandemic lives blended with innovations in our work and routines. This new normal offered kinship based on all that we had shared, and it fostered gratitude for opportunities to be together.
UL's sustainability journey made great strides in 2021, too.
In completing our third year of sustainability reporting, we've gained increased awareness of and appreciation for the impacts we make on our people, our planet, our prosperity and our need to connect with one another through partnerships.
As more UL employees worldwide returned to the workplace, we shared a deepened appreciation for the homes and communities that shelter and serve us. This led us to launch Impact 100, a global campaign to reignite our One UL spirit and to show our gratitude and support for our communities' safety and well-being. During Impact 100, UL employees connected through volunteerism and organized acts of caring and kindness within our local communities and around the world.
"Throughout the pandemic, we've gained awareness and admiration for the power of positive societal impact when we partner together."

Barbara R. Guthrie
Vice president, corporate sustainability
In 2021, we witnessed both the strength and vulnerability of our planet. As a science-based company, we understand that we must reduce carbon emissions in line with climate science to mitigate the worst impacts of climate change. The 26th UN Climate Change Conference of the Parties (COP 26) focused on recognizing the need to set more ambitious targets to reduce greenhouse gas emissions by 2030, pivoting to a renewed decade of climate action.
To do our part, UL's subject matter experts performed the critical work to establish our commitment to the Science Based Targets initiative (SBTi). This public commitment offers a clearly defined pathway to enable a low-carbon future for UL. It helps us prioritize our investments, improve business continuity and resilience, hold ourselves accountable and deliver on our mission: working for a safer, more secure and sustainable world.
This year, we've elevated our environmental, social and governance (ESG) reporting with more evidence-based data across all material disclosures. We operationalized our ESG data collection processes, employing the reporting capabilities of UL's ESG software solution, 360 Sustainability, to the fullest. We submitted our first Advanced Communication on Progress to the United Nations Global Compact and are sharing our Global Reporting Initiative (GRI) index for stakeholders, delivering on the continuous improvement and comprehensiveness of our ESG reporting.
We believe in the power of purposeful partnerships and have exercised this power through our corporate sustainability strategy, optimizing our human capital, our brand capital and our financial capital as we share our mission. We also mobilized our in-house experts in safety, security and sustainability to drive operational excellence.
We are grateful to have completed our 2021 Materiality Assessment, listening and learning from all our stakeholders, both internal and external, about sustainability issues as we continuously validate or refine our strategies and focus moving forward.
Our 2021 Sustainability Report reflects our progress and measurable impact toward sustainable development in this pivotal year.
I am so proud of how far we have come in our sustainability journey, and I am so excited about what the future holds. Lastly, I am so thankful we get to be together, working on our shared mission for a safer, more secure and sustainable world.

Barbara R. Guthrie
Pronouns: she, her, hers
Vice president, Corporate Sustainability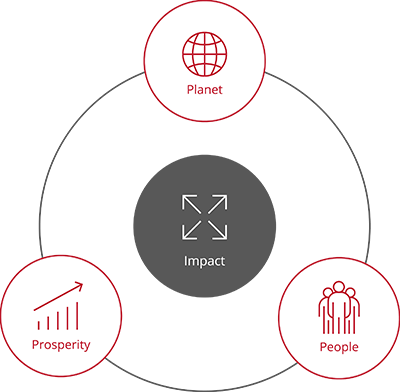 Our commitment to reporting our operations' impact on planet, people and prosperity began in 2019 with the publication of our first sustainability report. 2021 marks our third annual report, published on Earth Day of the subsequent year. We have grown in our coverage, in our understanding of our many stakeholders' interests and in our ability to capture and analyze data from across the enterprise. This year, we submitted our first Advanced Communication on Progress (CoP) to the United Nations Global Compact, demonstrating our support and alignment to its Ten Principles focused on human rights, labor, the environment and anti-corruption. As a committed Participant, we'll continue to submit our progress to the Compact each year in addition to publishing our own reporting. 
As a purpose-driven organization, we align our reporting in accordance with the Global Reporting Initiative (GRI). Stakeholder input defines material topics, as does relevance to our industry and fulfillment of our mission and company strategy. The GRI equally values double materiality as a guiding principle. Therefore, the GRI guides companies to report on topics that may not only be financially material and impactful to the value of the organization, or may positively — or negatively — impact the environment, people and economy in general or both.    
As a private entity, we do not publish financial information, but we attempt to disclose as clearly as possible on other sustainability topics and activities material to our stakeholders. We operate in support of the United Nations Sustainable Development Goals (UN SDGs), aligning our sustainability strategy and initiatives toward progressing all 17 Global Goals, and striving to quantify and share our impact. We recognize that our core operations make the largest impact on Goals #3, #11 and #12 and continually seek to measure the combined impact of our Corporate Sustainability initiatives and our ESG-enabling customer solutions as we mature in our data-gathering and analytical capacity along our reporting journey. 
Scope and boundaries
The scope of this Sustainability Report covers the UL Inc. enterprise, including all subsidiary entities for the year beginning Jan. 1, 2021, and ending Dec. 31, 2021. Where possible, we provide measurable key performance indicators (KPIs). All previous reports are available to download on our Corporate Sustainability page for reference.
Data management
We use our own award-winning 360 Sustainability, ESG reporting software to collaborate with colleagues effectively across our global locations to report, track, analyze, assess and maintain data governance at every step in preparation for reporting. The tool enables us to capture framework-specific disclosures as well as energy, water and waste data. The 360 advisory team works alongside the Corporate Sustainability team to assist our sustainability reporting and enable our science-based target commitment.
Corporate Sustainability mobilizes UL's mission to work for a safer, more secure and sustainable world. We view our customers and stakeholders as partners to our purpose and prioritize collaboration and collective impact as we empower them to achieve and share in our mission. Applying our human, brand and financial capital to progress the world's well-being represents the foundation of our Corporate Sustainability strategy. UL's Corporate Sustainability team includes a designated vice president of Corporate Sustainability and two senior managers responsible for UL's environmental and social sustainability strategies and initiatives. Our dedicated ESG reporting lead carries the responsibility for UL's annual sustainability reporting and ESG disclosures provided to additional sustainability platforms and frameworks.   
Corporate Sustainability leads UL's sustainability journey and drives enterprise impact and a company culture of sustainability via thought leadership, functional and operational integration, supportive communications, educational opportunities and community outreach. This creates a culture of sustainability mindset across our organization and within our communities, ultimately delivering significant value to our businesses, services and society.    
Globally, we partner with other responsible businesses aligning to the UN SDGs and the Ten Principles of the United Nations Global Compact. We invite the public to share in our journey and progress via sustainability reporting and community outreach. Our global colleagues and internal sustainability experts help us define and meet our objectives through the Corporate Sustainability Council and various SME task forces.   
With every objective we undertake, we seek to optimize our human, financial and brand capital to make a durable positive and sustainable impact on the stakeholders we serve, including all of society. We focus on the UN SDGs where our culture, behavior and businesses can best amplify and achieve progress.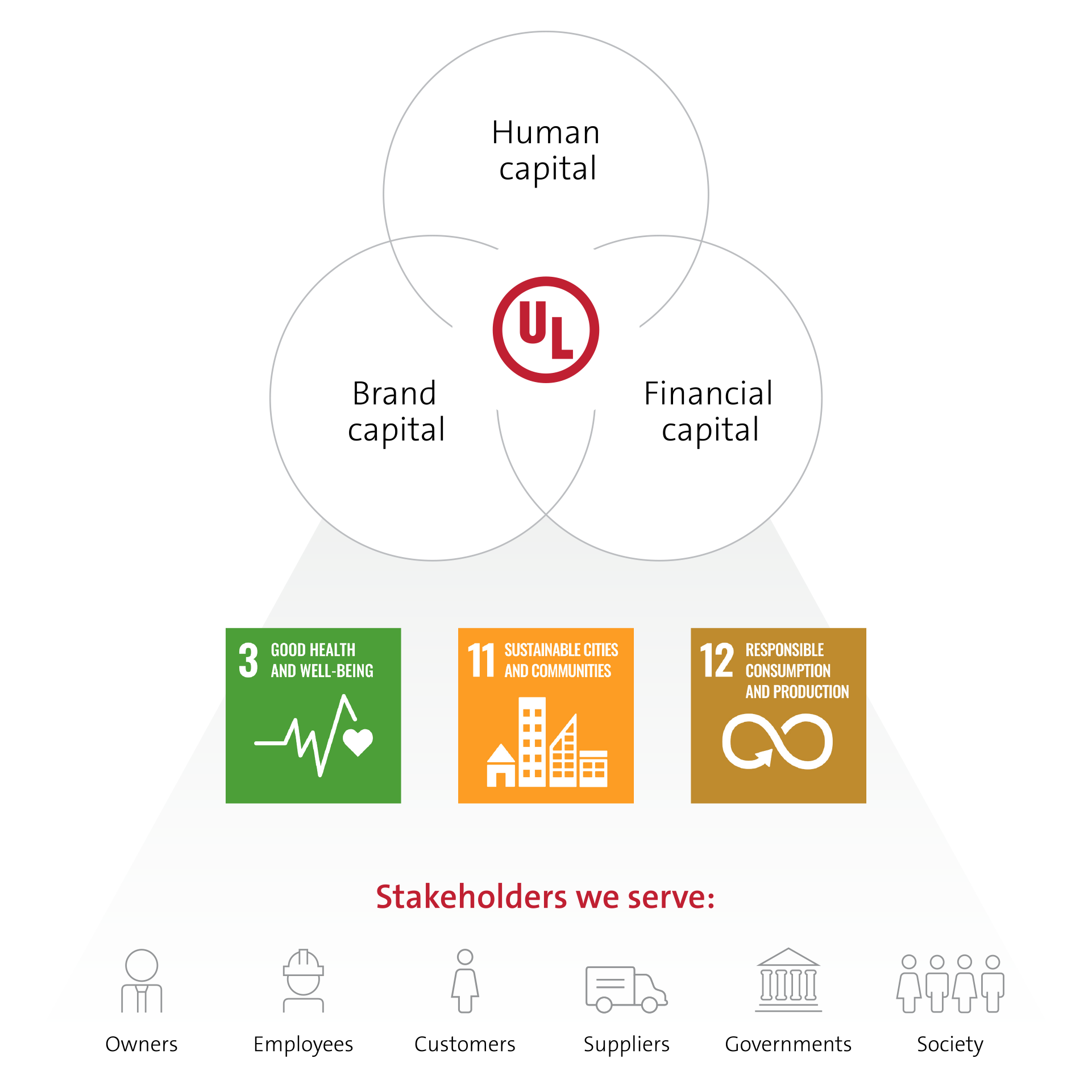 Our stakeholders
We regularly engage with our stakeholders in an ongoing fashion by publishing research, white papers, webinars and tutorials on UL.com and through our subject matter experts' engagement at conferences and industry events, both virtual and in-person. Our Customer Advocacy group works directly on issues that impact our customers' overall experience with UL, ensuring that all UL functions and geographies proactively address any issues that may impact the fulfillment of our services and overall customer satisfaction. We include customers and other stakeholders at regular roundtables and annual meetings like industry and association policy meetings. 
We survey our global colleagues annually and offer them multiple ways to voice concerns and ideas, whether through one of our reporting platforms, through the HR, Legal and Ethics and Compliance offices or via Corporate Sustainability initiatives and task forces. UL University (ULU) supports advanced training and education, while our company intranet, employee-led Business Resource Groups and development portal offer even more avenues for colleagues to inform and influence our culture and decision-making. 
Our social sustainability projects engage us with our local community members and NGOs while UL's Global Government Affairs group consults on public policy and political developments, nurturing critical relationships with local governments across our geographies. Our onboarding process and engagement with our Standards of Business Conduct (SoBC), Supplier Code of Conduct and additional policies support our supplier relationships.  
We regularly address topics raised by stakeholders' concerns during UL's monthly Corporate Sustainability Council meetings and in the company's public reporting, including UL's Annual Report, DEI Report and Sustainability Report, as well as at the organization's annual meetings and other opportunities in alignment with our SoBC.
2021 Materiality assessment
---
In 2021, we conducted a comprehensive, third-party materiality assessment with ERM to consult with our stakeholders on environmental, economic and social topics. We had previously conducted materiality assessments in 2014 and 2018 that informed our foundational sustainability strategy.
Our process
The Global Reporting Initiative's (GRI) Reporting Principles guided our process. We also considered the Sustainability Accounting Standards Board's (SASB) Conceptual Framework and other global reporting frameworks to identify relevant topics for inclusion in the assessment. This assessment determined the relative importance of ESG topics to UL and our internal and external stakeholders, based on the topic's potential risk, opportunity and the significance of UL's impact.   
This assessment included desk research of peers, macro trends, sustainability industry standards and investor sustainability assessments. The assessment providers also surveyed and interviewed internal and external stakeholders, with nearly 500 UL employees from around the world participating, along with 20 stakeholders representing customers, NGOs, industry groups, owners, standards organizations, academia and sustainability allies. UL's regional and global leadership and Chairman of the Board gave interviews to provide direct operational and strategic insights. We reviewed and approved the results of the assessment during validation workshops involving our executive leadership, ERM and the Corporate Sustainability Council.  
The results support the strategy that we've held since forming our Corporate Sustainability function while providing current additional perspective and prioritization and allowing that the importance of any given topic may fluctuate with time and changing context.

Material ESG topics
Our 2021 assessment incorporated and defined these topics as material to UL based on the assessment team's research. The definition of materiality used is the GRI approach to double materiality, meaning that these topics may be financially material and impactful to the value of the organization, or may positively — or negatively — impact the environment, people and economy in general, or both. Not all of the topics identified below are financially material to our business, operations or financial statements. They are listed here in alphabetical order by category.
The concept of materiality used in this report, including where we use the word "material" or "materiality," is based on definitions of materiality specific to UL. While certain matters discussed in this report may be significant, not all matters are material. Furthermore, some material discussions may require a level of estimation and assumption that may make the resulting disclosures inherently uncertain.
Disclosure statement
Statements contained in this report that are not historical facts are based on current expectations, estimates, projections, opinions and beliefs of UL. Such statements involve known and unknown risks, uncertainties and other factors, and undue reliance should not be placed thereon. In addition, certain information contained herein represents or is based upon forward-looking statements or information, including ESG-based initiatives, and while UL believes such information is based on reasonable assumptions, forward-looking statements are inherently uncertain and actual events or results may differ from those projected. Therefore, undue reliance should not be placed on such information. In addition, statements in this report are based on UL's views at the time that this report was drafted and do not represent a commitment to ensure that specific targets, policies, programs, or other forward-looking actions are achieved or to provide further updates.
| ENVIRONMENTAL |   |
| --- | --- |
| Biodiversity and sustainable land use | Protecting biodiversity and healthy ecosystems, which provide food, medicine and natural resources  |
| Climate resilience | Managing the physical, transitional, financial risks and opportunities presented by climate adaptation and resilience, both within our operations and regarding our customers' needs  |
| Decarbonization | Managing and reducing greenhouse gas (GHG) emissions throughout the company's value chain, including Scope 1, 2 and 3 emissions |
| Energy | Reducing our worldwide usage of fossil fuels and transitioning to renewable energy generation and purchasing |
| Outdoor air quality | Managing and improving outdoor air quality (related to non-GHG emissions) including ozone-depleting pollutants related to emissions into the atmosphere from UL's operations  |
| Sustainable procurement | Monitoring and strengthening environmental management throughout our supply chain and addressing key areas of risk and opportunity |
| Waste | Responsibly managing both hazardous and non-hazardous waste in our operations, diverting waste from landfills and engaging in responsible, collaborative and innovative methods to repurpose the materials that leave our owned and operated locations |
| Water | Effectively managing water by reducing our worldwide water consumption with a focus on water-stressed regions; finding new ways to recapture, recycle and reuse water in our operations |
SOCIAL
 
Community investment and impact
Supporting sustainable development, resilience and equity in global communities through volunteering and philanthropy
Customer satisfaction
and ESG enablement
Delivering world-class services to our customers to support them in achieving their organizational ESG goals
Diversity, equity, inclusion and gender equality
Fostering diversity, equity and inclusion within our workforce, supply chain and communities worldwide. Building a workforce representative of the communities in which we operate, establishing and supporting programs both internally and globally that support women's empowerment and gender equality
Health, safety and well-being
Managing and improving mental and physical health, safety and well-being for our employees, customers and suppliers; creating a safety-focused culture including managing incidents and minimizing operational risk; indoor air quality, utilizing digital tools to operationalize health and safety management
Human rights
Respecting human rights throughout our value chain consistent with international norms and remedying any breaches within our operations, including (but not limited to) respecting the right to collective bargaining, fair labor practices and working conditions for direct UL employees and those within UL's supply chain
Talent attraction and engagement
Hiring, managing, developing and retaining diverse talent through an inclusive culture, enhanced learning and development opportunities and a supportive benefits program, including volunteerism
| GOVERNANCE |   |
| --- | --- |
| Corporate governance | Maintaining the standards, structures, and processes to ensure the diversity and independence of the Board of Directors as well as the effective governance of UL and its ESG strategy, goals and programs |
| Cybersecurity and data privacy and protection | Effectively managing digital security to prevent unauthorized access to UL's systems; managing our internal systems and customer services in a manner that protects the collection, analysis, use, storage, transfer and sharing of information from unwanted parties, unauthorized access and security threats, including cyberattacks |
| Ethics and compliance | Promoting stringent ethical standards and combating corruption in all of our business interactions, including in joint ventures and with business partners, customers and suppliers |
| Geopolitical stability | Monitoring both national and international geopolitical volatility and its subsequent impacts on the transition to a more sustainable world, engaging with governments on material sustainability issues where appropriate |
| Innovation and research | Investing in research and development and leveraging new and emerging technologies to develop new products and services that facilitate the transition to a more sustainable world |
| Regulatory engagement | Engaging with regulators and policymakers on issues material to UL's interests |
Outcomes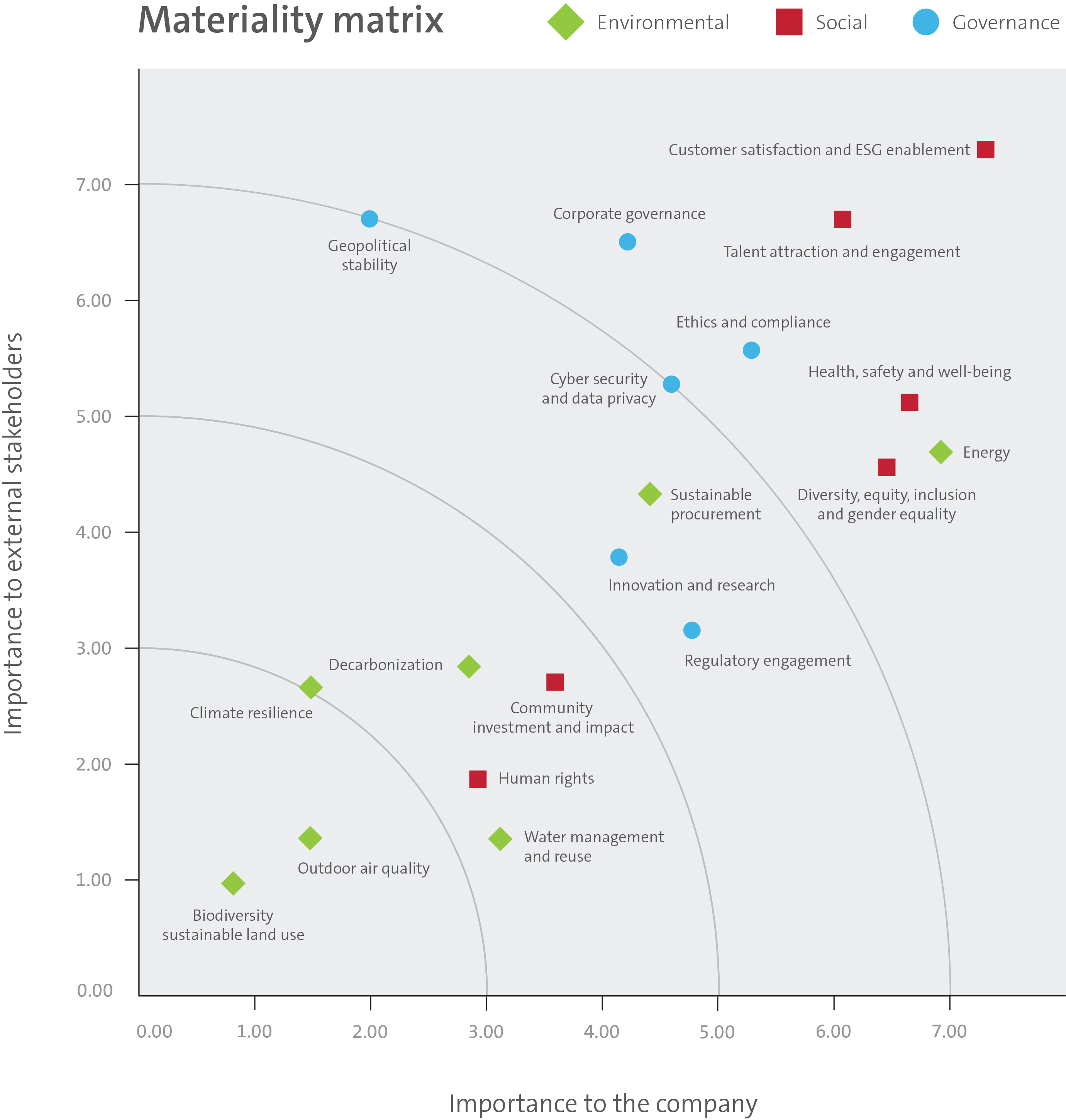 Analysis
The sustainability materiality assessment results solidified our strategic focus on UN SDGs #3 (Good Health and Well-being), #11 (Sustainable Cities and Communities) and #12 (Responsible Consumption and Production) with health, safety and wellbeing, energy, and ESG enablement all identified within Tier 1, our highest priority ESG topics. We are excited and encouraged by the validation of our focus with customer satisfaction and ESG enablement measuring as the highest priority topic for our internal and external stakeholders. This aligns with our operating strategy and the fulfillment of our mission.
The high prioritization of talent attraction and engagement and diversity, equity, inclusion and gender equality authenticate the importance of our ongoing efforts to nurture and reward our talent across the enterprise while affirming our commitment to do more. Given our mission-driven history and high-integrity business and culture, we are pleased to see that ethics and compliance continue to hold high value as we maintain our uncompromising focus to exceed stakeholder expectations.
Given the global challenges we faced in 2021, we understand the elevation of cybersecurity and data privacy and geopolitical stability, now measuring between Tier 1 (highest priority: drivers for ESG strategy) and Tier 2 (continuing internal efforts). 
The insights and observations brought forth in this 2021 materiality assessment motivate us. While the highest-priority topics shall drive our near-term strategy and resource investment, each ESG topic is valuable to our success and we will continue to monitor and incorporate them into UL's enterprise risk management as well as our Corporate Sustainability strategy and objectives.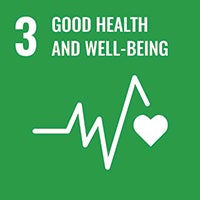 Ensure healthy lives and promote well-being for all at all ages.
Public safety and the reduction of preventable deaths has been our priority since UL was founded in 1894.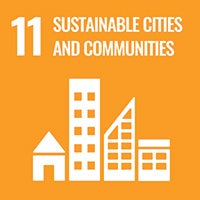 Make cities and human settlements inclusive, safe, resilient and sustainable.
UL's work helps support the kinds of innovative, secure and safe living and working environments that our people, planet and future prosperity require.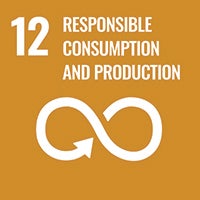 Ensure sustainable consumption and production patterns.
UL addresses our own consumption of resources with dedicated environmental task forces; while our services and offerings enable our customers to reduce waste, employ sustainable business practices, explore circularity, achieve supply chain transparency and adopt the safe proliferation of renewable energy.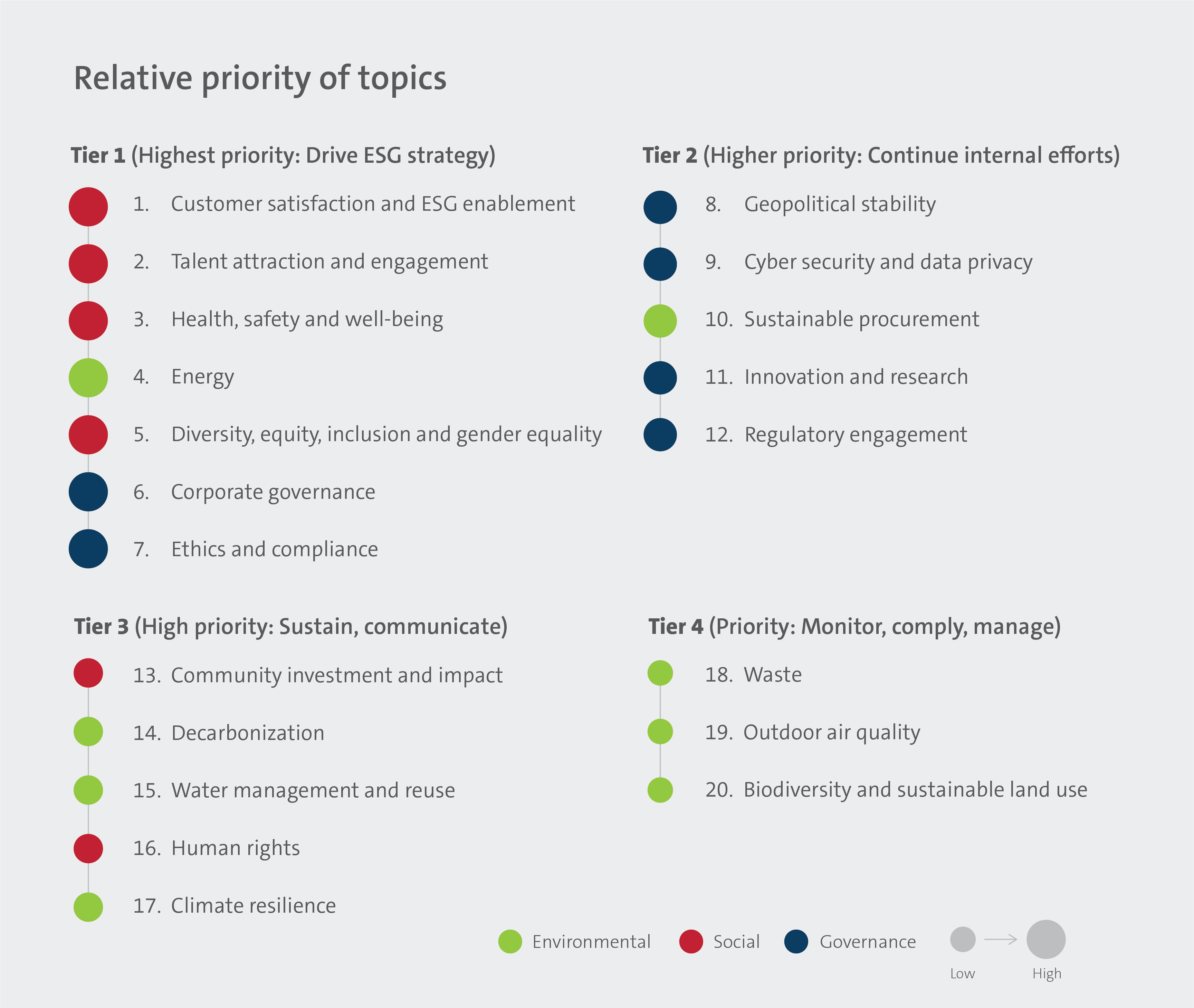 Next steps
Our 2021 materiality assessment confirms that our sustainability journey is on course while providing us with additional directives to consider.  As our work and the world evolve, we'll continue to engage with our stakeholders to assess our strategy and make certain we remain conscious of what matters most. Going forward, we'll continue to prioritize managing these ESG topics within our comprehensive corporate sustainability strategy and integrate their management into our businesses, advancing our operations and the services we offer.  
We are enthusiastic about new programmatic improvements, stretching our capabilities, holding ourselves accountable and exemplifying sustainability through our words, actions and services.   
As our stakeholders expect, we will work to meet the increasing global need for ESG service solutions and to apply our safety science expertise to renewable resources, environmental stewardship, supply chain management, diversity and inclusion, workplace conduct, human rights, philanthropy and support for our local communities. Our mission, strategy and operational focus revolve around continuing to advance our sustainability leadership to meet the world's demands. We will continue to invest in and focus our science-based expertise on addressing the sustainability trends, risks and opportunities fundamental to our long-term prosperity.
Across the enterprise, we regularly review key global market challenges and opportunities, including sustainability and ESG trends. We do this during the normal course of serving our customers, delivering a broad range of safety, security and sustainability service offerings through our interactions with standards, regulatory and government forums, and our global strategic planning and risk management work. We incorporate the increasing demand for sustainability and ESG solutions and the corresponding commercial opportunities directly into our strategic, investment and operational plans.
Board of Directors and CEO
UL Inc.'s board of directors (BOD) oversees the company's management and affairs through board actions and standing committees. Board committees include the audit committee, compensation committee, finance committee and governance committee. The BOD and CEO offer oversight and approval for UL's corporate sustainability strategy, activities, commitments and ESG reporting.
Corporate Sustainability Council (CSC)
This highly engaged employee council representing all businesses, functions and geographies governs and implements our sustainability strategy, initiatives and integration. Every council member makes a personal commitment to help develop a culture of sustainability and to help integrate sustainability goals within their respective functions.
The CSC defines key sustainability goals and contributes to thought leadership internally and externally. The CSC analyzes social, environmental and economic opportunities to support UL's sustainability strategy and ensures business alignment. The Council launches and governs employee task forces focusing on sustainability issues as needed. 
Council members contribute data to UL's ESG reporting through 360 and validate and govern quality ESG data. UL's chief financial officer and chief marketing officer co-sponsor the Council.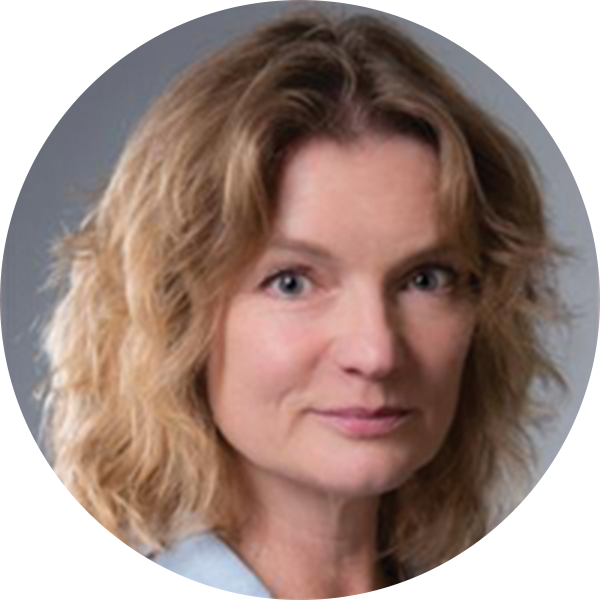 Sarah Au
Manager, Human Resources, CSC member
"From the HR perspective, the work of the corporate sustainability council fosters awareness for our value-orientation and our continuous improvement to thrive, as a true people company that helps make the world a safer place."
---
Khoi Do
Director, Market Development and Innovation, CSC member
"Even in the early stages of our sustainability journey, we are approaching our effort with the same mission-driven intention, leadership ambition, and science-based mindset that will lead to meaningful outcomes."
---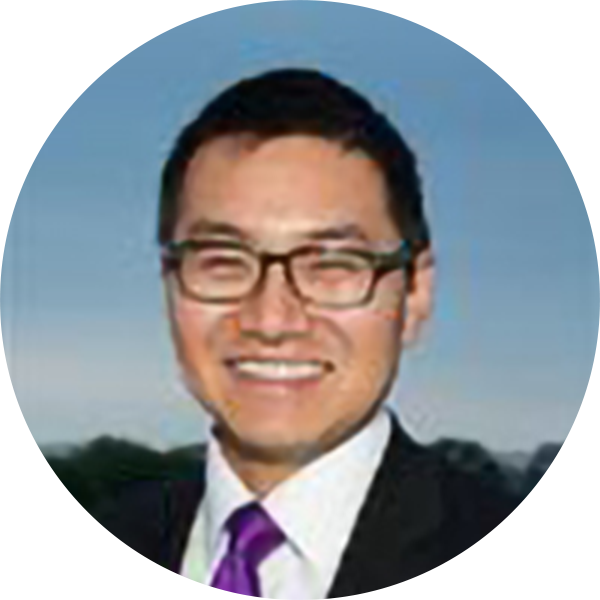 Corporate Sustainability team
This focused team led by UL's vice president of Corporate Sustainability creates and manages the implementation of UL's sustainability strategy. The team sits on the CSC and leads all employee environmental task forces and employee engagement groups, setting the goals and defining the projects to integrate sustainable practices into the heart of our operations. They work to apply UL's human, financial and brand capital to drive UL's social and environmental programs and achieve our sustainability purpose. They direct and communicate our ESG progress through reporting and data governance, providing transparency to our stakeholders and clarity on our journey. Their work mobilizes our mission to help address the critical challenges of our world with active and committed expertise.
ESG Community of Practice
This group of dedicated ESG SMEs from across the global organization meets to enhance UL's ESG expertise, leadership, influence, preparedness and adaptive response. Discussions center on continuously improving UL's ESG reporting and ESG enablement. The group focuses on understanding evolving trends, risks and reporting and uncovering leading-edge opportunities.
Social Sustainability Regional Leads
Across our enterprise, we've integrated a global network of employee volunteers to progress societal impact in our communities. Regional leads from Greater China, ASEAN, EMEALA and North America operationalize this network of more than 75 social sustainability champions. These leads represent our employees on the CSC and report to our senior manager of Social Sustainability. 
"Social sustainability initiatives help create healthier communities while positively engaging our employees and creating healthier workplaces. Even the smallest projects can make a large impact." 

Heather Eliff
Director, NBK site lead, USA site coordinator and North America region lead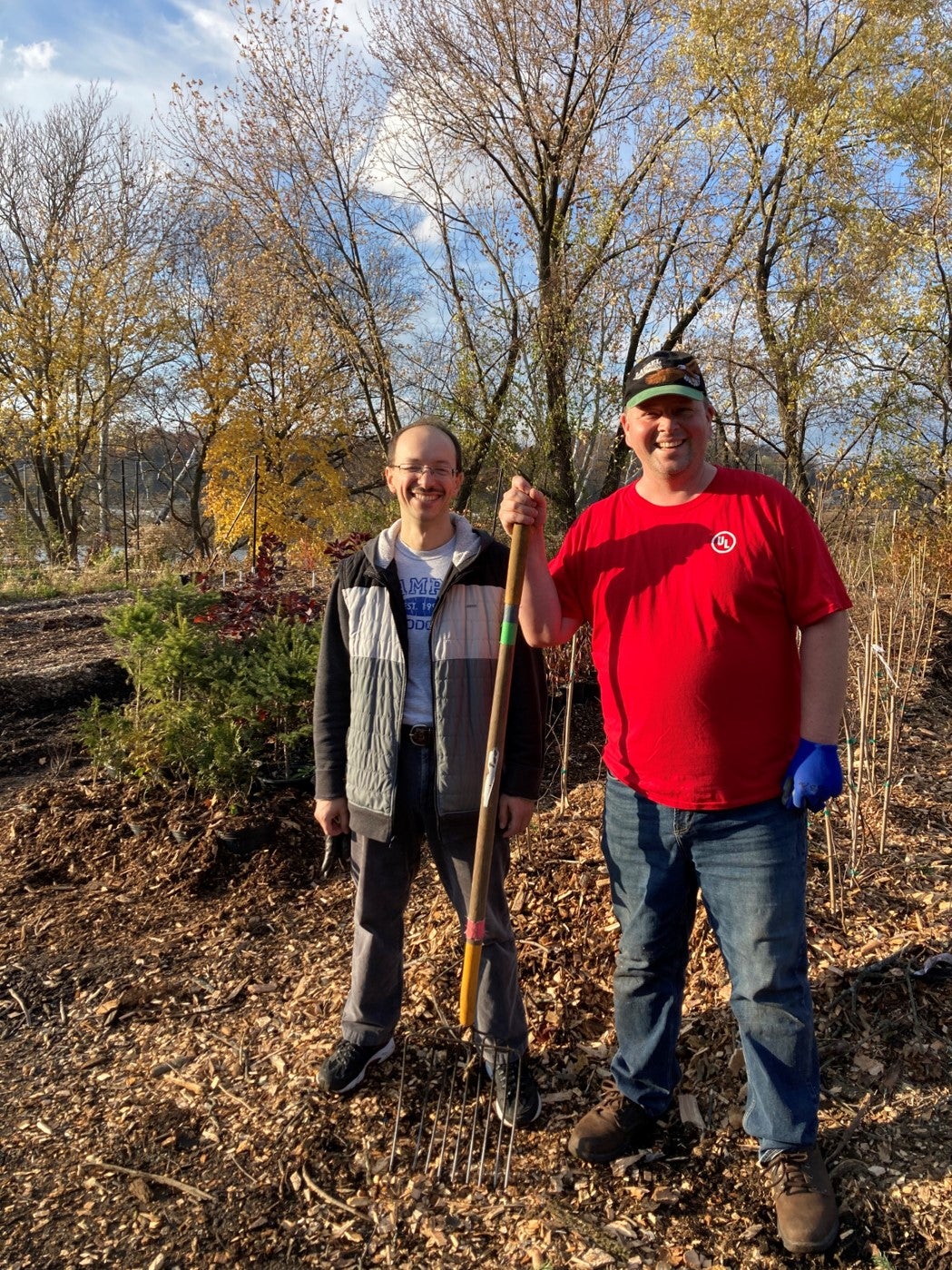 Social Sustainability Champions
Our global Social Sustainability Champions support our enterprise volunteer initiatives and lead their colleagues in local efforts to improve their communities and advance progress on UL's targeted SDGs. They report their impact to their Sustainability Region Leads who represent them on the CSC. 
SME task forces
These employee-driven task forces consist of subject matter experts who help activate the strategic direction of UL's sustainable impact areas such as field engineering, responsible sourcing, energy and carbon, water and waste and materials. These task forces provide insight into external best practices and act as an advisory team to ensure the progress and maturation of corporate sustainability objectives. 
Sustainable Environment Excellence Drivers (SEEDs)
UL's SEEDs group comprises 165 passionate global colleagues trained to develop and launch environmental pilots and initiatives at the local level to address relevant environmental challenges at our sites around the world and to level up best practices across the organization. Our environmental task forces advise SEEDs, who report to the CSC through UL's environmental sustainability manager.  
Advancing sustainability requires the leadership and support of our stakeholders and the inclusion of every UL colleague in every role. In addition to our corporate governance structure, we hold ourselves accountable to our mission, our sustainability alliances and allies, and our code of conduct. 
Sustainability demands collaboration from everyone and a shared belief in the possibilities of a prosperous and secure future. While we may instinctively prioritize personal, business or national objectives, a growing collective consciousness understands that, as citizens of this one, shared planetary ecosystem, we all impact each other. To preserve and improve our planet and humanity moving forward, we must all commit to a higher purpose and a shared mission greater than our own individual goals. We proudly support and embody SDG 17, Partnerships for the Goals, in the work we undertake every day as we aim to steward this planet and its people to health and well-being in a way that does not endanger future generations. 
These valued partnerships help us improve and demand more of ourselves and our contribution to sustainable progress: 
UL is a Participant in the United Nations Global Compact, voluntarily joining more than 15,000 companies committed to the Ten Principles of responsible business and to taking strategic action to help meet the global challenge issued in the SDGs. In 2021, we shared our first Advanced Communication on Progress with the Compact. This report details our strategy, governance and engagement with the SDGs while ensuring that we mindfully address human rights, labor, anti-corruption and environmental issues across our organization. This global partnership helps us challenge ourselves as we model a business leadership culture that endorses positive social and environmental impact.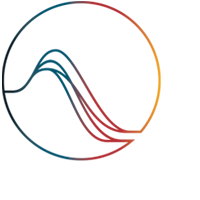 We're excited to share that we joined the SBTi in 2021, committing to reduce our global carbon emissions in line with climate science to do our part to keep the global temperature increase below 1.5 degrees Celsius. The SBTi represents a collaboration among the Climate Disclosure Project (CDP), the United Nations Global Compact (UNGC), World Resources Institute (WRI) and the World Wide Fund for Nature (WWF) with more than 2,000 business members committing to help reduce GHG emissions and prevent the worst impacts of climate change.
We're committed to advancing the principles and the science behind circularity. UL introduced the first Standard for circular economy initiatives, UL 3600, the Outline of Investigation for Measuring and Reporting Circular Economy Aspects of Products, Sites and Organizations, which measures circularity at the product, facility and company level. As a Member of the Ellen MacArthur Foundation, we lend our expertise to projects that have the potential to change the way materials are utilized and disposed of at the system level, moving away from loss to landfill to return value to the economy.
UL was the first testing, inspection and certification WEF member. Within the Advanced Manufacturing and Production Platform, we'll work to accelerate inclusive technology, carbon reduction, resilient supply systems and sustainability and innovation in manufacturing. Our contributions to this partnership help shape the future of advanced manufacturing and value chains.
Every year, we find new ways to support sustainability and inspire action among our global colleagues during the Global Week to Act4SDGs. In 2021, Corporate Sustainability partnered with ULU to offer environmental and social sustainability training courses and modules through our company learning management system. Colleagues received professional development credit while adding to the world's collective knowledge base and understanding of critical sustainability topics.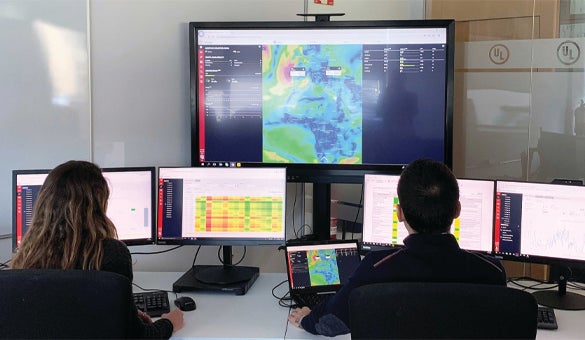 Boston College Center for Corporate Citizenship (BCCCC)
With more than 500 member companies, BCCCC provides education, forums and training to help organizations align corporate citizenship objectives with business goals. BCCCC members have collaborated to support UL's sustainability council and reporting. The BCCCC hosts the International Corporate Citizenship Film Festival; in 2021, UL Corporate Sustainability won Best in Show at the film festival for our submission "Shining Light on a Sustainable Future," detailing our partnership with Watts of Love.
Shining Light on a Sustainable Future
In addition, we're committed to working with our industry and trade partners to promote safety, security and sustainability. Our colleagues actively engage with associations around the world, applying our scientific expertise and safety, security and sustainability purpose to a multitude of local and global challenges. These partners include the International Science Reserve, the National Association of Manufacturers and the Retail Industry Leaders Association.
In December, UL's VP of Corporate Sustainability Barbara R. Guthrie partnered with other senior executives in sustainability at an IEC panel entitled Strategic Dialogue on the UN Sustainable Development Goals (UN SDGs). These senior leaders discussed the organizational value in supporting the SDGs as well as what standards may need to exist and how the IEC can make a greater impact on SDG progress.