In this report, we share our sustainability journey, goals and impacts with our stakeholders. We strive to report on what matters most to you and to listen, learn and evolve as we lead. We affirm that transparency is fundamental to maintaining trust. What we know, we share; what we don't know, we seek to understand. In facing the future, we will always leverage the best of our understanding and expertise to secure a safe and sustainable world, forever seeking the next and best solution.
Our people foster trusted partnerships led by purpose and backed by competence. Our safety science expertise and 128-year track record of imparting trust and dependability through our dedicated services and offerings help keep our ever-evolving world moving forward. We trust in each other and in science and believe in our contribution to an abundant shared future. ​
Our founding mission of working for a safer world informs every partnership we undertake and every goal we set. We find purpose in our mission, and we know our stakeholders do, too. Our reputation rests on our history of working for public safety and preventing countless risks. What we've learned by navigating the complexities of our history we apply to meeting today's needs and enabling the optimistic future that we envision and intend to help protect for generations to come.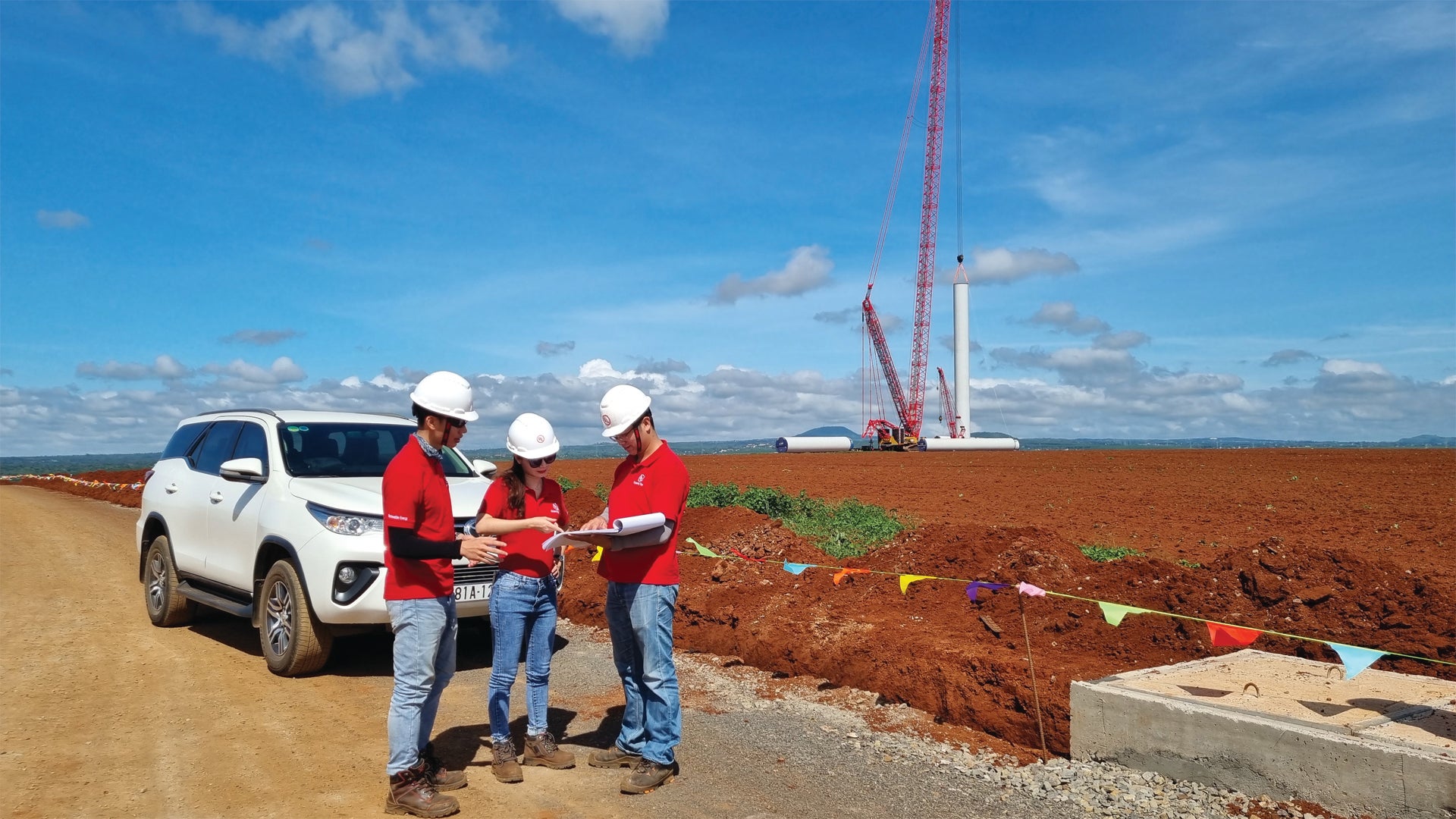 Our people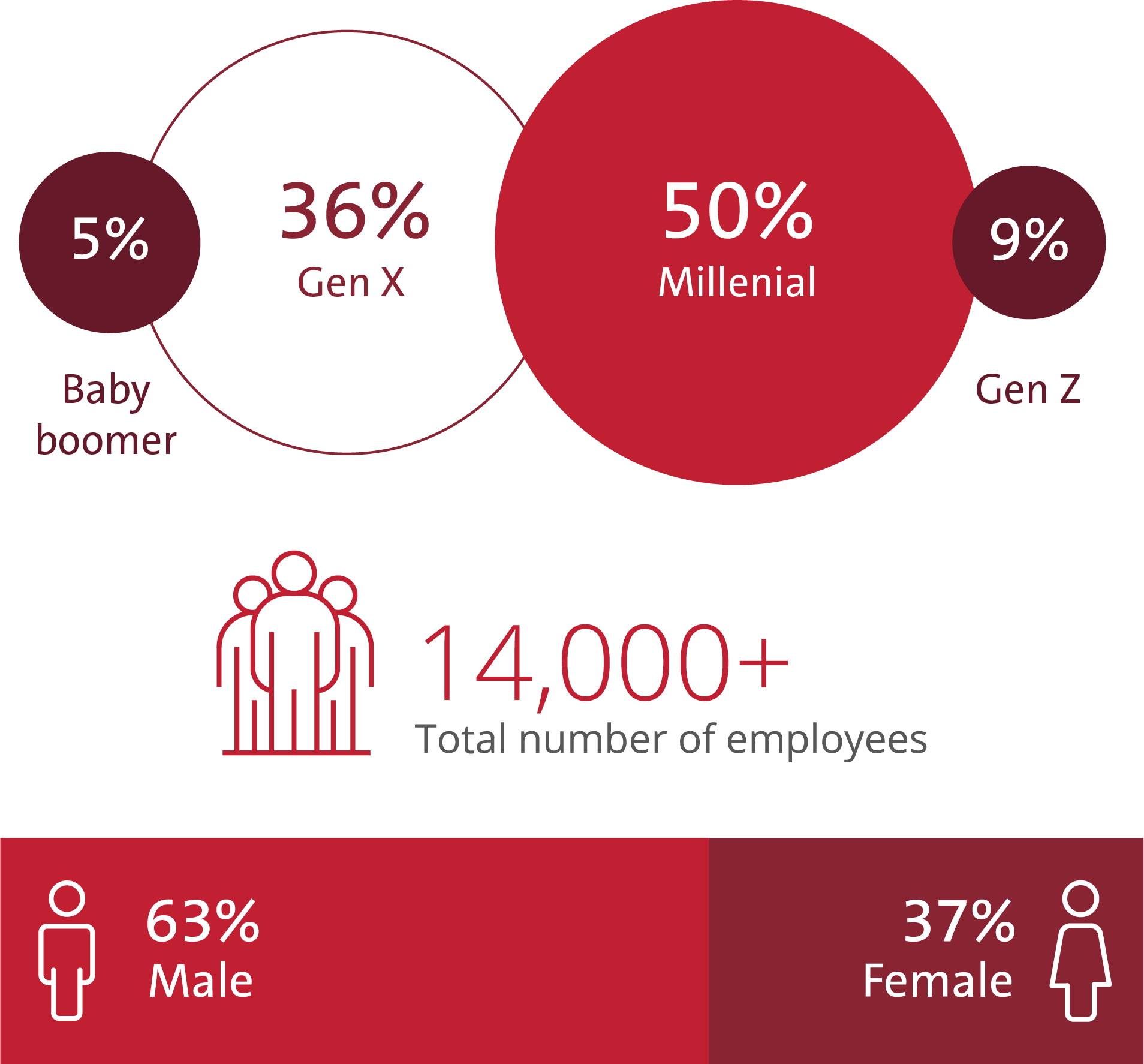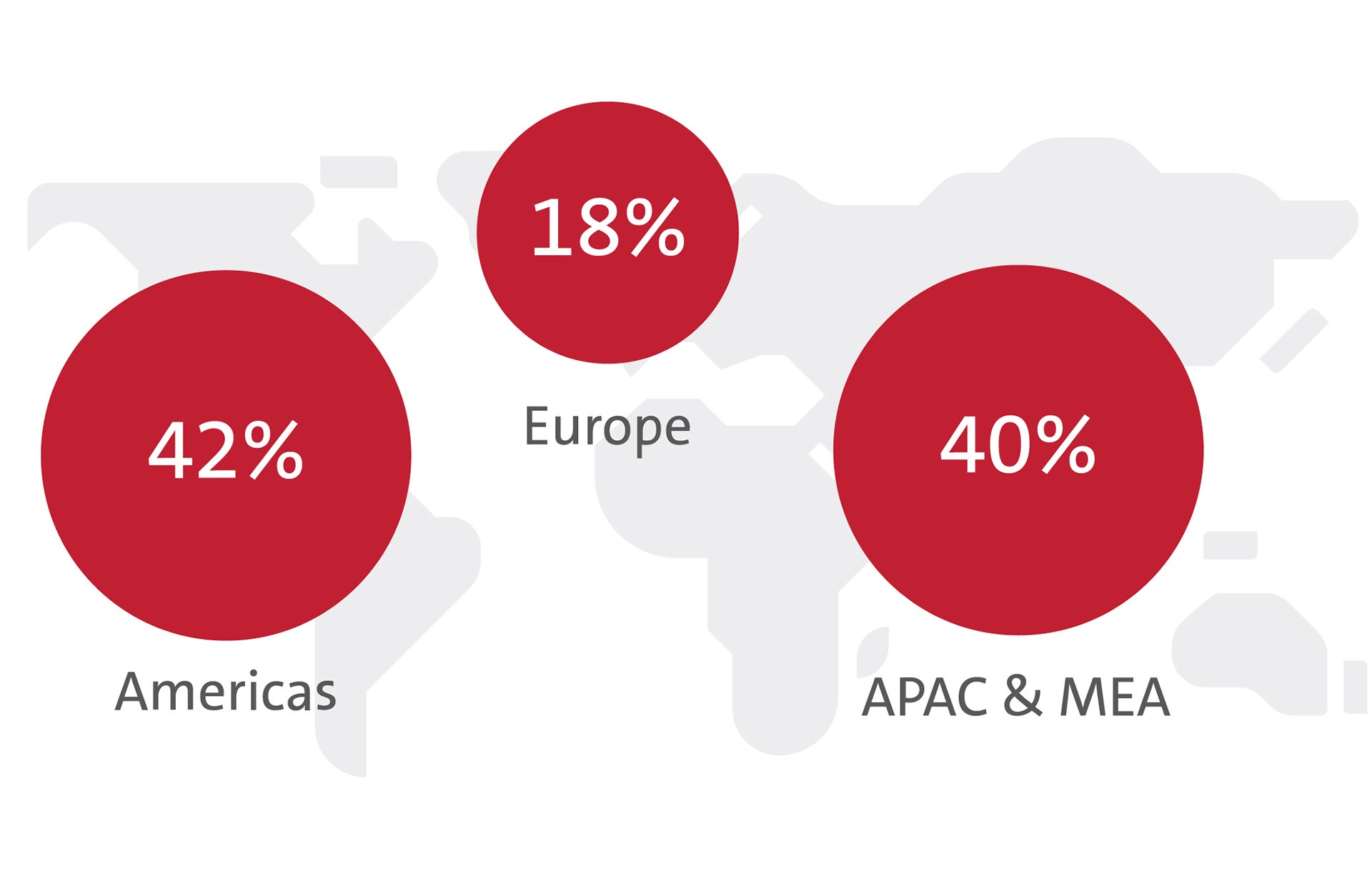 In 2021, UL Inc. employed more than 14,000 permanent employees and more than 2,000 contractors. We employ contractors as needed to serve our customers around the world in areas where we may not have a legal entity and during instances that require additional support. We source this data from our HR database. In some cases, information from responsible HR teams supplements the data. No significant variations have occurred and no assumptions have been made.

UL employees offer distinct cultural and generational perspectives to each other and the work they perform, adding value and an important diversity of thought to the projects we undertake and the communities where we work and live. We're making progress on our DEI initiatives and rewarding and developing our people as they expand possibilities for themselves and for our customers.
In 2021, UL redesigned its global human resources function to align with the company's new operating model and our goal to lead as an employer of choice for the world's top talent. The results from our 2021 materiality assessment reinforce our prioritization of this pursuit and demonstrate its importance to all stakeholders as we work to attract and retain the talented people we need to fulfill our mission. While we operate globally, we incorporate regional and local perspectives to inform the best-fitting experiences for our colleagues and provide a safe, secure, sustainable and inclusive workplace. UL is committed to enabling and engaging our people across our enterprise and continuously improving their overall work experience. Our company culture prioritizes inclusiveness, simplicity, innovation and efficiency.
We value every perspective and voice, creating the welcoming, safe and supportive environment needed to allow problem-solving to thrive. This environment offers our highly skilled, enthusiastic and ethical colleagues the opportunity to apply their passion and expertise to our purpose, helping secure the safety of all people in every environment.
Headquartered in Northbrook (NBK), Illinois, U.S., UL Inc. maintains offices and laboratories in more than 40 countries around the world. Wherever we work, we match the local communities' needs, offering customer service in local languages and nurturing the critical governmental and regulatory relationships that allow us to keep abreast of changing trends and provide efficiencies to our customers.
Number of UL employees worldwide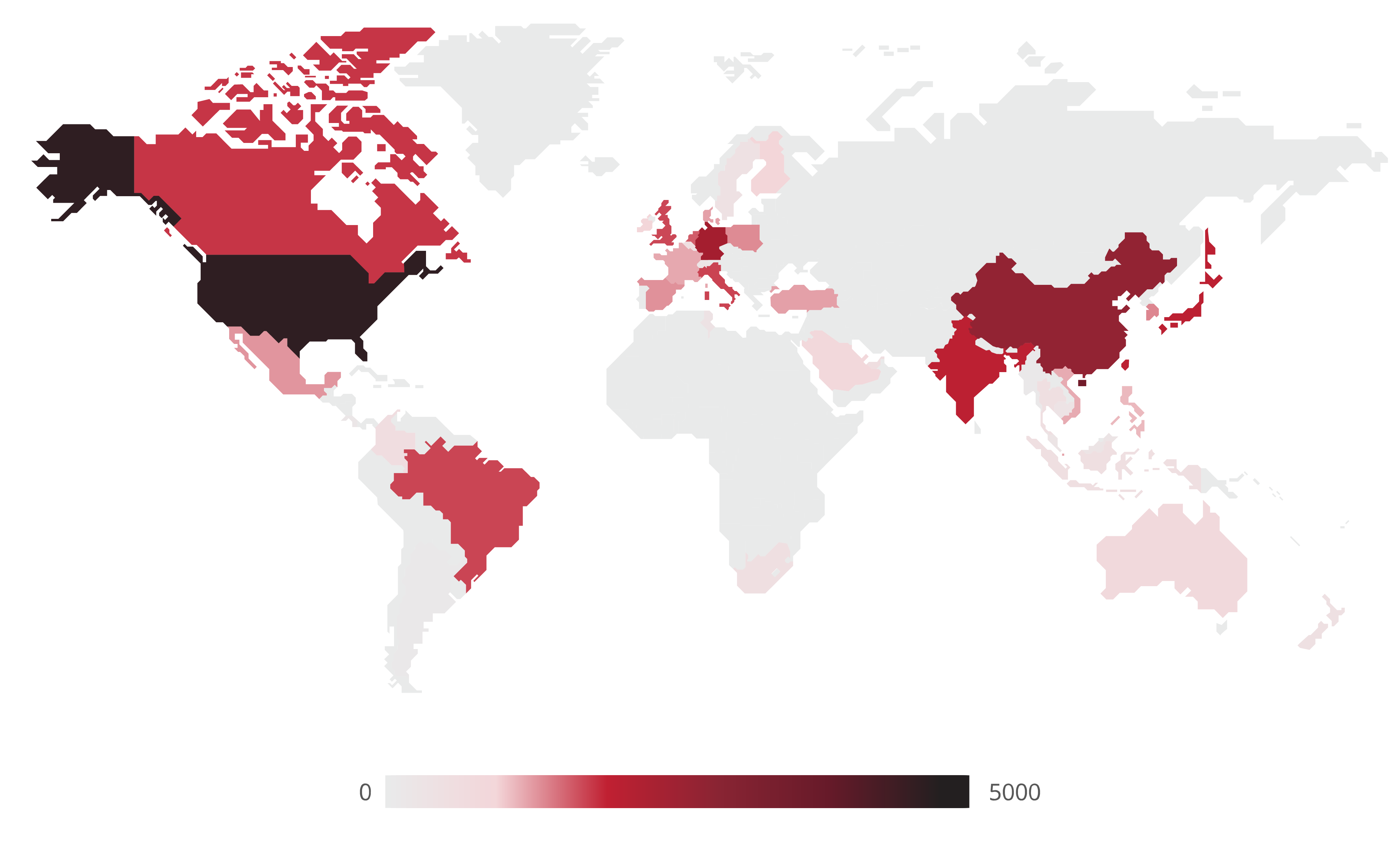 Since our founding in 1894, UL has worked to make the world safer. This historic commitment began with the commercialization of electricity in the late 19th century and continues today. We remain in position to support the profound economic, environmental and social opportunities and impacts that electricity and transformational advances in science and technology have brought to the world. Our daily work, service offerings and technical expertise also contribute directly toward and operate in concert with national laws and relevant internationally recognized standards. In this way, we ensure that we continue to improve economic, environmental and social well-being, leveraging safety science, standards and transparency.
UL's testing, inspection and certification; software; advisory and risk management services; decision-making tools; training; and business intelligence offerings help our customers, based in more than 100 countries, solve today's business challenges and prepare for tomorrow's opportunities.
In 2021, markets, regulators, customers, consumers, suppliers, employees and shareholders converged globally with a clear demand for an expanding set of requirements for continued sustainability advancement. We're encouraged by the collaboration and partnership in both the public and private sectors intent on accelerating action and enabling ESG progress across global markets, standards, ecosystems, supply chains and businesses.

From Electric Vehicle (EV) and Infrastructure Testing and Certification to Vehicle Interior Air Quality Testing, we test and validate automotive materials and help our customers manage their supply chains, bringing safer products to market all around the world.

From Architecture, Engineering and Construction testing, inspection and certification to Building Products and Systems, we help enable smarter, safer and more sustainable buildings.

From Innovative Environmental Product Claims Validation to Chemical Policy Management, we help manufacturers, distributors, importers and retailers manage chemicals to safeguard human health and the environment.

From Battery and Energy Storage Testing to Offshore Wind Energy Services, our expertise in storage and renewables helps both established and emerging energy markets meet growing demands, while protecting people and the environment.

From Secure Mobile Payment Solutions to Sustainability Management Software, our offerings empower consumer trust and help strengthen security in an interconnected world.

From Building Sustainability and Energy Advisory Services to Marketing Claim Verification, we help drive sustainability, public safety and trade.

From medtech to pharmaceuticals and biotech, we work with our customers to help bring needed medical innovations to market safely and efficiently.

From Electrical Distribution Services to Industrial Automation and Control System Cybersecurity, we help our customers gain a comprehensive view of product and process efficiency within any given system to help prevent potential hazards and failures.

From Fire and Emergency Apparatus Testing to Personal Flotation Device Certification, our services help protect first responders, people and property. Our research and insights in this industry lead the way to discovering new ways to prevent and defend against threats.

From Photovoltaic (PV) and Solar Lighting to Beauty and Personal Care Product Testing, we help our customers solidify trust and deliver safer, more sustainable products to market.

Through offerings like Analytical and Chemical Testing for Consumer Products and Children's Furniture Testing, we take a proactive approach to protecting consumers and the brands they trust. Our analytic and management software solutions address sourcing, safety, environmental and quality challenges.

From Recycled Plastics Solutions to Certification to Greenhouse Gas Verification to ISO 14064-3, we help our customers improve their infrastructure and bring sustainable innovations to market.
While mobilizing our shared mission, our colleagues worldwide embrace and embody the principles of integrity, honesty, quality and fairness. These values unite us and are essential to maintaining and imparting trust as we operate. We maintain a proud culture of integrity, nurtured and backed by UL's Legal and Ethics and Compliance offices. Around the world, every colleague and Board member receives training on our Standards of Business Conduct (SoBC), distributed in nine languages and signed by 100% of our more than 14,000 employees. Our code of conduct compels us to act with respect for our business, property, people and planet.
We hold each other accountable for acting with integrity and reporting potential issues or concerns. UL's Ethics and Compliance office handles any reports of alleged fraud or policy violations, and our SoBC protect would-be reporters against retaliation. Colleagues can share concerns without limitation through the management chain or by directly contacting HR, Legal, Internal Audit, Finance or Ethics and Compliance. The Ethics and Compliance office accepts reports directly via email, phone hotline or our Ethics Point web portal. These reports may remain anonymous to the extent allowed by applicable law. Additionally, our Ethics and Compliance office maintains a website with additional resources for education about ethical and lawful behavior and organizational integrity for colleagues seeking more information.
Our four policies related to bribery risk — Anti-Bribery and Corruption Policy, Gift and Entertainment Policy, Engagement of Government Officials Policy and Conflict of Interest Policy — are easily accessible to all UL associates. Integrated controls surrounding UL's expense reimbursement, meeting planning and charitable giving processes support these policies.
Across our enterprise we continuously and rigorously assess all of our operations for potential risks related to corruption. The most significant corruption risks for UL are associated with our inspection/certification services. In 2021, our Ethics and Compliance office received 82 allegations cases. None of these reports were substantiated and no employees were dismissed or disciplined for corruption. Although we did not conduct a formal, comprehensive, written risk assessment pertaining to corruption this year, our most recent formal assessment continues to guide ongoing mitigation measures.
We discontinued our relationship with two clients in 2021 for corruption-related issues. Our dedication to integrity as we operate is unwavering.
Our supply chain
Our Global Sourcing team supports our supply chain needs by working with our business partners across 43 countries to develop global sourcing and procurement strategies, which we implement regionally or locally. Those strategies support our broader business strategy, including sustainability-related improvements. UL has approximately 11,000 suppliers. The majority of our suppliers provide equipment and consumables for our testing and certification work; the next-largest group of suppliers covers contingent workforce resources to support either seasonal spikes or specific customer-based requirements in addition to our current teams.
As a result of the global pandemic, some goods and services have experienced delivery delays. However, we have had no significant changes in our supply chain, whether in location, type, production, size or structure.
In 2021, we restructured our Global Sourcing team to support a centrally led sourcing model in tandem with regional procurement support in EMEA, LATAM and APAC regions. We moved transactional procurement and supplier management activities to a newly created team in India.
Responsible sourcing
We are working to implement a best-in-class Supplier Code of Conduct for UL to ensure responsible sourcing of our goods and services. Due to the Global Sourcing restructuring, we did not progress as far as we had anticipated toward our responsible sourcing objectives in 2021. However, we will move forward in 2022 with more effective cross-functional collaboration and a well-defined governance structure. This working team now serves as an established task force under our Corporate Sustainability Council's oversight.

To ensure this project's success, we are leveraging our internal expertise and consulting with two UL divisions that do this work for our customers: Responsible Sourcing (RS) and UL 360. As we identify risks, we seek to learn as much as possible to empower us to develop mitigation approaches that align with our business and operational goals.
In Phase 1, we will develop a newly revised, best-in-class Supplier Code that aligns with our Standards of Business Conduct. Our next steps include defining specific guidelines and requirements for high-risk suppliers. In Phase 2, we'll provide coordinated requests to our suppliers for risk assessments required to do business with UL as we introduce a monitoring program, develop and distribute supplier assessments and provide reporting and dashboard views of risks and remediation status.

Privacy
The success of our business and our public safety mission depends on our ability to protect confidential UL and customer information. Our customers entrust us with confidential information that we must secure as we use it to provide our services. We also create our own confidential information. Every person at UL must accept the responsibility for safeguarding this information.
Our Information Security Program and Policy arise from three core principles:

Confidentiality
Preventing the disclosure of confidential information to unauthorized individuals or systems

Integrity
Maintaining and assuring the accuracy and consistency of data in UL's systems

Availability
Providing access to information systems and data when and where authorized users need them
All colleagues are responsible for familiarizing themselves and complying with all of UL's policies, procedures and standards dealing with information security. Our Global Security function provides many resources and communications, regularly updating colleagues with training and information regarding security.
Security threats originate from a wide variety of sources, including computer-assisted fraud, industrial espionage, sabotage, vandalism and natural disasters. Computer viruses, unethical hacking and denial of service attacks are becoming increasingly more common, ambitious and sophisticated.
We understand that security is everyone's responsibility. Maintaining an effective and efficient security posture requires a proactive security stance from everyone, and we commit to ongoing education, engagement and training with our colleagues to ensure their confidence and competence on security issues.
Security permeates our culture as we continuously work to improve our security awareness and protection throughout our organization and infrastructure.