E-bikes, e-scooters and other micromobility devices are fun and environmentally conscious ways to get around. If you're in the market to buy, you're probably busy comparing features and prices. Make sure to put safety at the top of your checklist, and always choose a UL Certified product.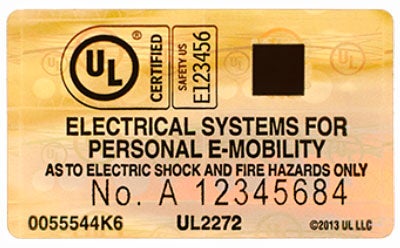 Because of concerns with fires related to the lithium-ion batteries powering these products, many communities are enacting laws requiring that micromobility products be safety-certified by a company like UL Solutions. In 2021 and 2022, the U.S. Consumer Product Safety Commission (CPSC) received reports from 39 states detailing at least 208 fires for overheating events that caused a reported 19 fatalities.* 
Before you spend your hard-earned money on an e-bike, e-scooter or other micromobility product, check for the UL Mark of safety. You will find the UL Solutions holographic label on e-bikes, e-scooters, hoverboards and similar products. You may also see the UL Mark on the batteries and battery chargers that power these devices. The sample UL labels below will help you identify products that UL Solutions has certified for safety.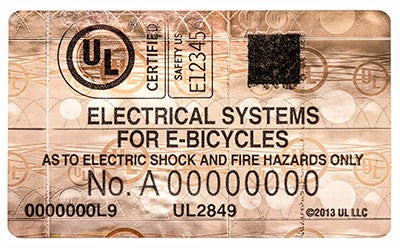 You can verify the status of any product's UL certification by searching the abridged version of our complimentary UL Product iQ® database using the E number that appears in the UL Mark design, or you can use Product iQ to find a full list of UL Certified e-bikes, e-scooters and e-mobility devices.
When confirming that you are purchasing a UL Certified e-bike or e-scooter, note that references to devices with a UL Certified battery, motor or battery charger are not the same as a UL Certified micromobility device.
UL Certified vs. tested to UL Standards: What's the difference?
While shopping, you may see products advertised as being "tested to UL Standards." Be cautious before making your purchase. Just testing a product to a UL Standard is not enough, and "tested to" does not mean a product is certified. UL certification means our expertly trained engineers have evaluated a product's materials, electronics and components in our laboratories and found that it meets the applicable requirements in the Standards. We go further than just evaluating and testing samples; we regularly monitor the manufacturing facility, where our field engineers confirm ongoing compliance with the certification requirements. Only manufacturers willing to undergo continued surveillance from UL Solutions earn the right to use the UL Mark. Our focus on comprehensive and ongoing safety certification is why you should always look for the UL Mark on the product.
If you have concerns about any UL Certified product, we want to hear from you! Please let us know using our online reporting tool.
*https://www.cpsc.gov/Newsroom/News-Releases/2023/CPSC-Calls-on-Manufacturers-to-Comply-with-Safety-Standards-for-Battery-Powered-Products-to-Reduce-the-Risk-of-Injury-and-Death 
Look for the UL Mark before you buy
Not all e-bikes, e-scooters and hoverboards are equal. When you're in the market for a new micromobility product, always check for the UL Mark before you buy.  
When you see this symbol, you know that we have evaluated, tested and safety certified a product and continue checking it through periodic factory inspections. That can significantly reduce fire and explosion risks to you, your family and your home. 
Learn more