Author: Dejan Gakovic. business development manager for micromobility, Consumer, Medical and Information Technologies (CMIT), UL Solutions
Over the last few years, the use and availability of micromobility devices in the U.S. have increased rapidly. With lithium-ion (Li-Ion) batteries shrinking in size and growing in capacity, micromobility has taken center stage as an alternative renewable transportation option, outpacing the sales of electric vehicles and growing more than 300% in both revenue and units sold.
Some 124,443 micromobility units were sold in 2019 at a revenue of $222.5 million (USD), according to People for Bikes. Just three years later, this revenue increased to $884 million (USD) across 524,767 units. Even more notable, this data represents only a portion of the e-bikes sold in the U.S.
With such strong sales data, one thing is clear: micromobility devices are here to stay. E-bikes are a fantastic evolution of traditional bicycles, as they provide an alternative to traditional transportation models and enable users who had opted out of biking to enjoy cycling again.
However, this rapid growth in the popularity of e-bikes — and other micromobility devices such as e-scooters and hoverboards — has created new challenges for public safety. In 2015, for instance, hoverboards became highly popular. News of hoverboards catching fire and exploding1 resulted in over half a million products being recalled in 2016 alone2. In response to the safety needs of the public, a new consensus-based bi-national Standard for the U.S. and Canada, UL 2272, the Standard for Electrical Systems for Personal E-Mobility Devices, was published. This product safety Standard was designed to reduce the serious risk of dangerous fires in these products.
By 2018, escalating problems with hoverboards prompted the U.S. Consumer Product Safety Commission to issue a letter urging manufacturers to certify their products to the newly published UL 2272.
Prior to the hoverboard issues, UL Solutions recognized safety concerns regarding e-bikes and began developing a new Outline of Investigation in 2012. UL 2849, the Outline of Investigation for Pedal Electric Cycles (PEDELECS), was published in 2013. Over the next several years, this Outline of Investigation completed the consensus standards development process and was published on Jan. 2, 2020, as a binational U.S. and Canada Standard — UL 2849, the Standard for Electrical Systems for eBikes.
As micromobility devices grew in popularity, the news of lithium-ion-powered micromobility device-related fires became more frequent. In New York City alone, there were 318 fires, 226 injuries and 10 deaths during 2021 and 2022.3 Unfortunately, 2023 is on track to surpass the previous years with 75 fires and five deaths as of May 8.4
It is important to note that this is not a problem unique to New York City. These types of fires happen regularly across the U.S. and EU:
According to the London Fire Brigade, "So far this year, on average, London Fire Brigade has been called to an e-bike or e-scooter fire once every two days — a 60% increase in the rate of these fires compared to the same period as last year."5
Some recent e-bike news stories include a fatal fire in Loudoun County, Virginia; a Huntington Beach, Calif., apartment fire; and a North Vancouver, Canada, fire that left 10 people homeless.
After receiving reports of at least 208 micromobility fires resulting in 19 deaths through 2022, the U.S. Consumer Product Safety Commission issued a letter on Dec. 19, 2022, urging manufacturers, importers, distributors and retailers of micromobility devices for consumer use to design, manufacture and certify their products to consensus safety Standards UL 2272 and UL 2849, as well as the Standards they incorporate by reference.6, 8
On March 2, 2023, the New York City council approved Int 0663-2022, the first law mandating certification of micromobility devices to UL 2849 and UL 2272, and batteries for micromobility devices to UL 2271, the Standard for Batteries for Use In Light Electric Vehicle (LEV) Applications. This law prohibits the sale, distribution, lease, rent or offer for sale, lease or rent of electric-powered bicycles, powered mobility devices and storage batteries unless products have been certified by an accredited testing laboratory (product certification body) for compliance with UL 2849, UL 2272 and UL 2271 respectively.7
These devices are all powered by lithium-ion batteries, which are highly efficient for energy storage but introduce new safety and fire risks.  These risks can be mitigated with properly designed devices that are certified by a third-party certification body such as UL Solutions.
The main causes for failures and fires associated with Li-Ion batteries are overheating events, better known by the scientific term, thermal runaway9. This phenomenon is typically caused by five factors that can lead to an explosion and a fire:
Environmental factors

Excessive heat
Charging in extreme conditions (cold or hot)
Chemical exposure, including water

Mechanical factors

Drop
Crash/indent
Shock, vibration and impact
Penetration

Design and manufacturing factors

Bad welds or loose components
Tab/electrode misalignment
Burrs
Contamination
Improper separators
Insufficient clearance and creepage
Electrical factors

Over-discharge
Overcharge
Imbalance
External short circuit

Aging factors

Maintenance
Cycling
Lithium dendrite growth/formation (Dendrites are tiny metallic rigid tree-like microstructures that form/grow on the negative electrode inside lithium-based batteries during the charging process.)
However, the risks do not stop with batteries. UL Standards take a holistic system approach when evaluating products containing Li-Ion batteries. This system approach encompasses battery cells, battery packs, motors and motor controllers, human-machine interface (HMI) devices, brakes, component integration, as well as hardware and firmware reliability.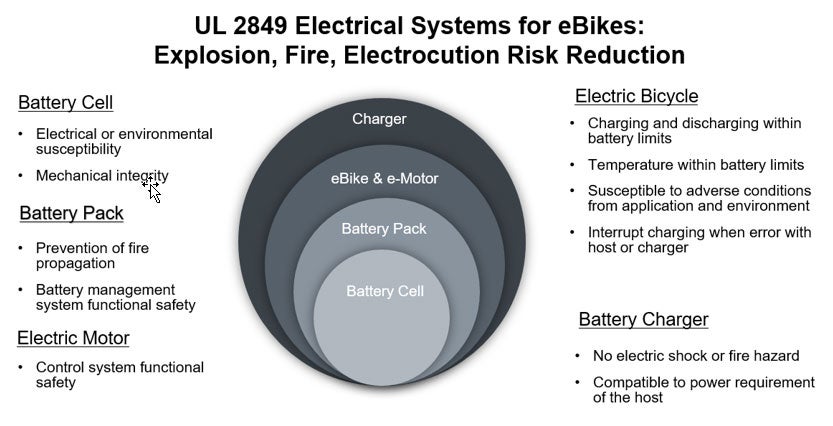 Nevertheless, it all starts with the battery.
Training and guide regarding hazards of lithium-ion batteries
New FSRI Online Training Addresses Hazards from Lithium-Ion Batteries
Want to Know More About the Explosion Hazards of Lithium-ion Batteries? Get the guide.
Before a light electric vehicle battery pack can be certified to UL 2271, the cells are required to be separately certified to UL 2580, the Standard for Batteries for Use in Electric Vehicles. These two standards include safety testing and compliance, as well as hardware and firmware reliability compliance for functional safety.
UL 2271-certified batteries for light electric vehicles (LEV) are evaluated under the UL Solutions product category BBCA. LEV batteries can also be recognized as components to UL 2271 under the UL Solutions product category BBCA2. UL Certified products can be found using our complimentary search tool UL Product iQ®. Access to the code authority features of Product iQ requires a simple one-time registration.
Battery chargers are an extremely important component of the e-bike system, as well — they must be compatible with the battery and be a certified product* intended for use with the specific e-bike. Only the charger provided with the e-bike should be used for charging the product.
*(Listed components are incomplete in certain constructional features or restricted in performance capabilities and are intended for use as components of complete equipment submitted for investigation rather than for direct separate installation in the field. THE FINAL ACCEPTANCE OF THE COMPONENT IS DEPENDENT UPON ITS INSTALLATION AND USE IN COMPLETE EQUIPMENT SUBMITTED TO UL.)
Motor controllers are typically programmable logic devices that control all aspects of e-bike propulsion. Additionally, these controllers can provide power for auxiliary devices such as HMI, bicycle lights, seat posts, etc. Current and power limitations must also be considered when evaluating these components. Motor controllers are typically UL Recognized Components evaluated under UL 2849 and the appropriate associated functional safety standards for hardware and firmware reliability.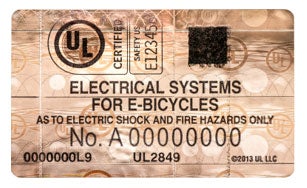 Through the HMI, users can select various modes of operations and monitor power delivery, speed, cadence, battery status, etc. An HMI can be as simple as a two-push-button microswitch or as sophisticated as a small computer. These devices may be powered by a main battery or they may have an internal rechargeable Li-Ion battery. Alternatively, they can also be powered by a non-rechargeable coin cell battery. The more sophisticated devices may also have to comply with the additional requirements of UL 62368-1, the Standard for Audio/Video, Information and Communication Technology Equipment - Part 1: Safety Requirements.
Complete e-bikes are evaluated in accordance with UL 2849 and Listed under UL Solutions product category QGNS. Personal mobility devices are evaluated to UL 2272 and certified under UL product category FKIS. UL Certified products can be searched using Product iQ.  
Tested to a standard is not compliance or certification
The test clauses in any UL Standard are only one part of the comprehensive requirements. The UL 2849, UL 2272 and UL 2271 Standards consist of specific compliance requirements covering:
Construction, design and engineering principles
Material and component safety
Critical safety circuits
Test requirements
Safety warnings and user instructions 
Markings
Certification to these product safety standards can ONLY be issued by an ISO/IEC 17065 accredited product certification body or by an OSHA Nationally Recognized Testing Laboratory recognized for these Standards.
Micromobility device requirements in 2024 model fire codes
The 2024 International Fire Code (IFC) and the 2024 NFPA 1 Fire Code will include requirements for the listing of micromobility devices to UL 2272 or UL 2849, as applicable. Other hazard mitigation requirements have been added, covering the allowable areas for storing and charging micromobility devices within buildings to help reduce the potential risk of fire.
Here are some best practices for purchasing and operating micromobility devices that can be shared with local communities through public safety outreach channels:
Safety tips courtesy of UL Solutions:
Purchase only micromobility devices that are certified by a qualified certification laboratory.
Only use the battery and charger supplied with your device and follow all manufacturer's instructions for charging and storage.
If the battery is damaged, visit the brand's authorized dealer to inspect your devices before further use.
Replace your battery with the exact same battery. Always purchase replacement batteries from your brand's authorized dealer; do not use aftermarket batteries.
Do not modify your micromobility device or your battery.
Use only authorized dealers for your brand for all maintenance and service.
Do not charge your device near flammable materials, in hallways or where they can block your primary building exits.
If a battery overheats or you notice an odor, change in shape or color, leaking or odd noises, stop using it immediately.
Do not cover the battery or the charger.
Additional resources from UL Solutions
References
For more information related to product or system listing (certification) from UL Solutions, please contact [email protected].