Overview
How do they work?
Equipped with portable land mobile radios and from within a building, emergency responders can communicate with each other as well as their central dispatch. The message from their device travels through the building antenna system to a signal booster to an exterior antenna to a public safety radio repeater and then to central dispatch. The message is also received by the land mobile radios of other emergency responders on the same communication channel.
Why are they important?
In-building emergency responder radio systems are important life safety technology that enable emergency responders to have an effective and reliable means in which to communicate. Environments in and around buildings can often be complex. How the building is designed and constructed, the type of building, other nearby buildings and structures can affect in-building radio communication. Factors outside of the building can also reduce effective in-building radio communication, including such things as the number and communication strength of other communication devices, as well as the electromagnetic noise generated from a myriad of electrical devices in the building's surrounding area all have an impact. Deploying a dedicated system fit for the purpose of emergency responders is essential to overcome this complexity and helps ensure that it performs as intended and is reliable.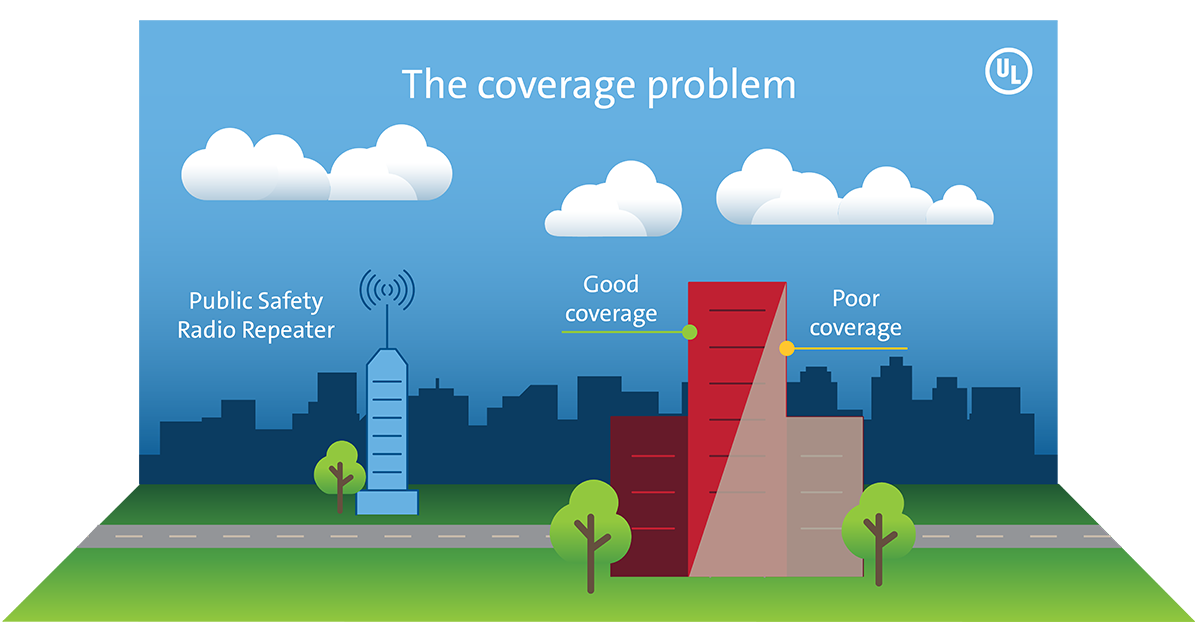 Benefits
When in-building emergency responder radio systems comply with UL 2524, they will perform as intended, helping to improve the safety of first responders during emergency situations.
The completed 2021 edition of the International Fire Code (IFC) and the first draft version of 2021 NFPA 1 both include specific requirements for these systems to be certified to UL 2524.  
This Standard covers a wide range of in-building two-way radio communication products including:
Repeater

Transmitter

Receiver

Signal booster components

Remote annunciators

Operational consoles

Power supply

Battery charging system components
UL 2524 addresses the following areas:
Safety (risk of fire and risk of shock) requirements – construction and testing

Compliance with specific performance requirements in accordance with the IFC-2018 and NFPA 1221-2016 (2019)

Reliability performance requirements applicable for life safety systems

—

construction and testing product marking and installation documentation
View the full 2524 scope here.
Why UL
UL's technical experts worked with the industry to develop the initial safety and performance standard that ultimately became the ANSI/CAN/UL 2524, first edition published on Oct. 19, 2018, and the second edition covering the Standards Council of Canada (SCC) was published on Jan. 9, 2019.
UL is recognized by OSHA as a Nationally Recognized Testing Laboratory (NRTL) for UL 2524 – The Standard for In-building 2-way Emergency Radio Communication Enhancement Systems.
UL is a global, independent, safety-science company that has championed progress and safety for 125 years. Guided by our mission, UL's team of over 14,000 professionals promote safe working and living environments for all people. UL uses research, standards, and conformity assessment to continually advance and meet ever-evolving safety challenges, and partners with businesses, manufacturers, retailers, trade associations, and regulatory authorities internationally to provide solutions and to address the risks of increasingly complex global supply chains.

UL 2524 Certification and Compliance for Code Authorities
Watch the on-demand webinar for an overview of code requirements for UL 2524 geared toward code authorities.

UL 2524 webinar
The Safer Buildings Coalition hosted this webinar to breakdown and demystify everything about UL 2524.