The use of UAVs, known popularly as drones, has been rapidly increasing across a range of commercial purposes, including infrastructure, agriculture, security, delivery, emergency response and government applications. 
Drones often save time and, by allowing operators to stay at a safe distance, reduce risk when performing certain activities. Photographers and videographers can capture aerial footage. Land can be quickly and accurately surveyed for detailed mapping. Data can be gathered in mining operations, keeping people out of hazardous situations. First responders can more effectively analyze dangerous situations while staying out of harm's way. And inspectors can acquire footage from vantage points that they never thought possible.
UL Solutions has the experience and expertise to help with a wide variety of certification and testing services for drone manufacturers and developers. And we also offer project management services to aid customers in large or multi-faceted compliance projects.
---
Definitions 
UAS - Unmanned Aerial System, the complete system including vehicle, controller, radios, and anything necessary for flight
UAV - Unmanned Aerial Vehicle, or Unmanned Aircraft, is the aircraft component of a Unmanned Aerial System, and is operated without the possibility of direct human intervention from within or on the aircraft
Drone - another term for UAV
---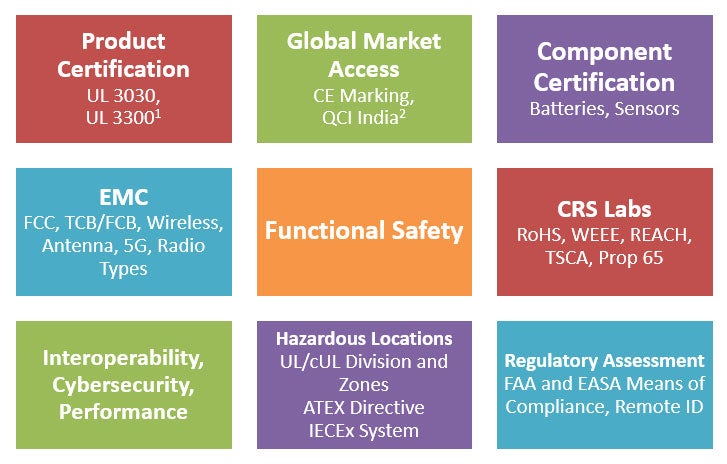 UL 3030 — Listing for commercial drones
UL 3030, the Standard for Unmanned Aircraft Systems, addresses electrical system requirements for commercial UAVs operated by trained pilots. This new Standard covers commercial (e.g., agricultural, scientific, research, film industry or news broadcast video, roof inspections) and tactical (e.g., government, local police, search and rescue). 
Though different energy sources may power drones, battery technology is a key element in the success of UAVs. As with all battery applications, there are several critical needs, including:
Assessing and validating battery safety.
Proving/defining system capabilities in safe mode.
Evaluating the coordination of the charger, battery system and load as safe.
Mechanical testing (e.g., impact, drop, vibration, mechanical shock).
Environmental testing (e.g., thermal cycling, mold stress, water exposure, immersion).
Aspects such as airworthiness, the efficacy of controls and similar topics are outside the scope of this Standard, so these issues must be addressed by regulations, user programs and other standards.
Certify UAV Electrical System Safety Compliance with UL 3030
101.36 KB
UL 3300 — Outline of Investigation for SCIEE robots 
Certification for certain types of consumer drones can be covered under UL 3300, Outline of Investigation for Service, Communication, Information, Education and Entertainment Robots. 
Battery safety and component certification for UAVs
As part of end-product certification or as a separate certification project, we can help customers with our pioneering expertise in battery safety testing, including:  
UN 38.3 battery transportation.
Battery safety Standards.

UL 2580, the Standard for Batteries for Use In Electric Vehicles.
UL 2271, the Standard for Batteries for Use In Light Electric Vehicle (LEV) Applications.
UL 62133-2, the Standard for Safety for Secondary Cells and Batteries Containing Alkaline or Other Non-Acid Electrolytes - Safety Requirements for Portable Sealed Secondary Cells, and for Batteries Made from Them, for Use in Portable Applications - Part 2: Lithium Systems.
UL 2054, the Standard for Household and Commercial Batteries.
If your drone uses proprietary components that require certification, our experts are ready to help.
Performance testing, assessment and certification services for drones
UL Solutions offers a wide range of testing, assessment and certification services for various attributes beyond safety, such as performance, functional safety and cybersecurity. These activities focus upon the drone as well as the safety-related components within UL 1998, the Standard for Software in Programmable Components.
Energy efficiency for battery chargers.
Wireless services – electromagnetic compatibility (EMC), FCC, antenna, radio types, 5G and RF testing.
Ingress protection (IP) testing – IEC 60529.
Interoperability – ASTM F3411
Cybersecurity – UL 2900, the Standard for Software Cybersecurity for Network-Connectable Products.
Drone use in hazardous locations – explosive atmospheres, such as inspection of mines, fuel tanks, pipelines, etc.
Toxic substances testing – RoHS, WEEE, REACH, TSCA and California Prop 65.
International certification and global market access
European Directives and Regulations for Unmanned Aircraft Systems (UAS)
Our Global Market Access team assists customers with market access readiness to help with successful access to their desired markets, as well as compiling technical files and other compliance documentation (toxic substances, etc.) to help you meet European Union Directives and Regulations:
Unmanned Aircraft Systems.
Low Voltage Directive. 
EMC Directive.
RED Directive.
Machinery Directive.
RoHS Directive.
Quality Council of India — Certification Scheme for Unmanned Aircraft Systems
We have a team of experts who can help you certify your products to India's Quality Council drone program.
Regulatory assessment services
We support your UAS with regulatory assessment for several countries. Our regulatory services provide customers with a regulatory compliance road map, investigative reports on technical requirements, as well as compliance testing to UL, IEC, ASTM and ASD-STAN standards.
Other specialized services include research reports on:
FAA Part 89 Remote Identification of Unmanned Aircraft. 
EASA and U.K. Remote Identification.
FAA Means of Compliance.