By Mark St. Onge, senior field engineer.
The International Code Council (ICC) recently issued the first-ever Credential of Learning Achievement (CLA) certification, addressing firestop selection and installation competency at a technical level. The CLA goes beyond traditional training and testing in measuring subject matter comprehension. The CLA certification validates a participant's willingness to achieve demonstrated excellence in training and practical skills relating to passive fire protection for fire safety in the built environment. CLA certification encompasses the required components of training/education and an assessment of comprehension and technical competency. This program for obtaining an  ICC credential required candidates first to complete a training and education curriculum followed by testing to measure a required minimum level of technical expertise in code-compliant firestop system selection and installation.  
In collaboration with ICC, UL provided a technical review of the program and had the first participant pass the ICC Firestopping CLA examination as part of the program validation process. The ICC designed the CLA program to help participants obtain a comprehensive understanding of the importance of proper fire-stopping and its role in fire and smoke containment for building occupant safety. 
The education program shares information on passive fire safety requirements in model building, fire codes and product standards, best practices for plan review, inspection techniques and product selection, and installation tips and techniques. 
The assessment includes a one-hour proctored examination utilizing the ICC Proctored Remote Online Testing Option platform. Upon completion, successful participants earn an ICC CLA credential that provides building and fire inspection departments, architects and the construction industry with a third-party demonstration of competency in firestop systems. UL's firestop special inspectors are all now required to maintain the ICC CLA certification. They also have to pass UL's exam for the Qualified Firestop Contractor Certification, which tests firestop contractor competency and references the Firestop Contractors International Association Firestop Manual of Practice. 
UL's firestop contractor services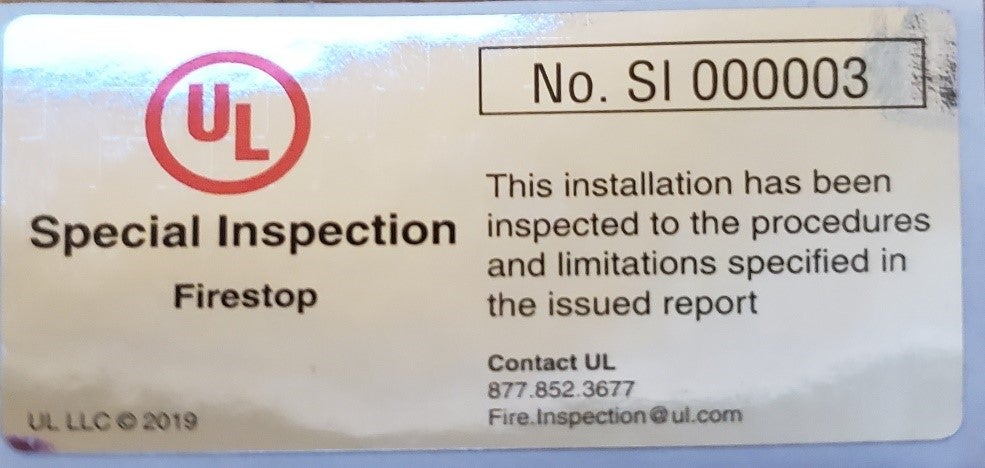 UL's firestop exam is the same industry-recognized test that a designated responsible individual must pass as part of the quality management system required by UL Qualified Firestop Contractors. This service also offers additional training and educational opportunities for system installers via a partnership with the FCIA. Read more about our fire barrier management services. 
Finally, UL provides a special firestop inspection label at the physical point of fire-stopping after they have passed inspection. This label offers evidence to code authorities that UL Certified systems have been properly installed and makes it easier to identify compliant installations.

Fire Barrier Management
 Minimize risks with a rigorous, independent inspection of your fire barriers.

UL Qualified Firestop Contractor Program
The UL Qualified Firestop Contractor Program is voluntary and allows contractors to proactively demonstrate their commitment to the proper installation of firestop systems.