By Ruben Sandoval Jr., field business manager with Field Engineering Services at UL Solutions, and Jonathan Roberts, senior regulatory engineer with Codes and Regulatory Services group at UL Solutions, Distinguished Member of Technical Staff.
A new section has been added to the 2024 International Building Code (IBC), Section 2703 Lightning Protection Systems (LPS), which specifies safety and performance requirements when an LPS is installed. When provided, an LPS must be installed in accordance with UL 96A, the Standard for Installation Requirements for Lightning Protection Systems, or NFPA 780, standard for the installation of lightning protection systems.
Requirements for surge protection devices to be installed on power and communications systems in accordance with NFPA 70, the National Electrical Code (NEC), and either UL 96A or NFPA 780 have also been added. These new requirements in the 2024 IBC provide guidance for local code authorities — helping them determine whether LPS are designed and installed per the applicable UL or NFPA installation standards during their plan review process for a building project.
Ensuring LPS compliance
The IBC contains provisions allowing code authorities to require an independent inspection for code compliance when such inspection is deemed necessary for a given construction project. When an independent inspection is required under the construction or installation permit, one option for compliance is to require a master label certificate from an accredited inspection agency such as UL Solutions. Accreditation is an attestation that the inspection agency has demonstrated to an accrediting body that they are competent, consistent and impartial in their ability to provide this inspection service.
UL Solutions lightning protection master label certificates and nameplates
A UL Solutions master label certificate documents the final installation and provides designers and building owners with the deliverable specified in their building specifications.
A UL Solutions lightning protection  nameplate is provided in a visible location to provide a QR code to link to the master label certificate, providing evidence that an LPS has been thoroughly evaluated for compliance with the appropriate installation standard. Following successful evaluation, a master label or nameplate is affixed to a visible location, typically a building's roof hatch or service entrance.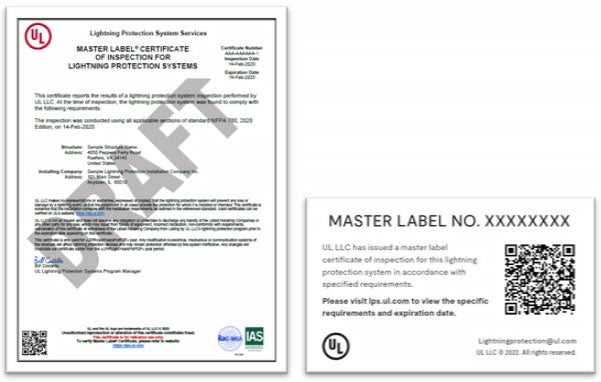 Master label certificates and nameplates are issued within 48 hours of completion of a successful inspection.
The 2024 IBC includes a new Section 2703, LPS, requiring that any building LPS must be installed in accordance with either UL 96A or NFPA 780. The IBC gives code officials the authority to require third-party inspection by approved agencies to evaluate code compliance for systems such as LPSs as part of the overall plan review and commissioning process for a building project. The UL Solutions master label certificates and nameplates are a compliance option available to code authorities, building owners or designers to provide independent confirmation that a UL Solutions inspection has been conducted and that the system has been installed in accordance with applicable standards.
To verify the authenticity or current status of a master label certificate or nameplate, please visit the UL Solutions lightning protection services website.
For more information on lightning protection systems and related services, please contact UL Solutions at [email protected].
For more information related to product or system listing (certification) from UL Solutions, please contact [email protected].