Note: The USB Implementers Forum (USB-IF) is a nonprofit organization created to promote and support USB (Universal Serial Bus). It officially launched certification for the new 240W USB-C® Extended Power Range (EPR) Cable in December 2021. UL Solutions has qualified test labs1 to assist customers with the certification testing of EPR cables.
Update highlights
The new version of the USB-C specification has six key points:
Cable E-markers must be used in EPR cable assemblies.
USB-C cable assemblies can only be rated 60W or 240W.
Minimum functional voltage of the cable in a EPR cable is 53.65V.
Minimum bypass capacitor voltage rating for EPR cable is 63V.
Mandatory use of 240W (EPR) mark.

The 240W mark can be displayed on a sticker or on the cable over mold.
If the 240W mark approved by USB-IF is not applied on the sample at the time of certification test submittal the sample is not eligible for testing.

Arcing mitigation is recommended for EPR cables.
As announced in the USB-IF Compliance Updates it is now specified in Table 3-1 of Chapter 3 of the USB Type-C® Cable and Connector Specification Revision 2.1 (table below) that the 240W USB-C to USB-C Cable specification (48V, 5A) has replaced the 100W USB-C to USB-C Cable (20V, 5A). USB-IF has discontinued certification of all 100W USB-C to USB-C Cables effective December 22, 2021.
USB-C to USB-C cables are now only available in two forms: 60W or 240W. In terms of power there are no other types of USB-C cables.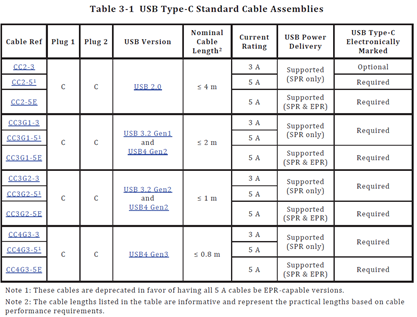 Safety considerations for power sources above 100W
Figure 36 of UL 62368-1 - Standard for Audio/Video, Information and Communication Technology Equipment, which is commonly used in the consumer electronics, information and communications technology industry, states that 100W is the dividing line between the PS2 and PS3 energy source levels. This means that a PS3 energy source level of 100W or more will result in a higher risk of ignition and fire spread in the connected equipment and cables, so the corresponding safety assessment requirements will be relatively more stringent.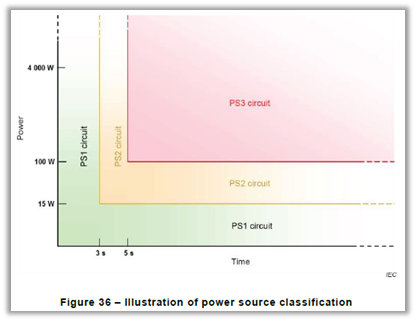 UL 9990 Outline reinforces safety-critical aspects of power transmission
In addition to providing USB-IF compliance testing and certification services for USB cables and devices, UL Solutions can also provide critical evaluation and certification solutions for the safety of cable power transmission based on our UL 9990 Outline of Investigation for Information and Communication Technology (ICT) Power Cables. A brief timeline of UL 9990 development is shown below.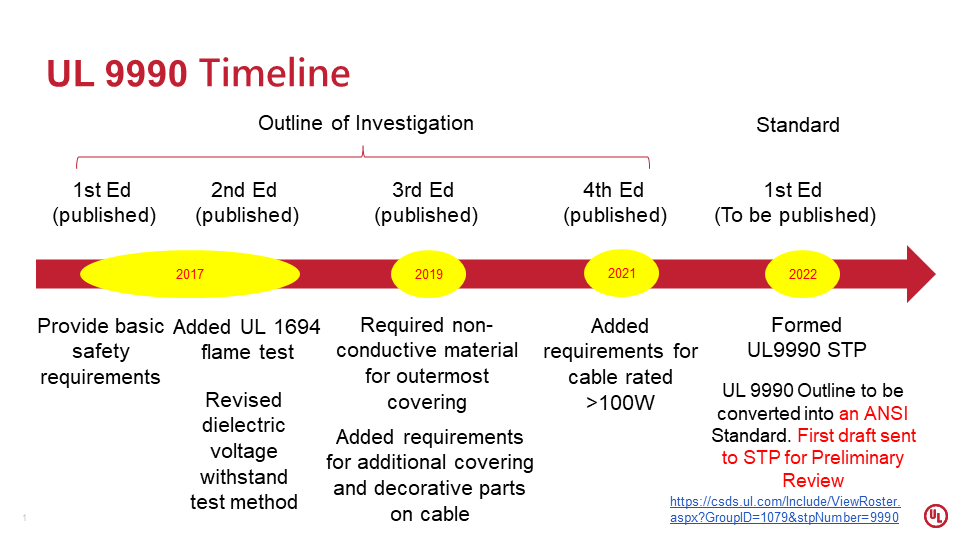 The first edition of the UL 9900 Outline was published in 2017. The scope of the Outline is high-speed cables used in Information and Communication Technology (ICT) equipment, i.e., charging and powering cables with data transmission functions. UL 9990 provides safety requirements to reduce potential causes to risk of fire including: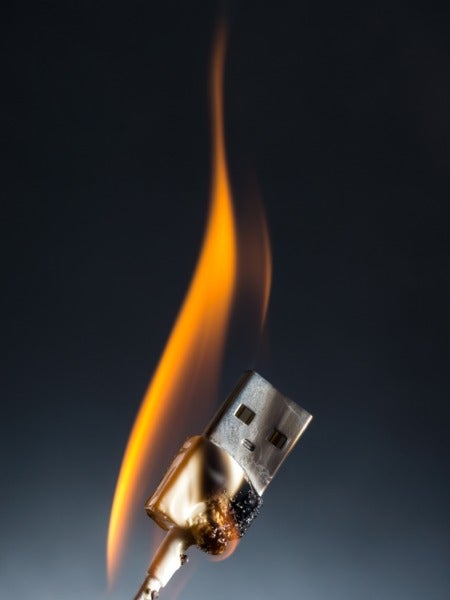 Poorly designed or constructed cables.
Connectors that do not meet specifications.
Cable/adapter assemblies not designed to safely carry the required current.
Electronic markers used to identify power requirements/capabilities are not properly used.
In view of the market demand for charging cables in circuits with more than 100W of power, UL 9990 Outline has been updated to the 4th edition to include additional safety requirements to address the higher available power such as:
Crush test performance requirements for the connector.
Increase in the total number of cycles for flexing test to 1000 cycles.
Cables need to have the appropriate rating for the application. (e.g. if AWM is used, go to the UL Solutions online certification catalog Product iQTM and use cable criteria to search for a suitable AWM cable)
UL Solutions offers integrated safety and performance testing solutions
"Creating a safer world" is at the core of everything we do. We are always committed to leading the way in developing standards and providing independent third-party safety and performance testing services to cope with rapidly changing technology.
UL Solutions has been actively working with the USB-IF since 2016 and is an accredited test lab (USB-IF Independent Test Lab or ITL) that provides certification test services on a broad variety of USB product types, including but not limited to cables and connectors.
Our primary test lab is located in Taiwan and offers a wide range of high speed cable and connector performance testing services as well as safety assessment and certification services.
For further information about UL Solutions' safety evaluation on products with USB Type-C® ports and EPR capability, please visit this UL Solutions website for an on-demand webinar at https://www.ul.com/resources/usb-type-c-and-extended-power-range-capability.
1 See USB-IF official website. For information on UL Solutions' authorized independent testing lab qualifications, please visit USB-IF for details.
X
Get connected with our sales team
Thanks for your interest in our products and services. Let's collect some information so we can connect you with the right person.