Preconfigured workflows can save time and prevent errors when documenting tests, vaccinations, exposures and other medical data for large populations.
Adding Events to your PureOHS Compliance and Surveillance module speeds up documentation covering medical data. With preconfigured workflows, Event administrators can reduce the need for repetitive typing and data entry, minimizing errors and saving time.
For one event, you can cut the documentation time from several minutes to several seconds per record. That can save thousands of hours. Say your organization has 100,000 employees, and a single documentation takes three minutes. That's 5,000 hours. Now, cut the single documentation time to five seconds. That only takes about 140 hours. You just saved 4,860 hours.
If a population of employees is exposed to diseases or hazardous chemicals, employers must provide numerous tests, exams, questionnaires and surveys over a period of days, weeks or months.
Depending on the size of your workforce, annual events like flu immunizations typically start in mid to late August and last until December. That could mean documenting more than 100,000 employees in just a few months. Additionally, if your team wears respirators, masks must be regularly fit-tested to ensure proper protection.
No matter what your needs are, PureOHS Events streamlines documentation so you can process large volumes of people quickly and efficiently to meet compliance requirements.
How it works
The Events feature makes adding new people to the PureOHS system easy and allows users to find employees through a quick search or by scanning their badges. Generate a complete medical record with just a few keystrokes.
This valuable add-on consolidates all necessary information on employees, exams, tests and follow-ups into a manageable list. Using flu immunizations as an example, the Events administrator can easily configure the vaccine types, lot numbers, expiration dates, manufacturer information and more.
This streamlined process allows documentation time to drop from several minutes to a matter of seconds for each employee.
By utilizing PureOHS Events, employers can realize the following benefits:
Save time by administering preconfigured exams, tests and questionnaires 
Create a readily accessible list of compliant or overdue employees, facilitating smooth clinic operations
Send automatic notification emails to employees and their supervisors for upcoming or overdue appointments
Go paperless with electronic forms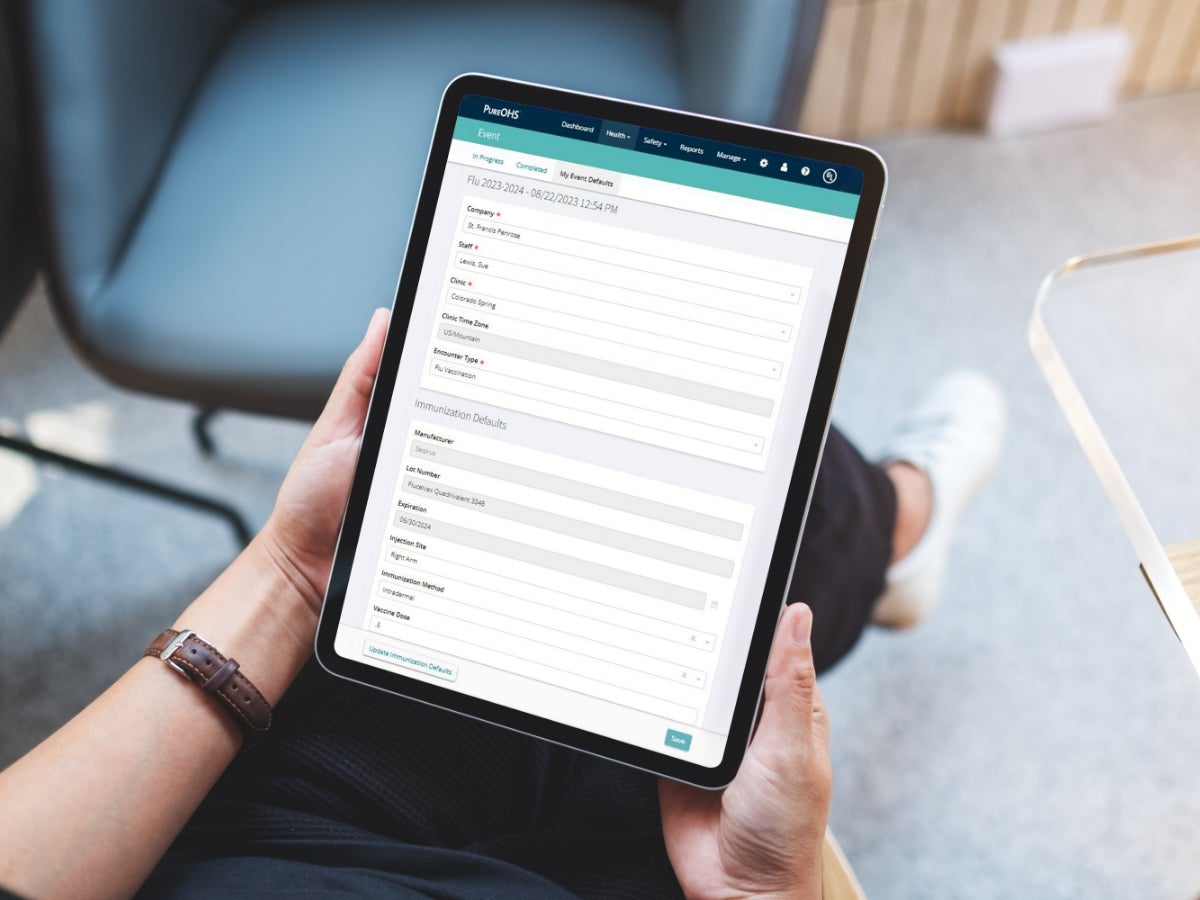 PureOHS Events is the ideal support for your medical compliance and surveillance needs. Add the PureOHS Compliance Module to access preconfigured workflows that help you save time, reduce errors and quickly meet your compliance needs.
X
Get connected with our sales team
Thanks for your interest in our products and services. Let's collect some information so we can connect you with the right person.