Overview
UL Solutions provides active and inactive medical device manufacturers with a complete offering of third-party regulatory approvals, product testing and certification, auditing, cybersecurity testing, usability testing, and the training to support your compliance challenges.
Services
Validation/ Verification Report – UL Solutions determines the accuracy of marketing claims related to the performance, functionality or features of products, facilities, processes and systems that consumers or end users are unable to easily assess on their own. Our claim verification service is based on rigorous, repeatable and independent assessments. Companies that successfully have a claim verified by UL Solutions are eligible to use the specially created UL Verified Mark to showcase that their claim is backed by an objective, science-based process leveraging our trusted technical expertise and capabilities.
Summative Test Report – Plan, conduct, and report the results of a summative (i.e., validation) usability test of the market-ready product to validate that it meets the user requirements and ensures safe and effective use. Summative usability tests can be designed to meet applicable regulatory requirements (e.g., ONC safety-enhanced design requirements; or in support of FDA submission and/or CE marking).
Human Factors Engineering Report – UL Solutions works with our clients to establish a guiding vision of how the intended users (e.g., healthcare professionals, administrative personnel, and patients) will interact with a product and conceptualize all of the touch points that will contribute to the full user experience.
Cybersecurity Assessment Report – Will help identify assets, threats, and vulnerabilities and assess of the impact of threats and vulnerabilities on the device functionality and end users/patients and assess the likelihood of a threat and of a vulnerability being exploited. Performing this analysis will help to improve the cybersecurity hygiene of your product that will meet industry best practices that align with HDO expectations, UL 2900, NIST framework and TIR-57.
Informative Test Report – For many countries and/or regulatory bodies, an informative test report may be all you need. UL Solutions can assist by performing the evaluation to EN (European Norm) or other appropriate standards and issue an informative test report. Though a third-party report may not always be required, it may be desirable to mitigate risk, liability and can be used as market differentiator.
Certified Body (CB)
With over a century of experience in safety science, UL Solutions is uniquely positioned to support manufacturers of laboratory, test, and measurement and control equipment.
We offer a full suite of services aimed at helping our customers communicate compliance to the applicable standards and the suitability of their devices for security and use in electrical labs, scientific research labs and factory automation.
As the top NCB under the IECEE CB Scheme category for laboratory and test and measurement equipment, "MEAS", customers can use the UL CB test report and certificate to receive multiple global certification marks, many of which UL Solutions can deliver directly. We can provide integrated test plans that encompass multiple national requirements, reducing rework for global requirements. Simply put, we can test your product in our laboratories to the IEC UL 61010 standard and you can receive approval to use the UL NRTL mark, receive an IECEE CB Test Certificate and even fulfill other local country requirements such as GS and D marks.
IECEE: Why it is important?
Safety: Manufacturers/suppliers must ensure that their products comply with relevant safety standards, while government regulations are generally intended to protect populations from potential risks associated with products.
Quality: Buyers/wholesalers want to ensure the quality of products purchased and unhindered market access.
Interoperability: Product manufacturers and end-users want to be sure their products work and can interact with other products, services and installations.
Consistency: Manufacturers/suppliers want to be sure their marketed products comply with the sample assessed.
Nationally Recognized Testing Lab (NRTL)
In the USA and Canada, virtually all electrical products must undergo some form of conformity assessment (testing, inspection, product certification) so that acceptance interests (federal, state, and local regulating authorities; retailers; distributers; consumers, etc.) have confidence that the product meets relevant safety and other requirements.
OSHA is the U.S. federal regulating authority for U.S. workplace environments. OSHA demands product safety certification for some (not all) of the workplace products that come under the scope of its regulations. OSHA only requires certification for end products. In order for these product certifications to fulfill OSHA regulatory requirements the certifications must be issued by a Nationally Recognized Testing Laboratory (NRTL) (like UL) formally recognized by OSHA.
Services
The UL (US) and cUL (Canada) Marks are two of the most commonly recognized and accepted NRTLs certification marks in North America. They "set the standard" and are regularly accepted by authorities having jurisdiction, inspectors and others. They provide a strategic marketing advantage to our customers who value quality and integrity.
In addition to traditional NRTL certification services, UL Solutions offers a straight-forward way to convert from another NRTL certification mark to UL Solutions. It is as simple as giving UL Solutions your current test report (including test data), a sample and your risk management file (if applicable). UL Solutions expert engineers will review the data for scope, potentially conduct test checks and if all is in compliance with the appropriate standard, UL Solutions will transfer your file and you can start to place the UL Certification Mark on your product immediately.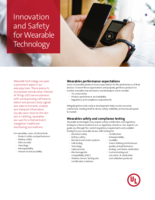 4.65 MB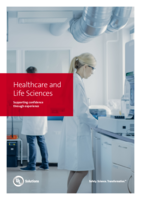 Medical Testing Services Overview Brochure (English)
7.72 MB