An overview of medical device interoperability standards  
Medical device interoperability is essential to the practice of modern medicine. We can help you navigate the relevant international standards that address segments of this technology space.  
Clinical measurements such as blood pressure and temperature, X-ray and ultrasound imaging, administration of intravenous medications, and support of critical life functions all require medical devices. However, despite our reliance on sophisticated medical equipment, most devices are not designed to interconnect with other devices. Therefore, it is difficult to connect individual devices into integrated medical systems to improve patient care, avoid unnecessary accidents, and obtain comprehensive data to personalize care delivery.    
Our teams have taken a multifaceted approach to reduce key barriers to achieving interoperability, including:   
Support of suitable open standards, e.g., AAMI/UL 2800 leveraging principles from ASTM F2761, Integrated Clinical Environment (ICE) 

An open-source implementation of ICE being evolved now across many stakeholder groups 

Elicitation, analysis and modeling of clinical use cases and system engineering requirements for an open architecture instantiation of ICE as a platform and ecosystem 

Alignment of clinical, manufacturer, and U.S. Food and Drug Administration (FDA) regulatory expectations 

Implementation of prototype-use cases in an open sandbox environment in the MD PnP Lab 

Diverse collaboration and engagement 
Additional technology-specific standards exist and serve to aid in the development of interoperable devices including the Health Informatics, IEEE 11073 series, and other standards and supporting documents from HL7, IEEE and IHE. Standards such as the Standard for Medical Devices and Medical Systems – Essential Safety Requirements for Equipment Comprising the Patient-Centric Integrated Clinical Environment (ICE) – Part 1: General Requirements and Conceptual Model, ASTM F2761-09 (2013) provide general requirements and a high-level architecture for an integration platform. 
A number of relevant international standards already successfully address segments of this technology space. 
The Standard for Medical Devices – Application of Risk Management to Medical Devices ISO 14971 

Standard for Medical Electrical Equipment – Part 1: General Requirements for Basic Safety and Essential Performance, IEC 60601-1 

The Application of Risk Management for IT-Networks Incorporating Medical Devices, IEC 80001 series adds additional criteria for addressing the technology-specific risk of integrating medical devices into hospital IT networks.
Enhance security and interoperability for connected medical devices
A number of challenges prevent the health care community from realizing the full potential of device interoperability. These challenges include technical issues (the mechanics of interoperability), systems engineering issues (repeatable processes for correctly and efficiently integrating devices into larger systems), and overarching reliability, safety and security challenges. We have been collaborating for almost a decade with the MD PnP team to develop sharable databases, open-source tools and applications that will enable a broader community of researchers and manufacturers to implement secure medical device interoperability.
Bring connected medical devices to market efficiently with UL Solutions
Global market acceptance  
Business experience reaches back to 1894 

Operates in more than 143 countries 

One of the largest global issuers of CB Test Certificates  

Our reports and certifications are recognized and accepted around the world 

The UL Mark appears on more than 22 billion products globally  
Comprehensive testing and certification services 
We offer field evaluations, on-site training, and can come to you for testing 

Full compliance testing/evaluation to prescans and other preliminary testing  

We have engineers that work with you from design through conception and production  

Our engineers average more than 10 years in the industry 

We have more than 11 industries business units in the UL Solutions company portfolio 
Knowledge of global standards and regulatory requirements 
Covers many markets, i.e., U.S. Food and Drug Administration, Korean Ministry of Food and Drug Safety, European Union (EU) In Vitro Diagnostic (IVD) Directive, EU Medical Devices Directive (MDD) 

We have helped to set more than 1,600 standards defining safety, security, quality and sustainability 

Our engineers partner with standard committees, such as Association for the Advancement of Medical Instrumentation (AAMI), American National Standards Institute (ANSI) and government bodies 

We have an FDA-recognized consensus standard, UL 2900, for cybersecurity  
State-of-the-art facilities 
159 UL Solutions laboratories for testing and certification worldwide 

Tailored testing solutions, using software automation to enhance process efficiency, analyze results, and reduce testing cycles 

More than 10 accredited UL Solutions laboratories around the world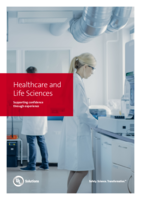 Medical Testing Services Overview Brochure (English)
7.72 MB