Human-centric lighting in the marketplace
The emerging lighting technologies that focus on the impact of light on health and well-being are growing rapidly. In addition to medical and healthcare applications, human-centric lighting (HCL) solutions designed for homes, offices and commercial spaces are becoming more prevalent in the lighting industry.
In recent years, acceptance of the link between the lighting we are exposed to each day and its effect on our circadian rhythm has increased interest in measuring circadian effectiveness. Based on industry feedback and the needs of building owners, lighting designers and consumers, UL Solutions has developed field measurement and performance services for the consistent testing and reporting of measurable data.
UL Solutions' circadian-effective field measurement services 
This service gathers lighting measurements in an indoor space and reports the results on a circadian heat map. UL Solutions' service includes:
Measurements taken with state-of-the-art, patent-pending robotic automation.
Analysis of the data, run through an algorithm that uses criteria and methodology set in the three published models of the International WELL Building Institute, DG 24480, Design Guideline for Promoting Circadian Entrainment with Light for Day-Active People, and DIN TS 67600.
Reporting based on the actual light that hits the eyes of building occupants (inclusive of reflectance).
This service can help building owners, designers and specifiers with analysis of existing lighting conditions or as a planning tool for lighting with circadian effectiveness.
Circadian-effective luminaire performance verification
Our performance measurement service and UL Marketing Claim Verification program measure photometric characteristics for luminaire categories such as recessed troffers, pendants, wall washers, wall sconces, downlights and desk lamps. 
To take these measurements, we have created a customized laboratory space to measure the spectral power distribution (SPD) at the vertical plane of the observer's retina. We then use three algorithms to report the circadian score of the luminaire: 
EML: based on International WELL Building Standard
CS: based on UL Design Guideline 24480
M-EDI: based on DIN Technical Spec 67600
Advisory services for Circadian
UL Solutions can help with advisory services around our luminaire measurement and field measurement offerings. Connect with us to discuss your project in more detail.
DG 24480, Design Guideline for Promoting Circadian Entrainment with Light for Day-Active People
Published in 2020, UL Solutions developed the design guideline to offer potential baseline performance goals for indoor lighting specifiers and building owners to consider when seeking circadian entrainment in addition to quality illumination.
We developed DG 24480 for those who design and specify lighting in buildings and wish to provide light for vision and for circadian entrainment for typical day-active and night-inactive people.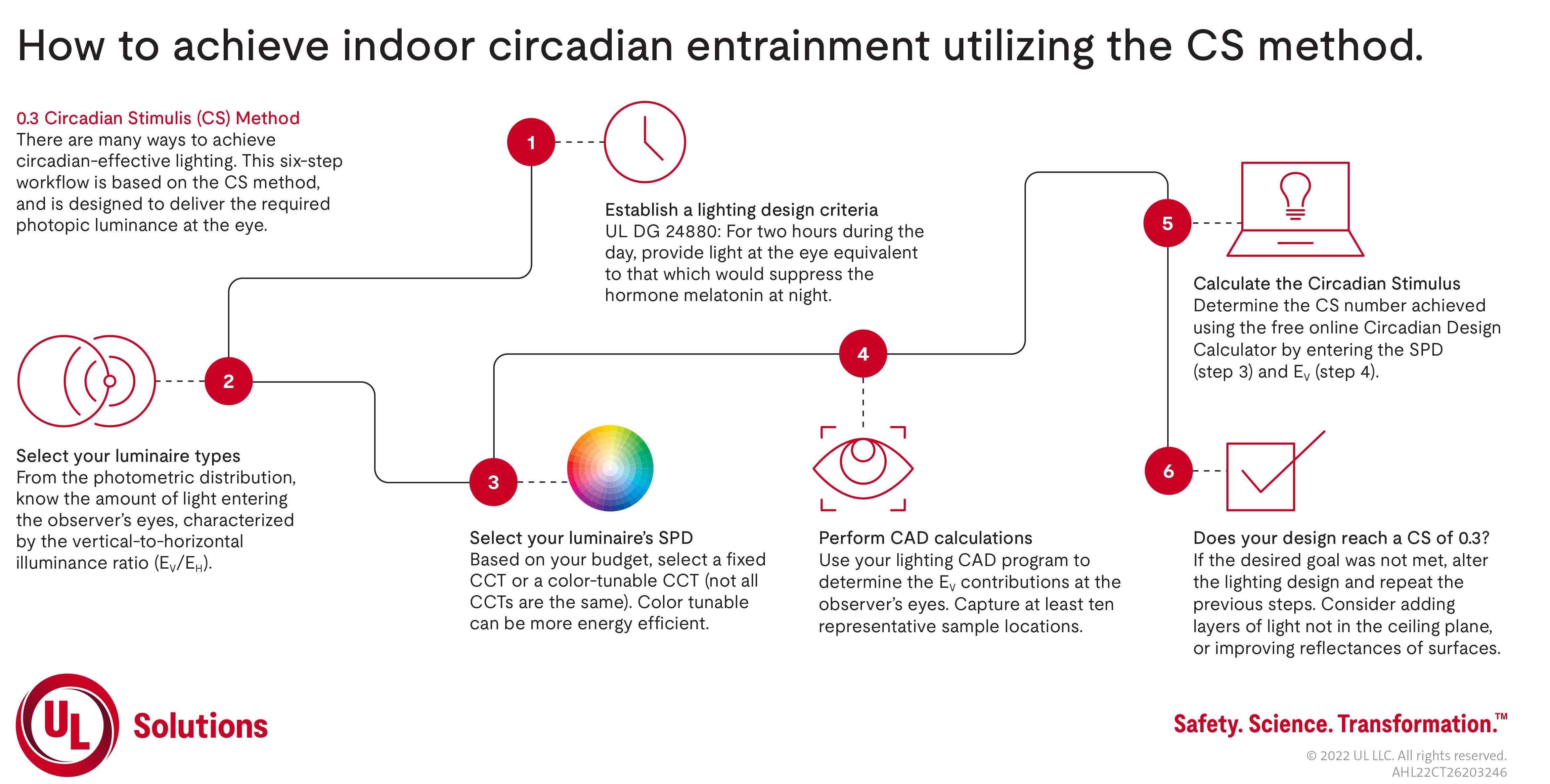 Working with lighting specifiers, distributors, manufacturers, researchers and institutes like the U.S. General Services Administration (GSA) and the Lighting Research Center (LRC), we are poised to follow the lighting industry's needs as human-centric lighting technology advances.
Circadian field measurement solutions
Our experts map the circadian score of an indoor space and provide test reports and a circadian heat map.
Measure circadian characteristics of luminaires
Our customized lab space is used to test photometric characteristics and spectral power distribution (SPD) to measure circadian effectiveness.
On-demand webinars
Related videos