Lighting solutions for horticultural and agricultural markets 
Advancements in lighting technology and sustainable, scalable solutions for both food production and legal cannabis production are driving the horticultural market.
Lighting and grow systems designed for horticultural applications are a critical technology to fuel optimal plant development and growth, and growers are interested in retrofit options to replace traditional light sources with long-lasting LEDs. 
From designers of custom and modular systems, to cultivators and processors, the need for certified, reliable lighting systems is a critical component in maximizing the return on investment from your facilities. UL Solutions has the expertise, flexibility and testing capabilities to help you bring your lighting solutions to market and support you in your drive toward more sustainable ways to grow crops. 
Horticultural and agricultural lighting testing and certification services 
Horticultural luminaires, lighting components and grow systems pose unique safety issues that may not be fully addressed by standards developed for general usage luminaries.
UL 8800
In addition to our active participation in the development of horticultural specific test methods and performance standards from the American Society of Agricultural and Biological Engineers (ASABE), UL Solutions launched UL 8800, the Standard for Safety of Horticultural Lighting Equipment, which represents the first set of standardized requirements specifically designed for horticultural lighting equipment.
UL 8800 is used to evaluate horticultural lighting equipment from manufacturers seeking the UL certification Mark for their equipment and devices, and as of March 2021, the DesignLights Consortium (DLC) requires UL 8800 safety certification to remain on their Qualified Products List (QPL). 
Our testing and certification services include, but are not limited to, these critical considerations for horticultural equipment and systems:
Photobiological effects
UL 8800 addresses potential human eye and skin exposure safety considerations associated with the light-source technology widely used in horticultural lighting systems. Tests are conducted in accordance with the requirements of IEC 62471 for Photobiological Safety of Lamps and Lamp Systems.
Wiring and connection methods
Horticultural lighting systems are frequently raised, lowered or repositioned to optimize plant growth. UL 8800 allows for specialized wiring and connection methods that support the required positioning flexibility.
Environmental considerations
Horticultural lighting systems are evaluated for their suitability in damp and/or wet environments, as well as in environments with elevated ambient temperatures.
Ingress protection
Classifies and rates the product's degree of protection against infiltration from dust, moisture and water, which can compromise reliability. Meets IEC 60598-1, Degrees of Protection Provided by Enclosures, testing criteria.
UV exposure of polymeric materials
Evaluates how polymeric materials react when exposed to ultraviolet light (UV) from the sun or the light source within the luminaire. UV exposure can cause polymeric materials to become brittle and more susceptible to breakage. 
In addition to testing of lighting equipment, UL Solutions can also help you test the Cybersecurity/IoT Ratings of your horticultural systems to assess risks and meet upcoming cybersecurity requirements from the DLC's QPL, which will be required as of February 2022.
Performance testing for horticultural and agricultural lighting
In addition to UL Solutions' safety certification service, we also offer customized performance and photometric testing services for horticultural lighting equipment, under UL S 8000 Horticultural Lighting Performance Specification. The deliverables for these services are test reports targeted toward the horticultural lighting industry, including photosynthetic photon flux and spectrum details, photosynthetic photon flux (PPF) output and efficacy, and spectral distribution measurements that enable growers to make the best decision on the wavelengths of light needed to optimize growth for their crops.
The UL S 8000 program comprises lighting manufacturers who agree to have their product's performance evaluated both initially and continuously. That data is then made available to end users (growers, specifiers, designers, etc.) to reference when selecting products through our Product iQ™ database.
Performance testing and verification claims are available for LED and non-LED lighting (halogen, metal halide, fluorescent, incandescent, etc.) equipment and systems.
2022 revisions to CA Title 24 that go into effect Jan 1, 2023 have mandatory requirements for Controlled Environment Horticulture (CEH) spaces. UL Solutions can test your horticultural systems and determine if your products meet the photosynthetic photon efficacy (PPE) rated in accordance with ANSI/ASABE S640.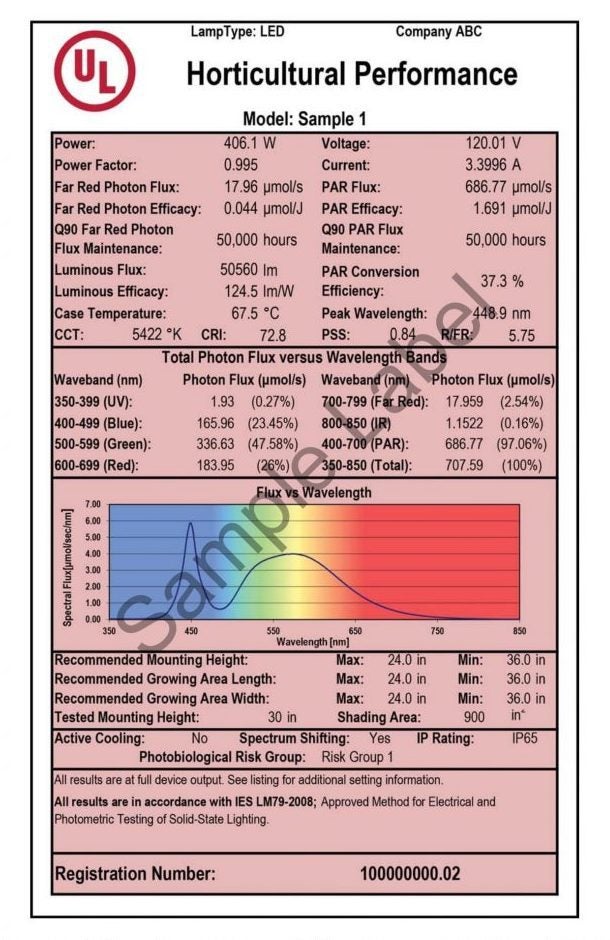 Horticultural lighting and food production
Growing global populations, climate effects, availability of arable land and an increased interest in organic foods have spurred modern food cultivation techniques. UL Solutions' horticultural solutions and certification support the safety and performance of equipment used in indoor, urban, greenhouse and vertical farming. Contact us for testing of photoperiodic, supplemental and sole-source horticultural lighting.
Lighting for floriculture and legal cannabis production
Unlike food producers, legal cannabis and cannabidiol (CBD) producers have additional concerns around regulations and security for their grow facilities and systems. In addition to the lighting safety and performance services outlined above, UL Solutions also offers a variety of solutions helping ensure the security of your facilities, the safety of your employees and consumers, and the sustainability of your processes.