By Chian Haw YONG, ASEAN Global Market Access Lead
Vietnam Ministry of Science and Technology issued circular 08/2019/TT-BKHCN, mandating certification requirement for general lighting products using LED, including the following:
LED lamp with built in ballast for general lighting with working voltage > 50V
LED direct replacement for LFL
LED luminaires
*HS code concerning85395000, 94051091, 94052090
Excluding the following LED:
For automotive
For public infrastructure such as streetlighting for road, public park, square or industrial use
For outdoor advertising facilities
Compliance requirement:
Products
Certification Standards
LED lamp with built in ballast for general lighting with working voltage > 50V
TCVN 6252:2017 (IEC 62560:2011+A1:2015)

Double cap LED direct replacement for LFL

TCVN 11846: 2017 (IEC 62776: 2014)

LED luminaires

TCVN 7722-1: 2017 (IEC 60598-1: 2014 / AMD1: 2017)

Relevant TCVN 7722-2-X (IEC 60598-2-X) (use latest version including amendment)
All LED lighting products

TCVN 7186: 2018 (CISPR 15: 2018) (emission)

IEC 61547: 2009 Ed 2.0 (immunity)
IEC 62471:2006 (Photobio-safety)
CR Mark conformity assessments for the above mentioned LED lighting products are to be carried out according to sample type testing evaluation. In-country testing is required and, once tested, the CR Mark COC is valid for three years. Upon certification, the LED lighting products shall be affixed with the CR mark as shown below: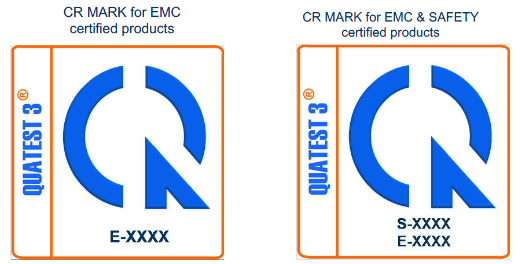 This regulation took effect on Dec. 31, 2019, and existing products in the market are allowed to be circulated in the market until end of June 2022.
Transitional arrangement:
From June 1, 2020, all domestically produced and imported above-mentioned products must meet the safety and EMC emission requirement before entering into the market.
From June 1, 2021, on top of meeting Safety and EMC emission requirements, all LED lighting products will be required to comply with the EMC immunity and photobiological safety requirement prior to entering into market.
How UL can help
We can help our customers manage the application of the CR mark. We have deep partnerships with Vietnamese certification bodies, test laboratories and a local presence.