Due to environmental concerns, the selection of refrigerants for heating, ventilation, air conditioning and refrigeration (HVAC/R) systems has become significantly more complicated. Hydrofluorocarbons (HFCs) were originally introduced as a replacement for ozone-depleting chlorofluorocarbons (CFCs) and hydrochlorofluorocarbons (HCFCs). HFCs, however, are greenhouse gases and subject to use restrictions in most countries. As a result, the industry has turned its attention to refrigerants considered to have a low global warming potential (GWP). Before 1990, most refrigerants were considered non-flammable, but in the late 1980s and early 1990s concerns about the ozone layer and the environment caused the industry to begin transitioning away from traditional refrigerants and toward lower GWP alternatives, which tend to have higher flammability characteristics.  
By 2010, increasing interest in refrigerants that are more flammable drove the need for safe use requirements in a wide range of HVAC/R products. In response, UL established a Flammable Refrigerant Joint Task Group to develop such requirements. This joint task group was composed primarily of technical experts from other UL Standards Technical Panels (STPs) familiar with the process of revising UL Standards as well as interested stakeholders knowledgeable on this subject matter. Through the work of this Joint Task Group, it has become increasingly apparent that the risks associated with lower GWP refrigerants require focused and thoughtful mitigation schemes to ensure their safe use. One such risk is flammability, as defined by ASHRAE 34 for Class 2L, 2 and 3 refrigerants.
ASHRAE 34, Designation and Safety Classification of Refrigerants, describes a shorthand way of naming refrigerants and assigns safety classifications to refrigerants based on toxicity and flammability data.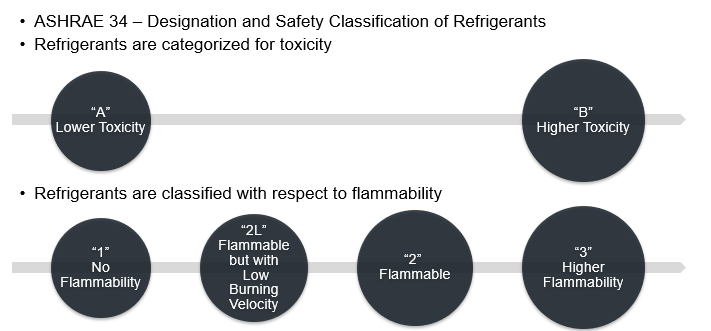 ASHRAE 15, Safety Standard for Refrigeration Systems, establishes procedures for operating equipment and systems when using refrigerants. The current approach to limiting the hazard associated with 2L, 2 and 3 refrigerants in codes and standards is based on two main principles: limit the refrigerant charge, or detect and then ventilate the space when a leak has been detected.
After more than 10 years of work, ASHRAE 15 addenda d and h, including revisions for low GWP refrigerants (A2L) for both direct and indirect systems, were published November 2018. For UL 60335-2-40, Standard for Safety for Household and Similar Electrical Appliances – Safety – Part 2-40: Particular Requirements for Electrical Heat Pumps, Air-Conditioners and Dehumidifiers, the HVAC industry has been working on the development of new safety requirements for flammable refrigerants since 2011.  This work lead to the 2nd edition of UL 60335-2-40, (published September 2017) and includes requirements for all flammable refrigerants up to three times the lower flammability limit (LFL) in accordance with ASHRAE 34 and a maximum charge of 3kg in accordance with ASHRAE 15.
The third edition of UL 60335-2-40, which is currently in ballot phase with the UL Standards Technical Panel, proposes to increase the charge limits for A2L refrigerants. This recommendation is supported by research projects conducted over the last 10 years and aims to align with what is now permitted in the new ASHRAE 15 addendum d. The requirements in UL 60335-2-40 will have mitigation methods for preventing leaks and potential ignition of the refrigerant in the event of a leak. 
Some of the highlights of this updated UL Standard are:
Products using flammable refrigerants are required to be constructed so that any leaked refrigerant will not flow or stagnate near ignition sources such as electrical components. 

Enhanced r

equirements are applied to the refrigerant tubing, joints and fittings on equipment having a flammable refrigerant, to reduce potential sources of leaks by minimizing the number of joints and additional protection from physical damage. 

Any products using a flammable refrigerant other than a 2L must be factory sealed, factory charged single package units and service ports are not permitted.

No hot surfaces greater than 700-degree C are allowed in an area that may be exposed to leakage of flammable refrigerants. 
The charge limit of flammable refrigerant depends on the LFL for the refrigerant as well as the floor area of the room in which the equipment is located. If the refrigerant charge within a product is relatively small, e.g., window air conditioner, the room can be relatively small and no special mitigation means are required. As the refrigerant charge increases, the room size must also increase. At some point, the refrigerant charge size may exceed the permitted room size and either a circulating fan within the product must operate continuously (which typically would not be desired due to energy efficiency requirements) or a leak detection system would be required. The leak detection system energizes the circulating fan within the equipment if a leak is detected. The system also turns off the compressor, closes safety shut off valves and opens zoning dampers in ducted systems. Closet installations or systems with larger charge limits also require natural and/or mechanical ventilation. A required leak detection system is considered a protective circuit and is evaluated based on requirements applicable to protective circuits.
Refrigerant leak detection systems are required to be located within the equipment where refrigerant is likely to stagnate. The leak detection system, referred to as a protective electronic circuit (PEC), is tested in accordance with UL 60079-29 -1 and -2, or UL 60730-1, or UL 60335-1 including the requirements in UL 60335-2-40.  The PEC is evaluated specifically for the equipment using the specific refrigerant and is required to be configured such that a failure of the controls or sensor results in the motor-compressor being de-energized.  As the equipment size increases with a corresponding increase in the refrigerant amount for a given floor area, natural or mechanical ventilation of the room would be required. 
Access additional information regarding the use of flammable refrigerants, including two UL white papers, "Revisiting Flammable Refrigerants" and "Update-Revisiting Flammable Refrigerants" and a free four-part in-depth recorded webinar.
For more information related to these products or their certifications, please contact:
Brian Rodgers, UL principal engineer HVAC, [email protected]
John Taecker, UL senior regulatory engineer, [email protected]