Due to environmental concerns, the selection of refrigerants for HVAC/R systems has become significantly more complicated. HFCs were introduced as a replacement for ozone depleting CFCs and HCFCs. HFCs, however, are greenhouse gases and are subject to use restrictions in most countries. As a result, the industry has turned its attention toward refrigerants considered to have a low Global Warming Potential (GWP). Before 1990, most refrigerants were considered non-flammable, but in the late 1980s and early 1990s concerns about the ozone layer and the environment caused the industry to begin transitioning away from traditional refrigerants and toward lower GWP alternatives, which tend to have higher flammability characteristics.
By 2010, increasing interest in flammable refrigerants drove the need for safe use requirements in a wide range of
HVAC/R products. In response, UL established a Flammable Refrigerant Joint Task Group to develop such requirements. This Joint Task Group was comprised primarily of technical experts from various UL Standards Technical Panels (STP) who were knowledgeable on the subject matter and familiar with the process of revising UL Standards.
It became increasingly apparent that the risks associated with lower GWP refrigerants required focused and thoughtful mitigation schemes to help ensure safe use. One such risk is flammability, as defined by ASHRAE 34 Class A2L, A2 and A3 refrigerants. The current approach to limit the hazard associated with A2L, A2 and A3 refrigerants in codes and
standards is done using two main principles or safeguards: limit the refrigerant charge, or detect and then ventilate the space when a leak has been detected. Please see "Understanding UL 60335-2-40 Refrigerant Detector Requirements" for further information.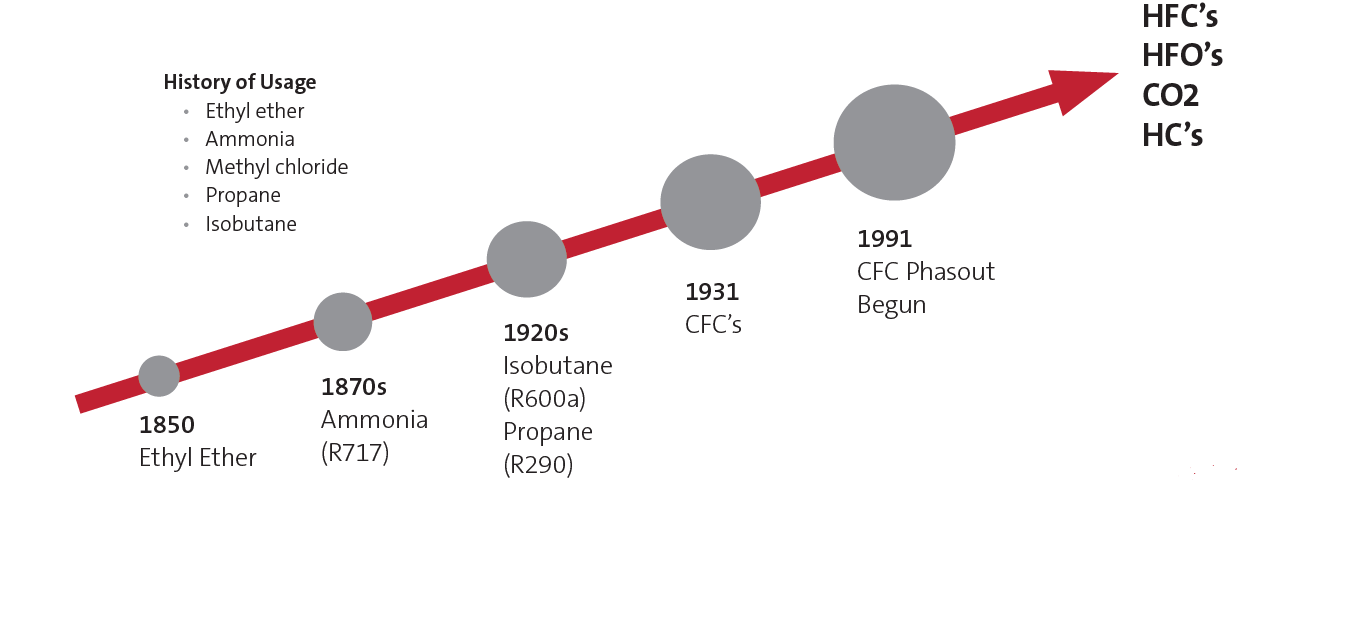 Additional updates include:
ASHRAE 15-2019 is published. It includes revisions for low GWP (A2L) refrigerants for both direct and indirect systems.
UL Standard for Safety for Household And Similar Electrical Appliances – Safety – Part 2-40: Particular Requirements for Electrical Heat Pumps, Air-Conditioners and Dehumidifiers, UL 60335-2-40, 2nd Edition (published 09/15/17), includes charge limit requirements for all flammable refrigerants up to three times the Lower Flammability Limit (LFL) of the refrigerant per ASHRAE 34, and a maximum of 3 kg of refrigerant in accordance with ASHRAE 15 - 2016.
UL 60335-2-40 3rd Edition, which will supersede the 2nd Edition upon publication, includes requirements for increasing the charge limits for A2L refrigerants, based on research projects conducted during the last 10 years and to align with what is permitted in ASHRAE 15 - 2019. UL 60335-2-40 also includes the following mitigation methods for preventing leaks, as well as mitigating the potential of ignition of the refrigerant in the event of a leak:

Enhanced tightness to reduce potential sources of leaks
Room area limits
Continuous air circulation, or air circulation with detection
Natural ventilation
Mechanical ventilation

UL 60335-2-40, 3rd Edition, has completed the UL consensus (Standards Technical Panel) process. General information regarding the UL consensus process, and specific information regarding the changes to UL 60335-2-40 are available at www.UL.com/Standards.

The proposed new edition reached and maintained consensus through the initial STP ballot, and subsequent recirculation, which
closed Aug. 26, 2019.
As a binational standard with Canada, the 3rd Edition is currently undergoing a final editorial review as part of the CSA standards
process. It is scheduled for joint publication with CSA on Nov. 1, 2019.

Proposals have been submitted to both the IAPMO and ICC 2021 code development cycles to reference the 3rd Edition of UL 60335-2-40 and ASHRAE 15 - 2019 to enable the use of low GWP refrigerants.

For further information please contact Brian Rodgers, principal engineer HVAC, [email protected], or John Taecker, senior regulatory engineer, [email protected], or visit UL.com/lowGWP.