Authored by: Dwayne Sloan, Technical Director, Built Environment and a Corporate Fellow - William Henry Merrill Society
UL has decades of experience testing and certifying roofing products and assemblies for resisting fire, high wind impact and other environmental conditions. Our experience and distinct testing over many years clearly demonstrates the importance roofing underlayment plays in the overall roof assemblies. What is an underlayment? The 2018 and 2021 International Building Code editions define an "underlayment" as "One or more layers of a material that is applied to a steep-slope roof covering deck under the roof covering and resists liquid water that penetrates the roof covering." The International Building Code (IBC) and International Residential Code (IRC)1 contain comprehensive requirements for roof construction, including testing and specifications for roofing materials used as underlayments. These codes also require certain roof assemblies and materials to be either certified or constructed of materials complying with specific product standards.
Fire performance
Although these codes do not expressly require listing and labeling of roofing underlayments, these products play a critical role in achieving Class A, B, or C fire classification of roof assemblies. UL 790 (ASTM E 108), Standard Test Methods for Fire Tests of Roof Coverings, includes three key tests to determine the fire classification of roof covering materials and systems; flame test, intermittent flame test and burning brand test. During the burning brand test, heat is transferred directly through the roof covering as well as the roofing underlayment, both of which protect the wood deck.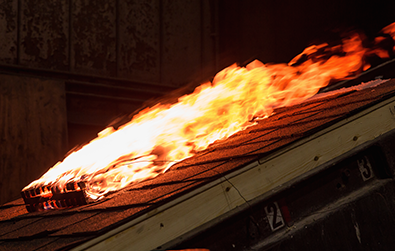 In most burning brand tests conducted over a combustible deck, the underlayment plays a significant role in achieving the fire rating of the overall roofing system. Accordingly, many certifications of roof covering materials describe the specific underlayments to be used based on the testing conducted. These underlayments are certified under Prepared Roofing Accessories (UL product category TGDY), which can be found in UL Product iQ™, our online certifications directory. Product iQ is free to use, but requires a simple one-time registration.
In turn, the individual underlayment certifications specify the types of roof coverings that can be used to achieve the desired fire classification ratings. A common misconception is that the UL 790 fire classification rating is only based on the roof covering, e.g., asphalt glass mat, metal, concrete, clay, etc., and therefore the underlayment is not considered to be a critical component. Based on this misconception, some noncertified roofing underlayments are often used that have not been adequately evaluated for a specific application. The certifications for prepared roof coverings (UL product categories TFWZ or TFXX) often contain important guidance describing when specific underlayment products must be used to achieve the fire classification. When a broader generic approach has been used, the appropriate roofing underlayments are certified under the category Prepared Roofing Accessories (TGDY). In both cases, these underlayments bear the UL Certification Mark and provide confidence that the roof covering and underlayment combination complies with the code-mandated fire performance requirements when installed in accordance with the manufacturer's installation instructions and their listing.
Wind and impact resistance performance
Roofing products and systems are also required by code to be tested and evaluated for wind and impact resistance. For example, asphalt and non-asphalt shingles intended for steep slope application are tested in accordance with either ASTM D7158, Standard Test Method for Wind Resistance of Asphalt Shingles (Uplift Force/Uplift Resistance Method), or ASTM D3161, Standard Test Method for Wind Resistance of Steep Slope Roofing Products (Fan-Induced Method), as defined by the scopes of those test standards. Underlayments do not factor into the ASTM D7158 test procedure. However representative underlayments are normally included in the roofing system when tested to ASTM D3161. 
Largely based on the needs of the insurance industry, roofing products and systems also undergo impact resistance testing. These are evaluations based on concerns due to hail damage. Steep slope asphalt and non-asphalt shingles are tested in accordance with UL 2218, the Standard for Impact Resistance of Prepared Roof Covering Materials. Representative underlayments are normally included in these roofing systems. 
Underlayment specifications
In addition to the performance concerns of the roofing systems related to fire, wind or resistance to hail, there are several other considerations of physical properties for underlayment products. These characteristics evaluate the overall ability of the underlayments to perform their function. Some examples of characteristics that must meet given specification values include product mass, breaking strength, pliability, water transmission, percent ash, tear, flexibility and more. Depending on the intended applications, the IBC or IRC may require roofing underlayments to comply with one of the following specific standards:
ASTM D226, Standard Specification for Asphalt - Saturated Organic Felt Used in Roofing and Waterproofing – Two types of asphalt-saturated felts are covered in this specification: Type I, which is commonly referred to as #15 asphalt felt, and Type II, which is commonly referred to as #30 asphalt felt.

ASTM D4869, Standard Specification for Asphalt-Saturated Organic Felt Underlayment Used in Steep Slope Roofing – Four types of asphalt-saturated felts are covered by this specification: Type I – #8 underlayment, Type II – #13 underlayment, Type III – #20 underlayment and Type IV – #26 underlayment.

ASTM D6757, Standard Specification for Underlayment Felt Containing Inorganic Fibers Used in Steep-Slope Roofing – This specification covers organic felts that are reinforced with inorganic fibers and inorganic fiber-based felts.

ASTM D1970, Standard Specification for Self-Adhering Polymer Modified Bituminous Sheet Materials Used as Steep Roofing Underlayment for Ice Dam Protection. 
Section 1507.1.1 of the IBC and Section R905.1.1 of the IRC contain specific requirements for underlayment materials based on intended applications. The codes require that the underlayment bear a label indicating standard compliance. UL Certified underlayment products tested and certified to any of these specifications are clearly identified by a UL Certification Mark on the roll, package or container. This provides confidence that the underlayment complies with the code requirements.
Recently, ASTM published a new standard for a polymeric underlayment product, ASTM D8257 Standard Specification for Mechanically Attached Polymeric Roof Underlayment Used in Steep Slope Roofing.
Conclusion
When it comes to the overall roofing system protecting against fire, rain, snow, ice and high winds, it is clear underlayments play a critical role. It is especially important with fire performance testing that the underlayment evaluated as part of the certification of the roof covering be certified, labelled and used appropriately in the field application. It is also important to identify on the underlayment packaging that these products comply with the code-required ASTM specification. One way to check this is by way of the UL Certification Mark on the product in accordance with these specification standards.  
For more information on roofing underlayment certifications please visit UL.com/roofing, or contact us at ULRegulatoryServices@ul.com.  
References
Editor's note: this statement references the 2018 IBC Section 1507.1.1 and IRC R905.1.1.
Roofing Testing and Certification Services
We can provide third-party Verification that your roofing has met industry requirements for performance and durability, having been tested for weathering, fire, wind and other environmental factors.
X
Get connected with our sales team
Thanks for your interest in UL's products and services. Let's collect some information so we can connect you with the right person.