As the demand for green buildings and healthy indoor environments grows across Asia, procurement professionals, architects, designers and green building professionals are seeking products with low emissions of volatile organic compounds (VOCs). GREENGUARD Certified products offer stakeholders proof their environmental claims support healthy indoor air quality through chemical emission testing.
With UL's program, respected around the world, manufacturers earning GREENGUARD Certification for their products can:
Appeal to buyers, procurement professionals and consumers seeking products that are low-emitting and support health.
Position products to earn credits toward a number of green building programs.
Understand products' VOC emissions to address potential problems early and mitigate risk.
Send a clear signal to the market that products support health.
Several respected green building organizations across Asia accept GREENGUARD Certification. For example, the Singapore Environmental Council recognizes GREENGUARD Certified products as automatically meeting the emissions limits outlined in the Singapore Green Labeling Scheme. Likewise, the Singapore Green Building Council recognizes the GREENGUARD Gold Certification tier as meeting the requirements of their Singapore Green Building Product Certification.
Doug Lockard, vice president and general manager of UL's Retail and Consumer Products team, said, "Manufacturers of building materials, furnishings, finishes and other products earning GREENGUARD Certification position their products to meet the needs of a growing green building market. Certification differentiates them from their competitors and sends a clear message that they prioritize health."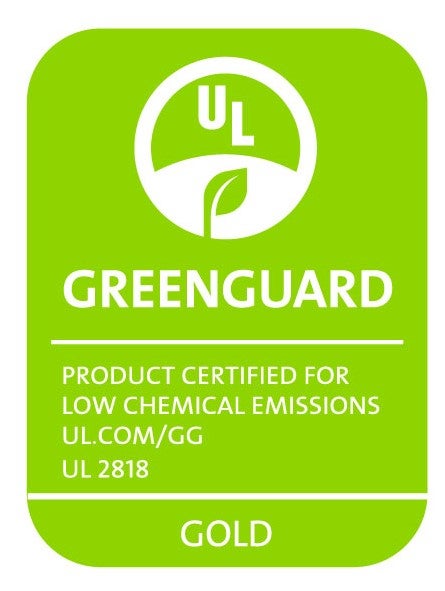 What is UL's GREENGUARD ?
GREENGUARD Certification provides manufacturers with a way to demonstrate their products meet rigorous emissions limits to support human health and minimize pollution in indoor air caused by the off-gassing of VOCs into the air.
The process begins with a certification plan that takes into account the manufacturer's unique product line, manufacturing process and certification goals. Testing groups are established, and manufacturers submit requested samples for compliance testing. Testing occurs in our dynamic environmental chambers that are designed to assess exposure risks under specific air flow, temperature and other conditions. Products are evaluated for chemicals of concern, but UL's GREENGUARD  prescribed method of emissions testing also detects more than a thousand individual VOCs, providing a comprehensive view of a product's emissions.
The program offers GREENGUARD and GREENGUARD Gold Certification. Gold Certification requires compliance with rigorous criteria. Once products have been evaluated and tested to certification criteria, the manufacturer is awarded the UL's GREENGUARD Mark to display on products that meet certification criteria.
How to authenticate GREENGUARD Certified products
While many products bear labels boasting low VOCs, these may be unsubstantiated marketing claims that lack objective third-party evaluation. In many cases, claims may also be confusing. For example, a product containing low VOCs does not necessarily indicate it will emit low levels of VOCs.
The GREENGUARD Certification program outlines testing protocols along with emissions limits and other specific criteria. Products that undergo the certification process are reevaluated on a regular basis to ensure continued compliance with these standards. UL is the sole Certification Body authorized to test and certify to the GREENGUARD program. If another company claims to have been GREENGUARD Certified by someone other than UL, it's not GREENGUARD Certified.
Be wary and conduct additional investigation if a product bears a mark that does not look like the official GREENGUARD Mark shown above. UL SPOT, our official online database of sustainable products, is a trusted resource for identifying GREENGUARD Certified products.
If you're ready to experience the many benefits associated with GREENGUARD Certification, contact us to learn more.
5.32 MB
Olympic House Sets New Record for Most LEED v4 Points
Olympic house sets new record for most LEED v4 Points, wins on occupant wellness. Indoor air quality (IAQ) was a priority for the International Olympic Committee (IOC) when developing the building.
Learn more
UL GREENGUARD Certification Program
Products that have achieved GREENGUARD Certification are scientifically proven to meet some of the world's most rigorous third-party chemical emissions standards, helping to reduce indoor air pollution and the risk of chemical exposure.

SPOT Product Database
A credible and comprehensive way to search for more than 100,000 sustainable products is now at your fingertips.