NORTHBROOK, Ill., April 2, 2009 -- Underwriters Laboratories (UL) is notifying contractors and distributors that a box of communication cable, sold in China and designated as SYSTIMAX® Solutions, bears a counterfeit SYSTIMAX® Solutions logo, print message, label and UL Mark for the Untied States and Canada. The cable was manufactured without the knowledge or permission of SYSTIMAX® Solutions. This communications cable has not been evaluated for safety by UL and is not eligible to bear the UL Mark.
Name of product: Type CMR Category 6 Communication Cable
Number of Units: Unknown quantity
Date of Manufacture: Unknown
Manufacturer: Unknown
Distributed by: Ke Jie Electronic Appliance Store, Booth G241, Zone B, Pacific Computer Market, Tianhe District, Guangzhou B G241 CHINA
Identification: On the cable: The surface of the cable jacket displays the following description:
SYSTIMAX - Q GIGASPEED XL 1071E 4/23 LF (UL) CMR c (UL) CMG VERIFIED (UL) CAT 6 GS01231 *-LT*  ######## FEET  (########. # METERS)
Identification: On the packaging: A label attached to the packaging displays the UL Listing Mark and the following descriptions:
SYSTIMAX® SOLUTIONS, GigaSPEED® XL Cable, Communications Cable, 1000 Feet, No. 1069.
Identification: Label attached to the packaging: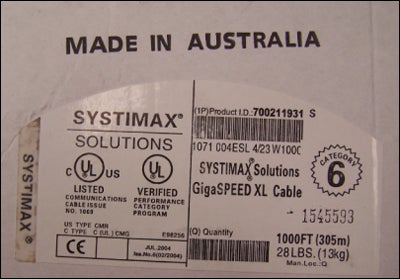 What You Should Do: Identify suspect cable by the lot number in the jacket surface print legend. If your cable contains the lot number GS01231, UL recommends that users stop using the product immediately and return it to the place of purchase.