UL Solutions recently issued the world's first compliance certificate for electric vehicle (EV) charging equipment embedded with energy management, which was developed and manufactured by LITEON Technology Corporation ("LITEON Technology" or "LITEON"), an international leader in innovative technologies. The certification is issued for equipment that meets the requirements of UL 60730-1, the Standard for Automatic Electrical Controls. A certification ceremony was held in Taipei on May 15, 2023, which was attended and hosted by Jonathan T.H. Chen, vice president and managing director of UL Solutions in Taiwan, and Rafael Lee, director of LITEON Technology's Clean Energy Solutions Division, on behalf of their respective organizations.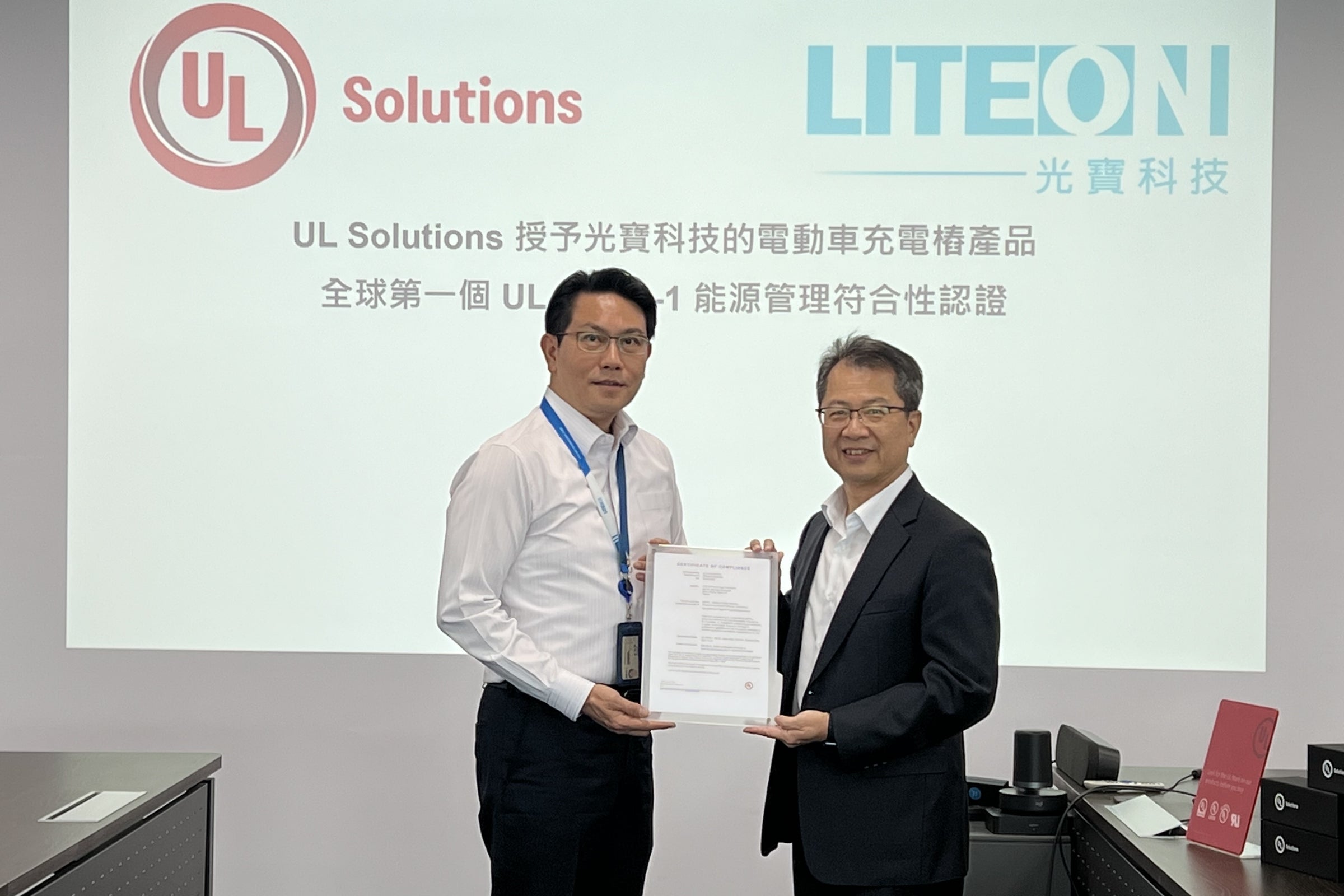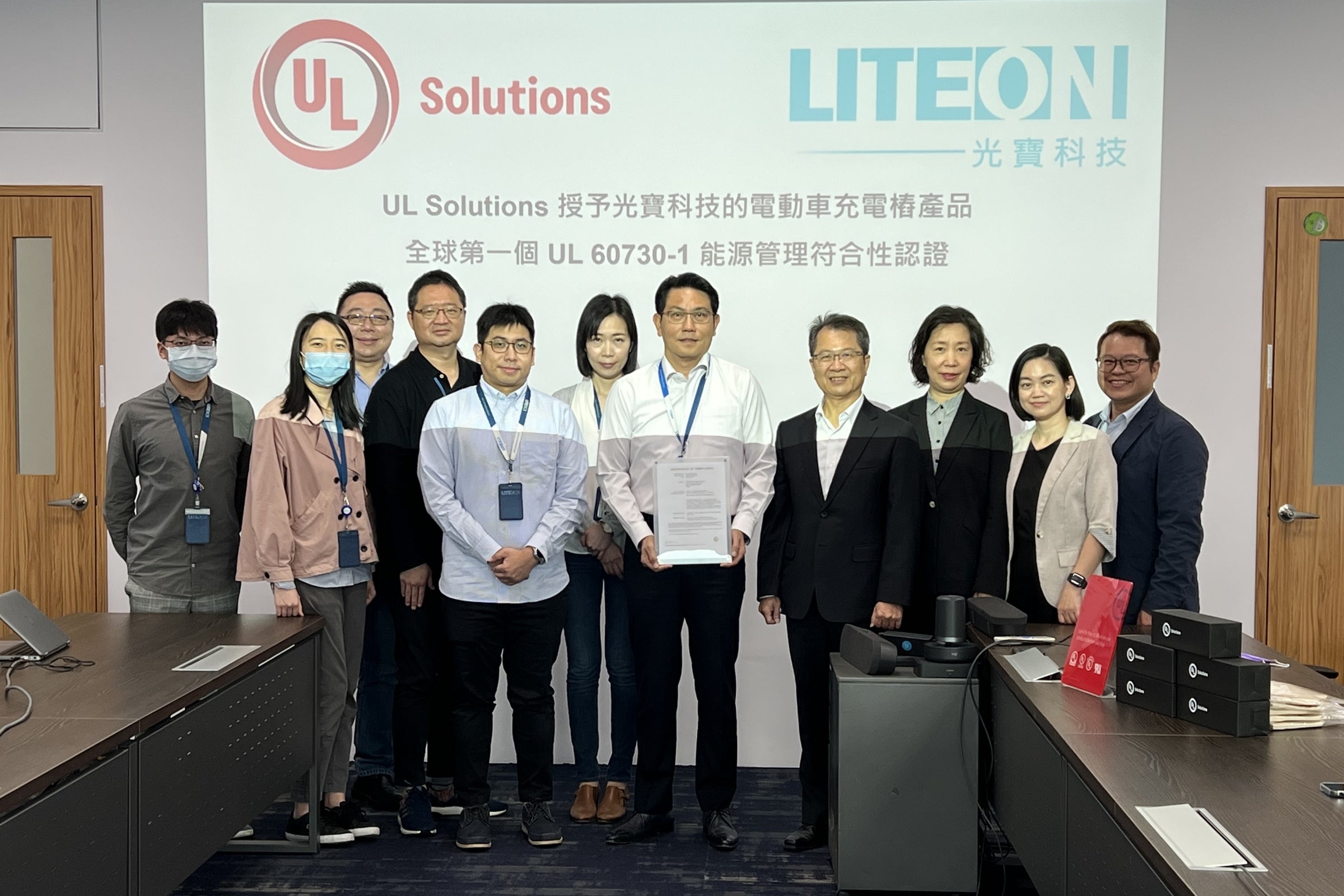 "Energy efficiency and carbon reduction are prevailing trends in various industries. They are also the main reasons why LITEON is investing in and developing electric vehicles," Rafael Lee, division director of LITEON, said at the beginning of his speech at the ceremony. "Achieving UL 60730-1 compliance certification will further enable LITEON to better demonstrate its more proactive energy-saving design with regard to energy management for EV charging equipment and its commitment to the interests of our customers and environmental sustainability."
"With over a century of experience in product safety, UL Solutions has always makes tremendous effort to promote safety scientific research and standard development across the world in order to meet the ever-evolving needs of industries for product safety, reliability and interoperability," Jonathan T.H. Chen, regional vice president, Taiwan at UL Solutions, said. "LITEON's EV charging equipment has obtained the compliance certificate for safety energy management equipment through their precise design. As a third-party organization entrusted to provide testing and certification services, we are proud to provide services to help manufacturers meet product safety requirements for market entry and gain more extensive recognition worldwide for their enhanced safety through our professional and convenient resources and services in Taiwan."
Pathway to compliance certificate for EV charging equipment with energy management
Due to growing environmental awareness, authorities across the world are expediting the development of EV-related policies and regulations. Many governments are even taking the lead in promoting the construction of charging stations and other infrastructure closely related to their development.
The energy management required by charging stations necessitates an increase in stable power supply, energy conversion and reasonable and balanced energy distribution during charging as well as the ability to monitor energy efficiency and cost control. Given these needs, it is increasingly important to place equal emphasis on energy efficiency and safety during charging.
The certification for safety energy management equipment represents a new demand for LITEON Technology and the entire charging station market.
LITEON Technology is the first manufacturer to partner with UL Solutions and earn the certification for energy management equipped with EV charging equipment. As such, the two companies worked toward certification of compliance with the UL 60730-1 Standard for charging stations through continuous communication and exchange of technologies. Finally, they managed to reach a consensus on this issue. This process took a lot of effort: from jointly determining energy management and safety function requirements to performing framework system design and detailed modular design. They evaluated whether charging stations could meet energy management, distribution and safety requirements in different usage scenarios through appropriate test items according to the requirements of UL 60730-1 and completed the compliance certification for energy management equipment.
It is worth mentioning that obtaining the UL 60730-1 certification also signifies compliance with the requirements of the National Electrical Code® (NEC) for EV charging stations and satisfaction of North American buyers' expectations for the certification of safety energy management equipment.
Today, energy management has become increasingly important for charging stations, pushing the market demand even higher. The following are the reasons for the increased demand:
As the EV market grows, the development of infrastructure conducive to industrial development (such as charging stations) will become inevitable. Charging stations equipped with energy management functions can help improve charging efficiency and reduce charging time.
Since the market focuses more on energy efficiency and cost control, such charging stations have the ability to meet the need for cost control thanks to their improved energy efficiency and lower energy costs.
As environmental awareness has become prevalent worldwide, equipping charging stations with energy management functions can not only showcase these energy efficiency advantages but also help reduce energy waste and meet environmental protection requirements.
As for safety concerns in the market, energy management of charging stations can also improve their safety performance, thereby reducing accidents and ensuring user safety.
UL/CSA/IEC 60730
At UL Solutions, we can help boost the industry's confidence in innovations and evaluate products and equipment for compliance with the requirements of UL/CSA/IEC 60730, the Standard for Automatic Electrical Controls. This Standard mainly defines the methods that increase the safety of appliances with embedded control hardware and software. To achieve functional safety, companies must eliminate risks of hazards caused by potential malfunctions.
We provide unmatched technical expertise and global support across our portfolio of control offerings for components, end products, systems and ecosystems:
Electrical safety – UL/CSA/IEC 60730
Performance and reliability
Functional safety assessment, testing and certification
UL Marketing Claim Verification
Building automation system protocol (KNX)
To learn more about our services, please visit our Solution for Controls page.
Solution for Controls
Our controls solutions cover product certification, supply chain management and quality assurance, enabling you to mitigate risk, bring your products to market quickly and protect brand value.
Learn more
X
Get connected with our sales team
Thanks for your interest in our products and services. Let's collect some information so we can connect you with the right person.