Over two years ago, UL committed to providing pro bono solar lighting product certification for a solar-powered light designed, manufactured and distributed by Watts of Love. The nonprofit organization gives this clean energy light to people who live in some of the world's most impoverished parts. Each light provides recipients with a safe and secure environment and a pathway to an independent and sustainable future.
UL's Corporate Sustainability Manager Tina Vaughn learned about the organization after Nancy Economou, the founder of Watts of Love, sought assistance in confirming its solar-powered light design safety. Economou knew that the light developed by the organization was making an impact, but she also wanted to make sure the light was of the highest quality possible.
"The testing, inspection and certification of products to promote safe, secure and sustainable living and working environments for people is core to UL's principles," Vaughn said. "That's where UL's expertise fit in with Economou's vision. We knew UL could help make sure this product was safe for global distribution."
History of Watts of Love
Economou founded Watts of Love in 2012 after a trip to the Philippines. While visiting a Philippine feeding program, she saw a young girl whose face was all burnt. Economou asked one of the program's teachers what happened to the girl, only to be told that a kerosene lamp — a source of illumination in countries with unreliable electricity grids — had burnt the girl.
"As a mom of five boys, I couldn't imagine what it would be like to put your child every single night in front of a kerosene flame, knowing the danger," Economou said. "After that trip, I felt compelled to bring solar lights to people, and that's how I started Watts of Love."
Aside from the burn risks, kerosene is also toxic. Unintentional ingestion of the liquid is a primary cause of child poisoning in developing countries. Additionally, the National Institute of Environmental Health Sciences has linked household kerosene use to impaired lung function, asthma, cancer and increased risk to infectious diseases. 
"Their huts are covered with black carbon soot," Economou said. "The families wake up and the children have soot on their face and in their nose. The soot is everywhere."
Another problem with sustained kerosene use is its cost. According to the World Bank, kerosene consumes 30-to-40% of a family's income. Illumination brings about profound lifestyle changes in families, contributing to safety, convenience and financial stability.
"When we give families a solar light, they now have an opportunity to invest that 30% into something sustainable," Economou said. "On average, a family will save $155 (USD) in the first year, and that's just on kerosene batteries and matches alone."
The certification journey
Solar power may seem like a simple concept, but the technology is anything but straightforward due to the presence of lithium-ion batteries, which store energy captured by solar cells for future use. Lithium-ion batteries power many products in use today, from the simple to the complex. Examples of devices energized by lithium-ion batteries include cell phones, personal computers, e-bikes and electric vehicles.
Lithium-ion batteries showed up in the late 1980s, but they had a severe safety flaw — thermal runaway — an exothermic reaction that causes device breakdown. In thermodynamics, exothermic refers to the release of energy from a system, such as a battery cell, to its surroundings in the form of heat, light or sound, e.g., a spark or an explosion.
Thermal runaway starts from the overheating of the battery system. To combat this, manufacturers made several design changes, including a current interrupting device to terminate battery operation, a separator that could sense an increase in cell temperature and electronic circuitry to control charge-discharge. UL has worked diligently to expand battery safety science by understanding what causes faults and assessing and addressing hazards associated with battery systems proactively. 
One of the initial challenges observed with the lithium-ion batteries in the Watts of Love solar light occurred during the off-gassing test. This test resulted in the rupturing of the light's enclosure. To help Economou learn more about the risks and hazards associated with the use of lithium-ion batteries, UL's Corporate Sustainability team invited her to UL's battery testing laboratory in Northbrook, Illinois, for a demonstration. UL's battery testing team showed her how they set up the equipment, tested the batteries and cells, and measured the results.
"I knew safety was important, but all that was confirmed when I saw a lithium battery blowup," Economou said. "After seeing that explosion, I knew that I never wanted that to happen to anyone we gave a solar light to. Our relationship with UL was absolutely the right thing to do."
The certification journey was not simple or easy as Watts of Love had never done anything like this before. However, by demonstrating resilience, patience and commitment, they found a path toward successful testing and certification. Watts of Love worked closely with UL's senior staff members, who used hazard-based safety engineering to overcome these challenges to demonstrate that the product was the safest the organization could give.  Watts of Love completed its certification in July 2020.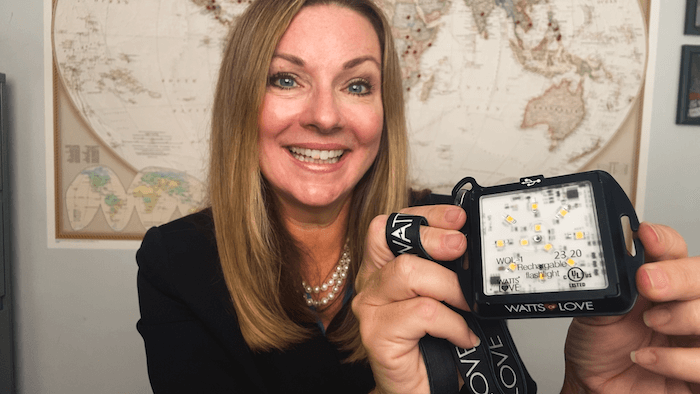 Light for the future
By lighting the world with UL Certified solar-powered lanterns, children can become more educated, with more hours to safely study at night. Families can escape poverty by investing their earnings instead of buying kerosene for lamps. Every light distributed by Watts of Love comes with financial literacy education, giving its recipients a road map to an independent and sustainable future.
"I knew light could transform communities and lives, and I wanted to make sure that the solar-powered lanterns were absolutely the best investment we could make," Economou said. "Our end-user may not be able to read. They may not understand the quality product they're getting, but it gives us the confidence to tell them that this is a safe light for them to use."
"It's a win-win across the board when you consider what Watts of Love is doing for people and what we have been able to do for Watts of Love," said Barbara Guthrie, vice president, Corporate Sustainability.
"UL's founder, William Henry Merrill Jr., once said: 'It is not that we are doing something for manufacturers, for suppliers or architects; we are doing something for humanity.' His words summarize nicely what we've accomplished with this project," Guthrie said.