Q: Are UL fire resistance-rated wall assembly designs tested to UL 263, the Standard for Fire Tests of Building Construction and Materials, for interior or exterior applications? 
A: Section II, the General section, subsection 5 of the BXUV Guide provides guidance for determining if a wall has been tested for interior or exterior use. It states that unless otherwise specified in the individual designs or certification information, fire-resistive designs and UL Certified materials are investigated with the understanding that their use is limited to interior applications. 
Q: If it's determined that an exterior wall needs to be fire resistance rated how do I know which wall to use? 
A: Wall designs tested and UL Certified for exterior use can be found by searching Product iQ™, UL's online database of certification information. Product iQ is available at www.ul.com/PiQ and is complimentary to use, but does require a simple one-time registration. 
To find these designs, follow this step-by-step process.
1. Click the drop-down "Building Materials, Systems and Installation Codes."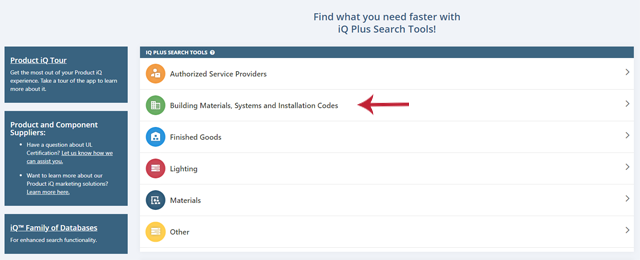 2. Next, choose the section "Fire Rated Roofs, Walls, Floors, Beams and Columns."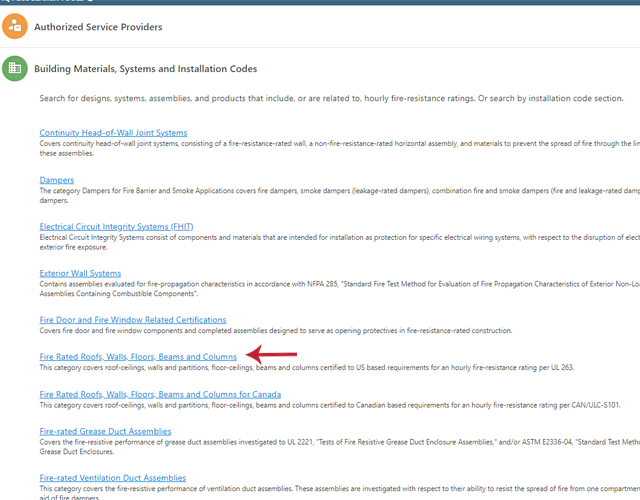 3. Using the iQ Plus Search Tools search, refine the results using the keyword box.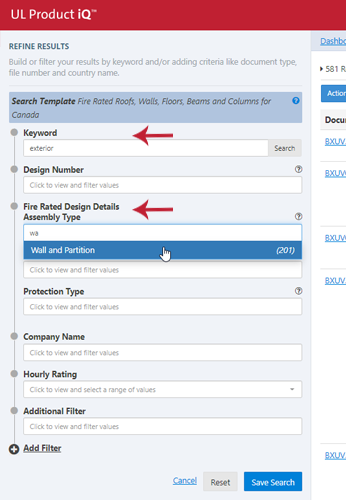 4. Within the "Keyword" dialog box, type in "Exterior". Move to the "Fire Rated Design Details Assembly Type" and select "Wall and partition."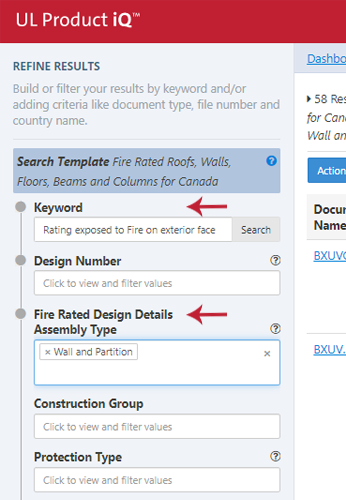 Q: If the building code requires an exterior wall be rated for fire approaching from the outside due to proximity to an adjacent building or property line, how can I use Product iQ to find appropriate wall designs?
A: Some designs dictate that the ratings are applicable for exposure to fire on the interior side only. If a fire rating is desired for the exterior side further refine the results using "Rating Exposed to Fire on Exterior Face" in the Keyword box. This will help locate a design where the assembly is rated to exposure to fire on the exterior face. 
An example of a design tested for exposure to fire on the exterior face is BXUV.V314. This assembly's design illustrates that it is a bearing wall with a rating of 1 hour for fire approaching from the exterior face of the assembly, but only when applying the information noted in the parenthesis, see item 8. 

Q: There are several items pointed out in this design. Which ones do I have to apply to use this as a bearing wall when fire might come from the exterior?
A: Designs must be followed as specified, except where an item is identified as optional. Within the example Design V314, there are several items required to properly construct this wall. These are detailed in items 1 through 5.
In addition, the exterior facings specified in item 8 must be adhered to in order to utilize this design as an exterior bearing wall where a wall rating is required for fire that could encroach from the exterior side of the building. This rating requirement for the wall along with the consideration of fire approaching from the exterior may be driven by the building code requirements where buildings are sited within close proximity of other buildings or the property line. In that situation, the building code requires the exterior wall to have a specified fire resistance rating that is dependent on several factors such as construction type, occupancy group and separation distance. 
Q: For exterior facings, can I use items 6 and 7 in this design or do I have to use the facings called out in item 8?
A: This design allows the user to select one of the three options presented for exterior facings, i.e., items 6, 7 or 8. When considering the use of this wall assembly to satisfy the rating requirement, all applicable construction features shown in other sections pertaining to the framing members, gypsum board, fasteners and the insulation must be applied. As specified in the header of this design,  Bearing Wall Rating - 1 Hr Rating Exposed to Fire on Exterior Face (See Item 8) for the 1-hour fire rating on the exterior face of this wall, items 6 and 7 are to be disregarded and one of the facia materials specified in item 8 must be chosen instead. Item 8 identifies the following two materials that need to be installed in accordance with the manufacturer's installation instructions for exterior facings: 
8A. Brick — Brick veneer, minimum thickness of 2.3 inches, meeting the requirements of local code agencies. Brick veneer attached to the studs with corrugated metal wall ties attached to each stud with 8d cement coated nails, every sixth course of bricks.

8B. Cementitious Stucco — Portland cement with self-furring metal lath. Minimum thickness of 3/4 in. with a mix ratio of 1:4 for scratch coat and 1:5 for brown coat, by volume, cement to sand.
When searching or specifying a wall assembly for use as an exterior wall it is important to understand that locating and determine the proper wall assembly for use as an exterior wall is only the first step. Ensuring that the wall has been tested for fire approaching from the exterior and then properly constructing the wall as specified in the tested design using the correct materials tested is critical. 
For additional information, please visit:
X
Get connected with our sales team
Thanks for your interest in UL's products and services. Let's collect some information so we can connect you with the right person.