The first time Adam Platt enjoyed a taste of freedom — "a true taste of freedom, like no constraints," he says — he was 8 years old.
"I ran away from home for about an hour," says the former building material sales representative. "My dad was a writer, and he had rented a house near Willard Beach in Maine one summer when we were kids. We were from Ventura, Calif., and I knew we lived by a beach, like the one in Maine. I was upset one day with my mom, so I figured I could walk down Willard Beach and get to our beach."
Thirty minutes later, he turned back. Although it was a brief adventure, Platt, 34, says something "opened up inside" of him.
"I really can't explain it, but to this day, I remember that feeling of absolute exhilaration," he says. "Seeing nothing behind me but beach and nothing in front of me but beach — I felt like I was in a movie."
Fast-forward about 20 years, and Platt's life was still like a movie, but "one of those ones where a man finds himself in a horrible life and decides to lash out at society," he says.
So, Platt gave his two-week notice at work, sub-leased his apartment in Portland, Oregon, and decided to go on "an open-ended road trip." That was six years ago.
The great escape
When he began his journey, Platt loaded his Ford Escape with everything he thought he'd need for a month.
"I knew I couldn't live like this forever in parking lots and at rest stops," he says. "When you work at a certain job and have a certain lifestyle, it's hard to just walk away from that, so I made a deal with myself — six months on and six months off. Work for six months, save enough to go on a trip, travel for six months and then find a place to work until you can afford to take the next leg of the journey."
Platt says his travel timeline expanded after his father died in 2014.
"My father was not a prominent author by any means, but the little money that he did make and the money that he had inherited from his family had been wisely invested, so when he died, there was a substantial amount of money," Platt says. "Since I'm an only child, that money went to me."
Platt says he invested a portion of the funds for his retirement — although he admits "retirement" is a relative term when you spend the bulk of your year roaming the continent — and decided to upgrade a bit. He purchased a new Jeep and several rechargeable devices, and he invested in a small auto shop in his adopted hometown of Portland.
"I know pretty much nothing about cars, but I helped set it up and got it running," he says. "That's how I make my living now."
Lithium life
Platt says he has simplified his life to the point that he no longer carries a laptop or a cellphone. He has rechargeable lights, an MP3 player, a battery-powered TV and several other lithium-battery-powered devices.
Platt says people likely would be surprised at the various mindsets and lifestyles of a lot of people who travel.
"The nomadic lifestyle isn't exactly synonymous with dirty hippie or anti-establishment socialist, not at all," he says. "There are people with a lot of money who decided to take a break from society for a few months. I think of it like the whole weekend motorcycling scene. A guy may run a company Monday through Friday, but on Saturday morning he puts on the leather jacket and bandana and rides his Harley or his custom Indian on Route 1 with his CEO buddies. It's a little piece of connection with America."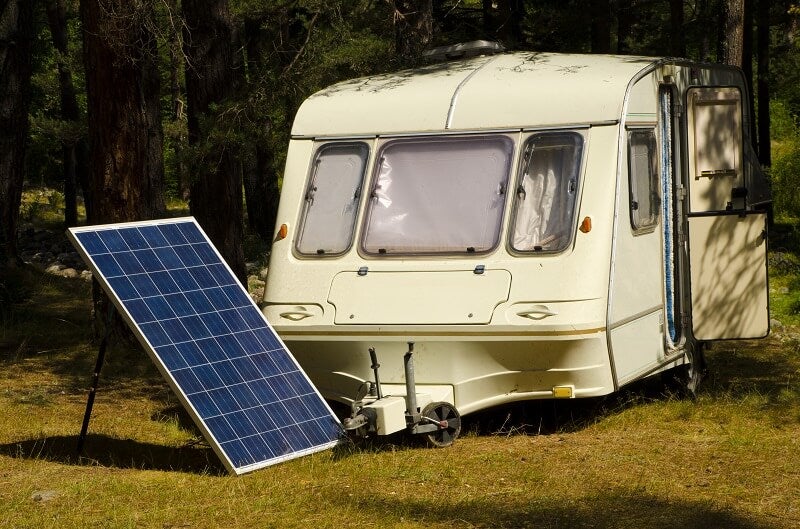 Jane Gomez, who is traveling with her husband and 2-year-old son on a one-year coast-to-coast trip, agrees.
"We see families, retired couples, singles, siblings — any combination you can think of," says the 24-year-old Iowa City, Iowa, resident. "It's a mix of all cultures and backgrounds."
Still, Gomez says she does find one commonality with her fellow travelers.
"I think we're all people who really appreciate nature and appreciate each other," she says. "Sometimes I look up at the stars at night and think about how sad I'm going to be when I get back to Iowa and have to go to work. I hope I can find a way to keep this magical essence inside of me even if I'm out living in the suburbs somewhere."
These modern wanderers often rely on devices powered by lithium-ion batteries that make living easier and keep them connected to the world. Living away from the rat race is often possible because of battery-powered devices.
Portable solar panels, headlamps, flashlights, water purifiers, hand warmers, camp stoves, power banks, charger kits, generators, water heaters, fans, coffee makers and more can keep nomads going as they're connecting with nature and reducing their reliance on the grid. 
More time with nature
"Rechargeable batteries have opened up camping in new and exciting ways," says Luiz Benitez, director of the Colorado Office of Outdoor Recreation Industry. "They've allowed families, couples and individuals to spend a little more time with nature. We don't have to do without some of the small but important items we count on to help get us through our day-to-day lives just because we want to spend more time outdoors."
Pittsburgh resident Anna Rinella agrees. A mother of three children, Rinella says she and her husband camp with their twin 6-year-old sons and 9-year-old daughter far differently than she used to camp with her father.
"When I was a kid, we roughed it — I mean, really roughed it — and it turned my sister and brother off from camping for a long time," Rinella says. "I always liked it, but I was a bit of a tomboy, so catching fish for breakfast was exciting for me. All of it was. I was the kind of kid who thought it was hilarious to dig a hole in the forest and use it as a bathroom."
It's important for Rinella to give her children the best of camping.
"It gets dark when we camp, obviously, and that used to terrify me as a kid so I make sure we have lanterns and nightlights so there's always some light, so having things that run on rechargeable batteries make a big difference," Rinella says. "My kids can go stare at the stars and we can sit around a campfire and I don't necessarily mind if they want to play on my phone for 15 minutes before they go to bed."
Rinella says her kids also love using rechargeable portable fans and headlamps, she says. And Rinella herself also admits she likes some of the comforts from home while she's sleeping under the stars.
"I have a portable espresso machine," she says. "Yes, that sounds pretentious — camping with an espresso machine. We have a portable coffee machine, too, a one-cup coffee maker. So, I have my coffee in the morning and then a shot of espresso with lunch or dinner. ... My husband makes fun of it and says my dad would roll over in his grave if he saw me drinking espresso after cooking steaks on the fire, but he'd probably love it."
Benitez says that comforts like Rinella's espresso maker, which is powered by a lithium-ion battery, is why many newbies try camping.
"There are people who love roughing it, who can go out with minimal equipment and enjoy the experience, but that's not for everyone," he says. "It's entirely possible to enjoy some of the comforts from home and still have an amazing, outdoor experience. The setting is what matters to most people, not the logistics."
See the world
Matthew Kepnes, the founder of NomadicMatt.com and author of "How to Travel the World on $50 a Day: Travel Cheaper, Longer, Smarter," says traveling — especially map-your-own-journey traveling — isn't just for people looking to disconnect from society for a while. In fact, he says, it's a great learning experience for people of all ages, including new college graduates before they embark on their careers.
"For a lot of people, once you're out of school, you're going to work until you're dead, so why not go have some fun while you're young?" Kepnes says. "When you're 50 and you have four kids, you can't just quit your job and travel. When you're 22, you can say, 'I'm going to go have fun for a little bit.'"
Kepnes says young travelers are sure to pick up life skills while traveling across the globe.
"You learn to go with the flow and deal with situations," he says. "You learn how to talk to people from different cultures. You learn things you can't learn in school. You become a more well-rounded person."
Have batteries, will travel
Platt doubts he'd be able to take his long excursions if there weren't portable versions of his favorite items available.
"Everything's rechargeable: rechargeable lights, rechargeable MP3 player, rechargeable power for my TV and Roku — I'm not anti-technology, just anti-being-bothered-by-people-for-no-reason," he says, further explaining his no-phone-or-laptop position. "I have a rechargeable blender and a rechargeable water purifier. I have a couple of rechargeable flashlights and a rechargeable hot-water heater I use for showers."
When he first went on the road, Platt relied on campsites with electrical hookups. Then he "graduated" to a jerry-rigged car battery he used to power devices like his electric shaver and hot plate.
"Really, it probably was incredibly dangerous," he says. "I remember one time I was shaving and it was hooked up to this battery, and the shaver started to get really hot ...  and I started smelling burning metal. I unhooked the shaver and ditched it and the battery at a truck stop along I-80 in Nebraska. When I got back to Portland a few weeks later, I had this ZZ Top beard."
He opts for safety now.
"I'm pretty sure there's a rechargeable version of anything you would ever need to live a nomadic lifestyle."
Safety first
Before clicking "purchase" on the cheapest item, consumers should be sure they're getting more than just a good price.
"It's easy to buy things that may be dangerous. You see something that's less expensive than similar items and it draws you in," says Matthew Thomas, senior engineering technician at UL's testing lab in Northbrook, Illinois. "As a consumer, though, you have to make sure you're buying from a legitimate manufacturer and that the product you're buying has been tested."
Thomas and other members of his team take the batteries through a litany of tests, making sure the batteries and cells can handle heat, pressure, drops and other rough-and-tumble elements of portable flashlights, phones, coffee makers and more.
"We replicate what could happen in real-life situations," says Thomas. "Anything left in the sun could overheat, so we test for that. Anything can be dropped or can fall off a shelf or table, so we test for that. We want to make sure the batteries that bear the UL Mark adhere to the standards."
Keeping it under control
In addition to having the right gear and devices, Platt says the right expectations are important for such a lifestyle.
"It helps being a loner," Platt says, "but make sure you define that like I do: a person who enjoys his alone time, not a person who hates everyone."
This article was originally published in On the Mark, a UL publication. Robert Snarski wrote the article.
Download the digital pdf to read more stories from On the Mark.