Sales and marketing professionals know that the buyer journey isn't a linear path for most customers. Making buying decisions often includes multiple steps and many stakeholders. This is especially true in B2B chemical marketing as consumer expectations and regulatory demands require a significant amount of upfront research to meet product requirements. Providing the right information and content for a potential buyer is essential to winning new business.
But understanding what content prospects need and how to deliver it can feel overwhelming. One of the ways marketers can focus their efforts is by mapping out a buyer journey for their target customers.
Reasons to create a buyer journey map
Regardless of whether a buyer journey map is simple or complex, it should help professionals in B2B chemical marketing think through what information a potential customer needs to make a decision. It should also help identify additional channels you can use to reach your prospects. Expanding your reach into new channels can be an important advantage for your chemical company. According to research from McKinsey1, businesses using multichannels consistently outperform their single-channel peers.
In addition, a buyer journey map can help clarify the different types of stakeholders involved in the buying process and how each stakeholder's needs might be different. In the end, creating a buyer journey should help you focus on your target customer's needs so you can become their preferred supplier.
Mapping your buyer's journey in B2B chemical marketing
Before you start mapping content and interactions, ensure you know who you are creating the journey for. Having customer personas can help maintain focus on what your prospects need to achieve and what information will be important to them. You may need to create a few buyer journeys depending on how many personas you have. Remember, in B2B chemical marketing there could be more than one stakeholder at a company involved in the buying process that you need to reach. Also, buyers in different industries may have diverse needs to take into account.
Another key consideration is that buyers are often 57% of the way through the buying process before they ever reach out to sales2. But many chemical suppliers still rely exclusively on their sales force and distributors to find new business1. Because potential customers are using digital channels to obtain the information they need, suppliers have a huge opportunity to increase their win-rates. By simplifying the online process to get needed information, you make it easier for potential customers to consider your products. So be sure to think through both online interactions and in-person interactions a potential customer may take.
Many frameworks can be used to map the buyer journey, but most include these steps for the buyer: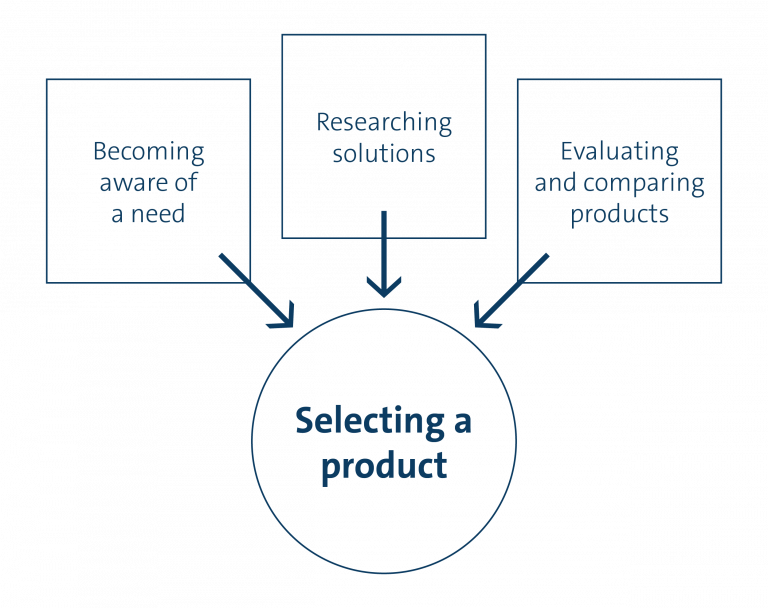 For each step, you should try to answer the following question:
What information is important to my prospects?
Where would they look for this information?
When, or at what stage of the buying process, would they look for this information?
How should I format and deliver the content they need?
Why would they pick my product after seeing my content?
By answering these questions, it is easier to identify potential gaps in content, channels or product positioning. If you have difficulty answering these questions, it may be helpful to reach out to a few current customers to ask them about their buying process. You can also use analytics from Google, your paid social channels, and UL's Connect platform to help inform how your prospects are interacting with your content online.
Three ways UL Prospector® can help
Buyers, engineers and formulators use Prospector throughout their product development process to source the materials they need. Prospector can be a valuable channel to include in your buyer journey through:
Increasing your visibility during the awareness stage

By listing on Prospector, you can help potential customers find your materials. Ensuring you have a robust profile page on Prospector for your products can improve your visibility during a customer's initial research. This applies to organic search results both on Prospector and with general search engines.
Using Prospector digital media can also increase visibility and highlight your product as a potential solution.

Providing intelligence and notification during the research stage

Fully capitalize on your product listings and learn who is researching your products with our Connect platform. Receive a prospect's verified business contact information to help close the gap between engaging in online research and sales.
Use trends and analytics to help inform what your buyer journey should include.

Differentiating your products during the comparison and evaluation stages

Stand out from your competitors by including certifications on your Prospector product pages.
Make it easy for customers in the personal care and cosmetics industry to obtain the information they need upfront for product development. By simply providing the Chemical Abstracts Service (CAS) numbers for your product or its ingredients, Prospector includes regulatory compliance and advisory list data, as well as retailer compliance data for your product listing.
Let Prospector help you provide content that simplifies the buyer journey. Our team of experts can help you with your B2B chemical marketing to differentiate your products and increase sales.
If you need to update your product listing with certification or compliance information, please contact your sales representative.
Ready to list your products and generate leads? Contact our team to start listing your chemicals and raw materials on the Prospector platform today. 
Jakobsen, S.; Naik, K., et al. (2017, February) Demystifying digital marketing and sales in the chemical industry [Online article]. Retrieved from mckinsey.com/industries/chemicals/our-insights/demystifying-digital-marketing-and-sales-in-the-chemical-industry
CEB's Marketing Leadership Council (2013, February). B2B's Digital Evolution [Online article]. Retrieved from www.thinkwithgoogle.com/marketing-resources/b2b-digital-evolution/