Building owners that demonstrate care for their occupants and assess the impact of the air quality on an occupant showcase their willingness to go the extra step to provide a space that takes health in mind.
Why now?
Since the emergence of the pandemic, people around the world have raised concerns about health and wellness in buildings. These concerns have made indoor air quality a critical component for businesses seeking to reduce risk and demonstrate a commitment to indoor environmental health. For more than 40 years, UL Solutions has been inspecting and verifying the indoor environmental conditions of buildings to help provide a healthier environment.
Indoor air quality (IAQ) describes the quality of air inside buildings as represented by the concentration of pollutants and thermal conditions that can affect occupants' health, comfort and performance. On average, people spend 90% of their time indoors, according to the 1989 report from the U.S. Environmental Protection Agency's "Report to Congress on indoor air quality": Volume 2. EPA/400/1-89/001C.  This demonstrates the importance of IAQ. While much attention and regulation have been dedicated to outdoor air quality, IAQ remains an unregulated but vital component of overall human health. The Science Advisory Board from the U.S. Environmental Protection Agency (EPA) consistently ranks IAQ among the top five environmental risks to public health.
While discomfort can often be linked to thermal conditions, health problems from poor IAQ can come in the forms of acute irritation — from allergies to chronic health implications, such as asthma and chronic obstructive pulmonary disease (COPD), that may be caused or exacerbated by poor air quality. According to the Annual Review of Energy and the Environment's research study in 2000 by W.J. Fisk, "Health and Productivity Gains from Better Indoor Environments and Their Relationship with Building Energy Efficiency," in addition to the 2000 Lawrence Berkely National Laboratory Report "Estimates of Potential Nationwide Productivity and Health Benefits from Better Indoor Environments: An Update" the indirect costs of poor IAQ, including missed work and lost productivity, have been estimated at $5 billion (USD) from asthma alone.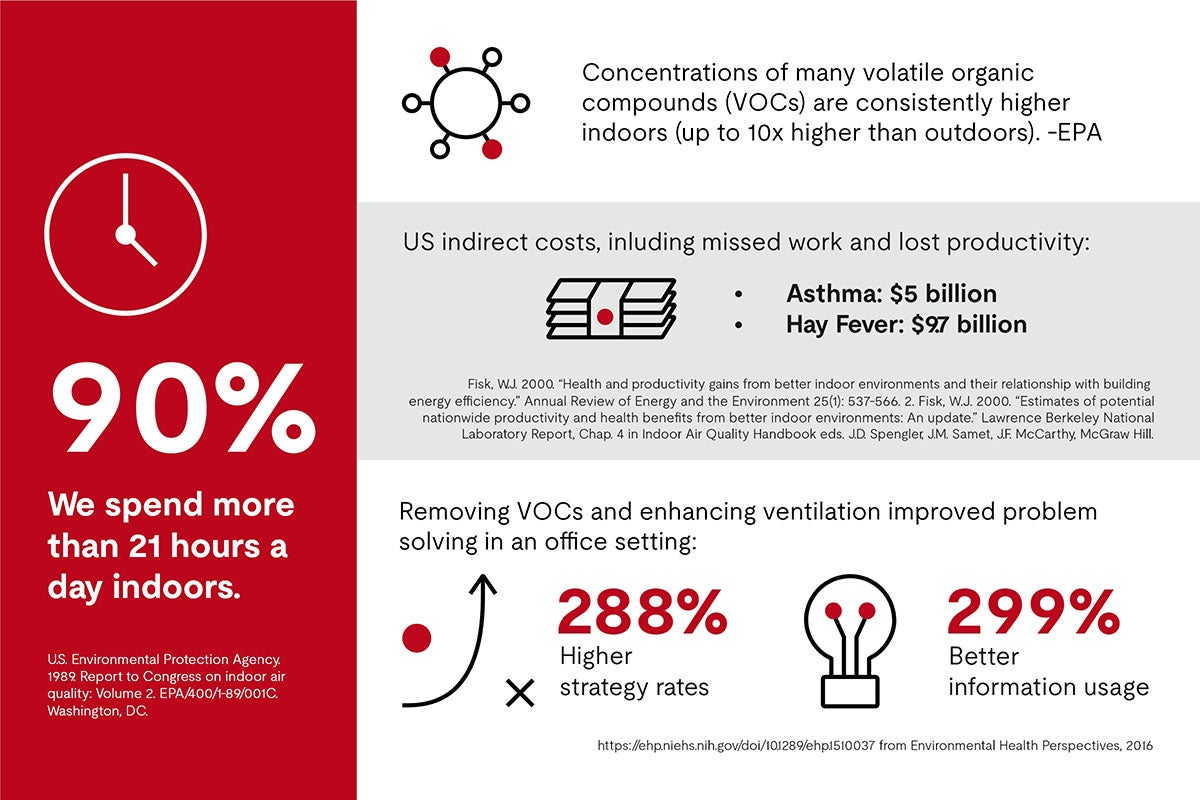 What causes poor indoor air quality?
Conditions leading to poor IAQ include:
Chemical proliferation
Pollution source control
Reduced ventilation
Deferred maintenance
Poor outside air quality
Each of these issues can be managed and measured with an effective strategy to optimize conditions for human health. A comprehensive approach is optimal, as it allows for a thorough evaluation of all the conditions that can affect IAQ, e.g., levels of pollutants, ventilation, filtration and hygiene.
The maintenance of good IAQ has been shown to improve cognitive ability and reduce absenteeism, according to a study published by the National Institutes of Health, titled "Associations of Cognitive Function Scores with Carbon Dioxide, Ventilation, and Volatile Organic Compound Exposures in Office Workers: A Controlled Exposure Study of Green and Conventional Office Environments."
UL Verified Healthy Building Mark shows you keep occupants' well-being a priority
In the absence of regulations and building codes that specifically address human health, and a need to verify claims made about IAQ, UL Solutions created the Verified Healthy Building Mark. As part of UL Solutions Marketing Claim Verification Program, the company evaluates IAQ against leading industry guidelines around health and wellness. Our experts employ a performance-based approach to measure indoor pollutants. The method evaluates the maintenance and operation of HVAC systems and examines policies in place for the continual advancement of IAQ. This program can also include assessment of elements of the building's water quality, hygiene, lighting and acoustics.
While IAQ has been a hot topic and thoroughly examined recently, UL Solutions has focused on topics like this and more for years. Experts from UL Solutions have been researching emergent topics on behalf of our customers for 40 years. Leading with a science-based, practical approach that we utilize with our Verified Healthy Building program allows us to meet the needs of the building industry.
Learn more about the UL Verified Healthy Building Mark
X
Get connected with our sales team
Thanks for your interest in UL's products and services. Let's collect some information so we can connect you with the right person.