Brexit's new rules and market access implications
Staying abreast of market entry requirements is more important – and challenging - than ever to maintain market access in the U.K. and EU. The EU-UK Trade and Cooperation Agreement requires significant changes in product conformity assessments and product marking. Leverage UL's global regulatory expertise to help maintain continued market access.
The EU-UK Trade and Cooperation Agreement - key regulatory changes
Following the United Kingdom's (U.K.) departure from the European Union (EU) on Jan. 31, 2020, the EU and U.K. jointly agreed on a transition period that ended on Dec. 31, 2020. During the transition, the U.K. maintained status-quo for businesses and consumers, which means that the EU still recognized U.K. Notified Bodies, and manufacturers could sell CE marked products into the U.K. market until Dec. 31, 2020.
On Dec. 24, 2020, the United Kingdom and the European Union have agreed to the Trade and Cooperation Agreement. The U.K.-EU trade Agreement contains new rules for living, working and trading together and entered into force on Dec. 31, 2020.
The full Agreement is 1,246 pages and is available here. 
The deal secures tariff-free access between EU and U.K. markets but does not change the compliance process, so the UK Conformity Assessed (UKCA) marking and conformity to the U.K. legislations remain mandatory for placing goods on the market in Great Britain. The new rules have been in application from 11 p.m. Dec. 31, 2020.
The UKCA marking

The new UKCA marking declares that the product conforms to all applicable U.K. legislative requirements and that appropriate conformity assessment procedures have been successfully completed. Beginning Jan. 1, 2021, the UKCA marking will replace the CE marking as a requirement for goods entering the Great Britain market, including England, Scotland and Wales. The UKCA marking will be required on products subject to the U.K. equivalent legislation to all of the EU directives/regulations that required CE marking, including the Radio Equipment, EMC and Low Voltage directives. Additionally, all U.K.-based EU Notified Bodies will also lose their status on Jan. 1, 2021. All EU Certificates issued by those bodies must be transferred to an EU 27 Notified Body by Dec. 31, 2020 to ensure continued validity. 
UKCA marking implementation and transition
In September 2020, the U.K. government announced that the implementation period for the UKCA marking. The UKCA marking will apply to most goods currently subject to the CE marking (products covered by the following directives/regulations, e.g., LVD, EMCD, GAR, Machinery, ATEX, RoHS and RED). 
The UKCA marking can be used from January 2021. However, to allow businesses time to comply with the new requirements, CE marking can still be used until Jan. 1, 2022, provided that the requirements for the EU and U.K. legislation will continue to be the same.
Starting Jan. 1, 2022, the U.K. government will no longer recognize the CE marking for Great Britain market access. Products bearing both the CE marking and UKCA marking will be acceptable as long as they comply with the relevant U.K. rules. The UKCA marking will need to be used immediately after Jan. 1, 2021, if the product is only marketed in Great Britain and is covered by legislation that requires the UKCA marking and mandatory third-party intervention of a UKCA Approved Body.
For Northern Ireland, the CE marking will continue to be the conformity assessment marking for most goods. Manufacturers may also need the UKNI marking if selecting U.K. Approved Bodies for approvals or certification. Harmonized goods carrying only the UKCA marking will not be allowed in the Northern Ireland market.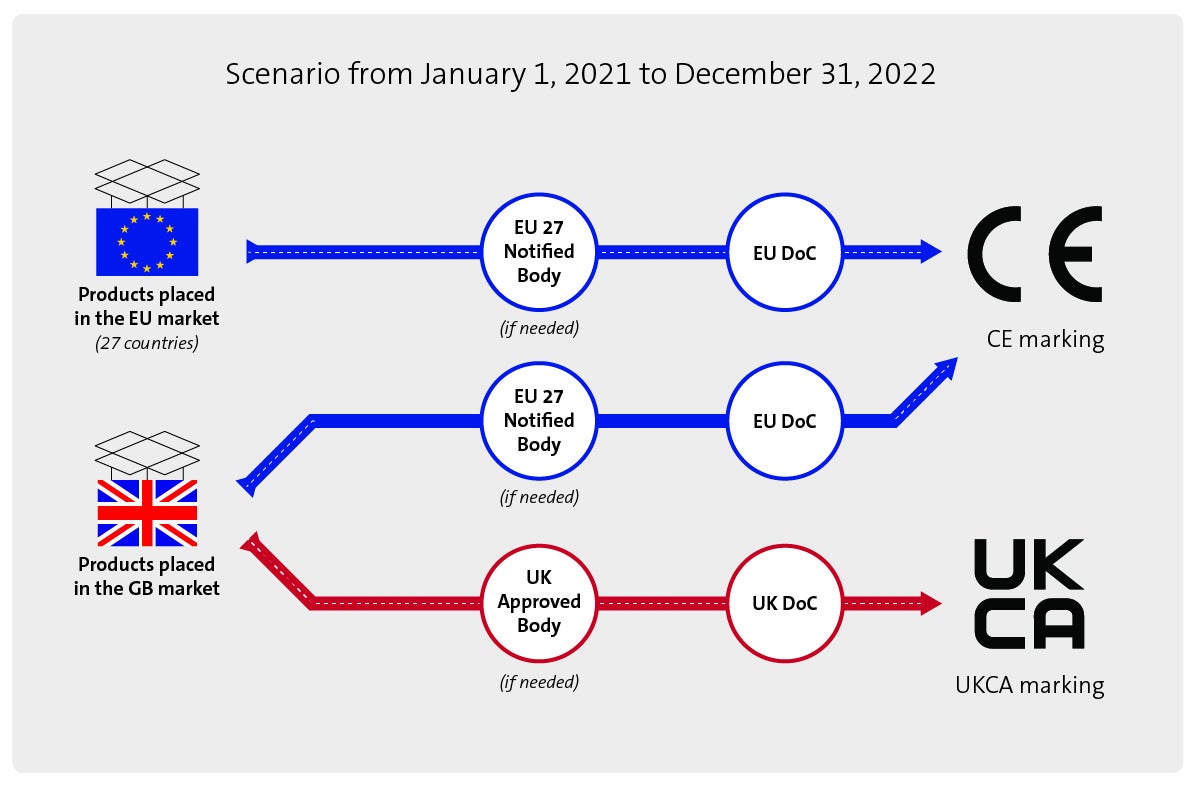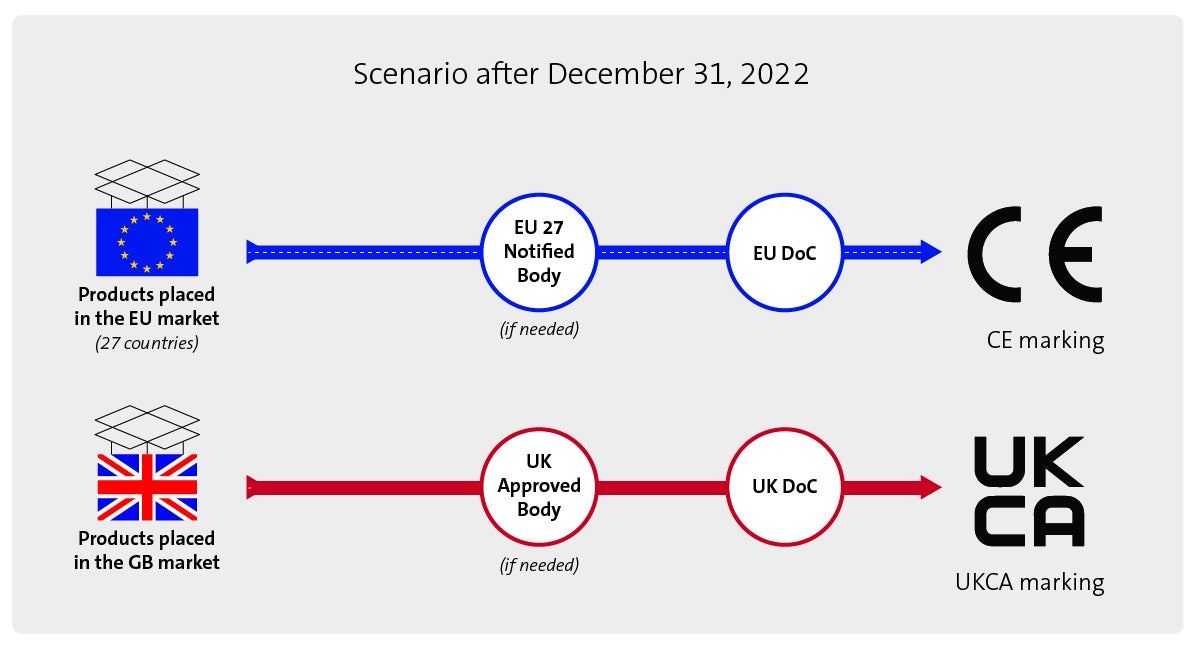 How UL can help you achieve business continuity in the U.K and EU
We have the global reach and unmatched expertise to support your market access needs. We are ready to support changes to product marking schemes for the UK and other European markets immediately. UL has established accredited Notified and Approved Bodies in the EU and UK, allowing uninterrupted support for customers needing the UKCA mark and other global market access needs. Learn more about how UL helps you to ensure business continuity.
Goods and legislations covered by the UKCA marking
Aerosols
Ecodesign
Equipment for use outdoors
Electromagnetic compatibility (EMC)
Civil explosives*
Construction products*
Gas appliances
Lifts
Low voltage electrical equipment (LVD)
Machinery
Medical devices*
Measuring instruments
Non-automatic weighing instruments
Outdoor noise
Personal protective equipment (PPE)
Pressure equipment
Products used/installed in Hazardous Locations (ATEX)
Radio equipment
Rail (interoperability)*
Recreational craft and personal watercraft
Restriction of hazardous substances (RoHS)
Simple pressure vessels
Toys
*Additional requirements apply for these product types
Note: This article was updated on May 11, 2021, to provide additional detail about key rules and regulations.