Discover how to connect workers with content that boosts workplace safety awareness — and your bottom line
Today's dynamic workplaces need to provide frequent training to help increase safety, manage risk and demonstrate compliance to evolving regulations. With the right tools, such as ongoing employee education, workplaces can accomplish these goals while remaining focused on their core business.
As a distributor of online training solutions, you need to maintain a comprehensive catalog of offerings with the most up-to-date content from reputable providers to meet the needs of employers and employees. The right approach? A partnership with our learning management solution, PureSafety®.
Choose from different partnership options that connect you with industry-specific learning tools, attractive revenue-share arrangements and a turnkey approach that's quick and efficient.
Respected workplace education from an industry leader
A global leader in safety science, UL Solutions understands deeply the important impact that ongoing training has in workplace safety. Our body of experts develop and maintain an award-winning safety training library, available through our learning management system (LMS), PureSafety®.
The PureSafety catalog includes thousands of environmental, health and safety courses that cover general workplace issues, as well as modules, designed for the unique needs of industries, including general industry and manufacturing, health and wellness, and transportation. Need a topic that isn't available in our catalog? Custom course opportunities are also available at an additional fee.
Plus, PureSafety is one of just a few authorized providers that can offer required Occupational Safety and Health Administration (OSHA) training, offering 10- and 30-hour training. This critical trainings help your workplace achieve greater safety and maintain compliance.
Employers can rely on PureSafety to help ensure that each employee is receiving the right training at the right time. Employers can quickly and easily target instruction based on job titles, location and other pertinent factors and track learning activity and performance.
Multiple paths towards a meaningful partnership
To extend access to this powerful training suite, UL Solutions has developed several different partnership opportunities for distributors to help your customers improve workplace safety and maintain productivity.
PureSafety partners get to enjoy key benefits such as:
An expanded catalog with high-quality offerings
Growth in incremental revenue through share agreements
Added turnkey content hosted by UL Solutions or on your LMS
Enhanced brand reputation with UL Solutions partnership
Designed by safety industry experts
Available in multiple languages
Engaging format that encourages retention
Tech-friendly for computers, tablets, etc.
Frequently updated
High-quality and still competitively priced
Three distinct PureSafety partnership options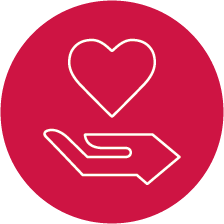 A perfect plug-and-play solution that's easy to get up and running
PureSafety on Demand offers a turnkey partnership approach that accelerates access to workplace environmental health and safety programs. With this option, connect your customers with a full range of high-quality courses via a custom access code. Members can choose from courses including OSHA 10- and 30-hour content on an as-needed basis to meet their regulatory and workplace needs. Enjoy a share of revenue while PureSafety takes care of hands-on issues, including customer support.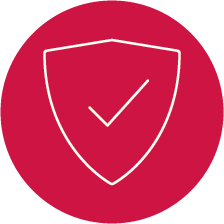 Private label on demand (PLOD)
Additional features, revenue potential plus bespoke branding
For partners that need to offer a custom-branded EHS solution, consider Private Label on Demand. This option unlocks further revenue potential plus custom URLs and payment processing features. Your customers can set up business accounts for their users, assign courses to employees and track user activity. As a reseller, you can review your own reports with administrator rights. When issues arise, UL Solutions provides service for customers and their employees.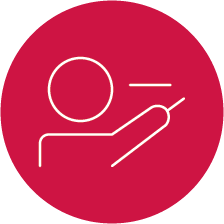 Access content for additional learning
Quality EHS choices to enhance your current offerings
For partners that already have a robust learning management system (LMS), we offer the opportunity to add PureSafety courses to your catalog with UL Solutions-hosted SCORM files or AICC format. While OSHA 10/30 courses cannot be hosted on a partner's LMS, we can provide custom codes so your customers can purchase this training on our site. 
With these PureSafety options, you can choose the level that helps you achieve your business goals and supports your customer's safety needs.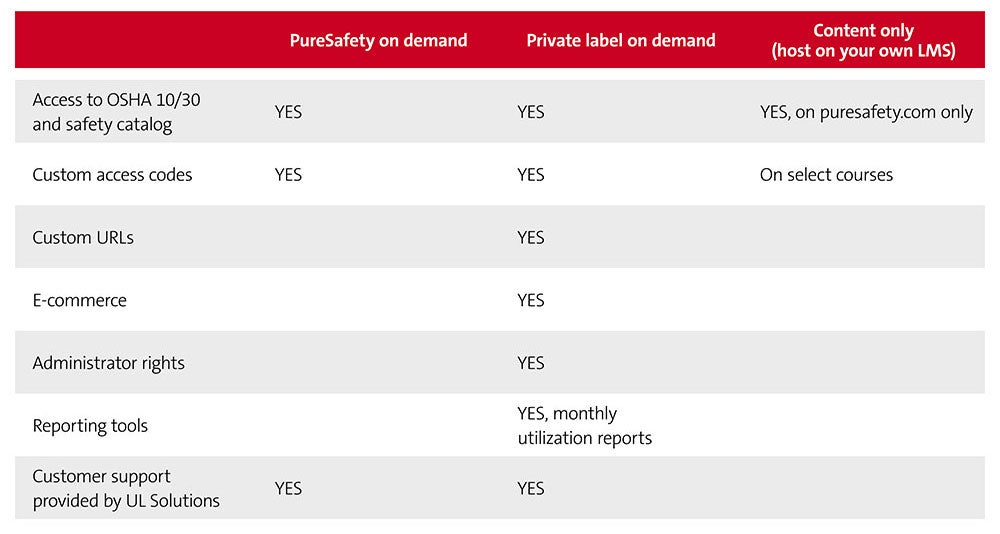 X
Get connected with our sales team
Thanks for your interest in our products and services. Let's collect some information so we can connect you with the right person.