Overview
With our original equipment manufacturers (OEM) approvals in the automotive industry backed by technical expertise, we can help you with your unique needs. We support you along the entire product development and automotive supply chain, from the planning and design phase, to material selection and the final Production Part Approval Process (PPAP), for an optimized time to market.
Capabilities
Our solutions for the automotive industry include:
Preparation and production of samples for testing
Prediction of environmental performance via artificial weathering, thermal aging and ozone stress testing
Automotive testing in the areas of rheology, mechanics, fire, media resistance and surface performance
Development, execution and management of test programs according to global and local standards, regulations and OEM requirements, e.g.:

As part of the Daimler Web 2020 program
Volkswagen Regulation VW 52000
BMW Group Standard GS 93016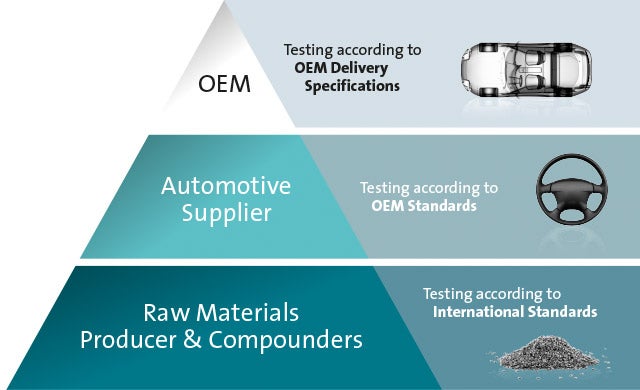 Why UL
Some of the benefits of working with our team of experts can include:
Optimizing your development process: With our service portfolio you have access to a single source for compounding trials, test specimen production via injection molding, as well as testing and certification of thermoplastics, thermosets, elastomers and composites. Technical consulting complements our one-stop service.
Reducing your costs: Thanks to our accredited, independent testing centers, manufacturers are able to reduce their own costs, as they do not need their own laboratory.
Receiving independent and reliable test results: We verify material and product performance of various automotive components made of plastics according to international standards — ISO, ASTM, VDA, UL, etc. — as well as client's delivery specifications.
Accelerating your time to market: Experience quick turnaround times as per our highly automated modern equipment and the technical knowledge of our subject matter experts.