Over the last several years, traditional brick-and-mortar retail has transformed to adapt to the changing needs of their customers, on-line competitors and the impact of COVID-19. 
This transformation has resulted in a hybrid operating-model that includes customer facing options, such as store-pickup (often without having to leave the customer's vehicle), direct delivery to customer homes and the traditional in-store shopping experience. 
To accommodate this change, retailers have reconfigured store layouts, incorporated order picking personnel and equipment, and invested in automated warehouses and distribution. 
Understanding new fire safety risks in ASRS-equipped warehouses
Automatic storage and retrieval system (ASRS) technology has become a crucial element of the warehouse and distribution automation. One of the unintended consequences of ASRS is the fire safety challenge they present.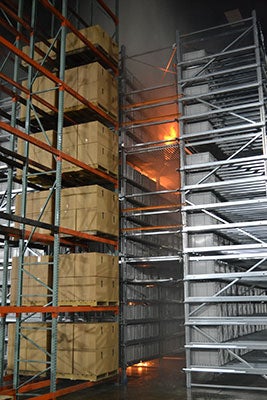 Many ASRS utilize plastic bin systems and store commodities in exceptionally tall racks with narrow aisles. This arrangement can make it very difficult for a traditional warehouse fire suppression system to control potential fires. In some instances, the fire suppression systems may present an additional challenge for arriving fire services tasked with extinguishing the storage fire. This unintended consequence has prompted retailers and their insurance providers to reassess their warehouse fire protection systems. 
With the arrangement of ASRSs in automated warehouses, regulatory code options are limited and typically require extensive arrangements of in-rack sprinkler systems. Not only is the cost for such in-rack systems substantial, but sometimes these systems cannot even be installed without physically changing the rack structure or the operational nature of the system.
In addition, the limitations placed on ASRSs due to few prescriptive code options may negatively impact the practical use cases of deploying such technology. Lastly, the capital investment in an ASRS and potential operational impact in the event of a fire make it impractical to just simply control the fire. Fire protection that suppresses or extinguishes the fire becomes necessary. The solution quite often requires fire suppression and potentially even extinguishment from the fire protection systems. However, the codes offer performance-based options to help ensure compliance.
Identifying and mitigating unique ASRS fire safety risks in warehouses
A large retailer selected an automated material handling supplier to provide them with a large footprint, mini load ASRS array to support their e-commerce operations. The facilities containing these ASRS units will be over one million square feet and will utilize various configurations of the ASRS, including a possible total storage height of nearly 85 feet. 
The ASRS is designed to use open-top plastic totes conveyed by automated shuttles within the structure and consists of five levels of totes in each maintenance level, each of which is placed vertically every eight to nine feet. Prescriptive protection requirements for the ASRS were specified based on FMDS8-34 and required multiple branch lines of in-rack sprinklers at each maintenance level. These maintenance levels were installed every eight to nine feet vertically. 
However, due to the racks' 15-foot maximum height, following these requirements would have exceeded the vertical limitation allowed. Due to the depth of the rack array, the in-rack design included multiple lines of in-rack sprinklers within the rack and additional sprinklers within the longitudinal flue.
The customer presented to our UL Solutions team with the challenge of achieving a reduction of the number of branch lines and levels of in-rack sprinklers required while reducing system installation cost and construction timeline. 
This will still provide a more robust fire protection system to achieve suppression or extinguishment to reduce risk and loss expectancy. Since this was outside the prescriptive options outlined in the recognized standard, the customer faced an intricate challenge that needed to be solved.
Designing for fire extinguishment, rather than management or suppression
ASRS storage arrays require a different protection scheme than traditional rack storage. While many design professionals are proficient in designing rack storage, ASRS arrays have distinct requirements. These nuances call for a precise partner selection process to identify deep expertise in ASRS arrays and their specific protective and operational requirements.
As a result, Telgian Engineering and Consulting and UL Solutions collaborated, empowering the creation of a turn-key solution for building owners and managers, facilities managers, corporate real estate professionals, and automation engineers to help address challenges in their storage systems.
Telgian Engineering and Consulting provided the experience and expertise to assess various commodity arrangements in automated warehouses and designed an effective performance-based fire suppression solution, also referred to as an equivalent protection design.
In parallel, UL Solutions applied its experience and assessment capabilities to verify the effectiveness of a performance-based design, conducting multiple small, mid and full-scale in-laboratory tests. This combination of custom, engineered fire suppression systems, coupled with the test data provides regulatory authorities the confidence they need to determine code compliance.
As a result of this partnership, our customer was able to not only increase the vertical spacing of their in-rack sprinkler system to every other maintenance level (eliminating 50 percent of the in-rack sprinkler piping) but expand the vertical spacing to a maximum of four (4) maintenance levels between in-rack sprinkler levels. 
The partners conducted a comprehensive test series, consisting of seven individual test cycles, on the desired racking system and incorporated the array's existing totes and exact system parameters for the planned, in-field installation. Each of the testing cycles yielded successful fire extinguishment, rather than mere fire management or suppression, proving the effectiveness and efficiency of the tailor-made, in-rack sprinkler system to solve the customer's high-risk fire challenge.
Summary
Deploying a precisely engineered and performance-based, fire-protection solution can provide significant savings for a property owner compared to following prescriptive design-criteria to upgrade a fire suppression system. In addition, this laboratory-tested, fire-protective design can provide quantifiable loss expectancies and help reduce insurance costs. 
As commodities and storage methods continue to evolve, the applicable protection requirements will be affected also. To evaluate whether thorough fire testing and performance-based designs may benefit your projects, contact the Telgian Engineering and Consulting or UL Solutions team, and find out which UL Solutions services can help you keep up with the industry's ever-changing requirements.
Commercial and Industrial Property Risk Protection
Our detailed report enables you to make more informed decisions about your property while giving insurers all the information they need to assess risk in a more comprehensive and accurate way.
Learn more
X
Get connected with our sales team
Thanks for your interest in our products and services. Let's collect some information so we can connect you with the right person.