Training competency and performance improved
Facing an evolving regulatory environment and increased focus on performance expectations, Lupin Ltd. recognized the positive impact that training technical competencies could have on their organization. Lupin partnered with UL Solutions' learning team to design, pilot and implement an improved training approach that would meet emerging regulatory expectations. Specifically, the organization moved from a system based on standard operating procedures to one focused on competencies. 
The approach
UL Solutions worked with Lupin's Corporate Quality team to develop a competency-based training program. The new process needed to be compatible with their existing learning management system and be rolled out across 12 company sites.
We began by reviewing the current state of training. Individual roles were identified and the competencies required for each role. These competencies were mapped to existing SOPs and training elements. The teams consistently identified SOPs that were assigned to unnecessary roles, reducing the number of required readings by 20 - 40%. Other SOPs were found to be redundant or able to be consolidated, which Lupin later addressed with an SOP simplification project.
Assessment checklists were developed for each competency with Good Manufacturing Practice (GMP) impact to evaluate and document observable trainee technical competence. The teams developed metrics that could be used to demonstrate the effectiveness of the training program, and UL Solutions provided recommendations for ongoing governance and performance measurement.
Implementing improved training plans
The new competency-based training program dramatically improved the quality of learning imparted to employees. Employees received training in smaller, more in-depth modules and could prove their competence on the job.
Following a "demonstration, practice and mastery" approach, employees were certified to work only when they successfully completed a competency assessment. With properly trained personnel in place, the company achieved increased productivity and recognized quality improvements as well. The training plans, featuring a flexible, modular approach, allowed departments to order training modules to meet their operational needs and schedules. Additionally, employees could become certified and productive on some unit tasks while continuing to train.
The importance of competency-based training
To date, 1,000 employees have been trained using the new process. Benefits of the improved program include improvements in:
Employee productivity
Flexible, just-in-time training and improved quality of learning have resulted in reduced employee time to productivity.
Error reduction
The new program has led to fewer training-related deviations, a decrease in invalid OOS/Lab incidents and less time spent on corrective and preventative action.
Employee confidence
Objective feedback to trainees promotes employee confidence which has led to qualified employees and improved employee satisfaction.
"Lupin entered into the era of competency-based training through the UL Solutions framework of training. The design was completely of UL Solutions and that coupled with Lupin's execution finesse, made the project a grand success." 

– Nilanjana Basu, Head, Technical Training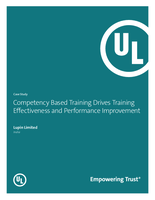 LUPIN: Competency Based Training Drives Training Effectiveness and Performance Improvement
1017.39 KB
To access the rest of this engaging content, please fill out the form below: