Safety Expertise
For over 125 years, UL has been the leader in safety knowledge and management. From our beginnings as a fire safety company to present, our mission has been rooted in safety expertise.
Helping create the safest conditions for your employees
UL's online training provides a safe and easy way to reach your employees where they are, while in-person trainings are limited or not available.
As organizations return to the workplace, UL offers training to help prepare employees and facilities for a safe return following a prolonged absence.
Library of comprehensive health and safety courses
UL's online safety catalog contains hundreds of employee health and safety courses, written by safety and instructional experts
Certified EHS advisors and industry experts monitor content for regulatory changes and

 

best practices

EHS content is available in top global languages for consistent safety messages for all employees

Globally-relevant courses deliver training on the most important safety topics

Courses feature engaging content and activities to resonate with employees' experiences, reinforce best safety practices, and enhance transfer of those practices to the workplace

UL's EHS Learning Solutions team can customize existing UL courses or develop new ones to meet your unique learning needs

UL also provides options for you to personalize the EHS content yourself, making it relevant for your employees, your products, and your company

Training is optimized for computers and tablets, and with an average length of 20 minutes or less, learning is available anywhere, whenever it's most convenient for employees

UL courses are SCORM and AICC conformant for simple and quick integration with most learning management systems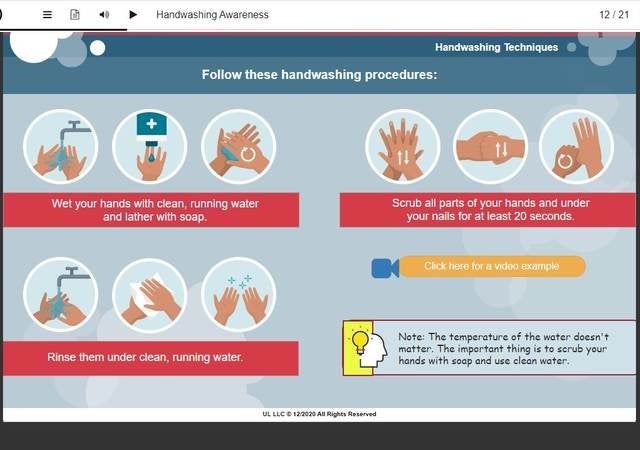 Handwashing Awareness Course
Washing our hands every day can keep our hands free of germs and chemicals while helping us avoid disease and illness. But are we washing them effectively? UL's Handwashing Awareness course explains how and when to wash your hands and how proper glove use benefits your health. All workers may find value in this course. Contact us to learn more about this course and our online safety course catalog.