Overview
Machine hazard assessments
On-site hazard assessments identify machine hazards and risk estimates, and provide machine safeguarding recommendations. This approach is typically applied to multiple machines and is a cost-effective method for performing plant-wide machine safety assessments. For identical and similar machines, one typical report is generated that can be applied to all machines.
Each machine hazard assessment report includes the following:
Identification of machine safety hazards
Inspection for bypassed safeguards
Machine risk rating (with existing safeguards) and required functional safety performance level (PL)
Recommended risk reduction measures (safeguarding)
Recommended corrective actions
Machine safety risk assessments
A machine safety assessment includes all inspection and activities from the hazard assessment, plus inspection and observation of a machine in operation to identify existing hazards, machine safeguarding, safety systems and risk reduction measures. This inspection may include discussions or interviews with operators and maintenance personnel.
Each machine safety assessment report includes the following:
Machine hazard assessment report criteria
Compliance gap analysis – includes gap analysis of machines against current OSHA regulations, applicable U.S. standards (ANSI and NFPA 79) and applicable corporate safety standards (provided by client)
Hazard identification – includes photographs (where permissible) and notes/observations of observed machine guarding noncompliances and machine safety hazards
Safeguarding (hazard abatement) recommendations – includes safeguarding (hazard abatement) recommendations for mitigating hazards, hard guarding, safety systems and controls and/or administrative risk reduction measures with illustrations where feasible
Functional safety – includes determination of the required functional safety performance level
ANSI/RIA machine risk assessment
A machine risk assessment includes all inspections and activities in our machine hazard and machine safety assessments plus interviews and discussion with your staff including engineering, operators, maintenance and safety personnel (as available), and completion of an ANSI/RIA risk assessment document in addition to the safety report.
Each ANSI/RIA machine risk assessment report includes the following:
Machine hazard assessment report criteria
Machine safety assessment report criteria
Completed ANSI/RIA risk assessment for each machine
Task and hazard identification
Risk estimation level (negligible, low, medium, high, very high) based on severity of injury potential, exposure to hazard rating and avoidance of hazard
Functional safety
Risk reduction measures
ANSI/RIA team-based machine risk assessment
This assessment pairs our experts with the customers' key staff roles to perform an in-depth assessment of the machine. Our experts will facilitate machine inspection, guide discussion, and provide a compliant ANSI/RIA risk assessment spreadsheet. You will be responsible for the following authorized personnel during the assessment:  operator, maintenance, engineering and EHS.
Our experts will guide the client team as needed to:
Identify hazards
Review drawings and technical details
Score the hazards in terms of severity, probability and frequency
Assist in the use of the spreadsheet tool
Checking, correcting and approval
Facilitate team discussions and team engagement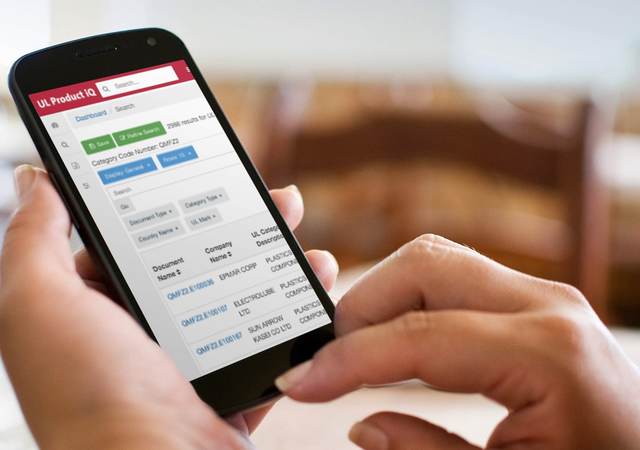 UL Product iQ™ available now
The next generation of UL's online certification directory enables you to quickly and efficiently access the same trusted UL certification information in a modern search engine.
Learn more