Author: John K. Taecker, UL Solutions Senior Regulatory Engineer, Codes and Regulatory Services, Customer Experience, Distinguished Member of Technical Staff
Environmental concerns about refrigerants have driven new interest in mechanical refrigeration system design over the last couple decades.
Hydrofluorocarbons (HFCs) were originally introduced as a replacement for ozone-depleting chlorofluorocarbons (CFCs) and hydrochlorofluorocarbons (HCFCs). However, HFCs are greenhouse gases and subject to use restrictions in most countries. As a result, the industry has been transitioning away from traditional refrigerants and toward lower global warming potential (GWP) alternatives, which tend to have higher flammability characteristics.
To address the safe use of these flammable refrigerants, significant changes have been made to government regulations, product safety standards, installation codes, and best practices for servicing, handling and disposal. These changes have been made in collaboration with, and with significant input from, interested stakeholders knowledgeable on this subject matter. Furthermore, these new revisions have come about as a result of significant science-based research, consisting of whole room scale testing, component testing and real-world field experience. Training on these updates is available for both technicians and first responders.
Refrigerants
The requirements governing the use of refrigerants are contained in ASHRAE 15 and Chapter 11 of the mechanical codes (International Mechanical Code and Uniform Mechanical Code). The refrigeration equipment or appliance establishes what refrigerant is to be used.
ASHRAE 34, Designation and Safety Classification of Refrigerants, establishes a shorthand method of naming refrigerants and assigns safety classifications to group refrigerants based on toxicity and flammability data.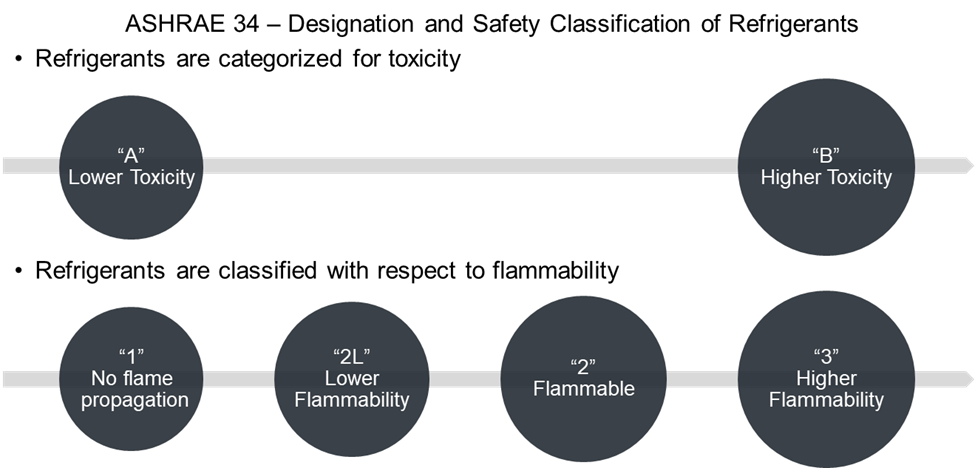 Use of flammable refrigerants
The current approach for mitigating the hazards associated with refrigerants in codes and standards is based on three main principles:
Limit the refrigerant charge (2L, 2, and 3 class)
Detect a leak and then ventilate the space (2L class only)
Detect a leak and then close the safety shutoff valves to limit the release (2L class only)
The requirements addressing these principles are within ASHRAE 15, UL 60335-2-40, Household and Similar Electrical Appliances—Safety—Part 2-40: Particular Requirements for Electrical Heat Pumps, Air-Conditioners and Dehumidifiers, and UL 60335-2-89, Household and Similar Electrical Appliances—Safety—Part 2-89: Particular Requirements for Commercial Refrigerating Appliances with an Incorporated or Remote Refrigerant Unit or Compressor. The requirements in the UL Standards have mitigation methods for preventing leaks and potential ignition of the refrigerant in the event of a leak. These mitigation methods are addressed in the design, testing, and certification of the equipment used in the refrigeration system.
Refrigeration systems
Refrigeration systems are classified as to the likelihood that a connection, seal or component could leak refrigerant into an occupied area. The classifications are either low probability or high probability. The distinction between low and high probability systems is based on the basic design or location of components. Low probability systems include double-indirect open-spray systems, indirect closed systems and indirectly vented closed systems, provided that, all refrigerant-containing piping and fittings are isolated where the quantities of the refrigerant established in the code are exceeded. High probability systems include direct and indirect open-spray systems. The locations for refrigeration systems are described by specific occupancy classifications in ASHRAE 15 and the mechanical codes, that take into account how people are able to respond to potential exposure of the refrigerants used.
Installation requirements for equipment
Requirements for the safe installation and operation of mechanical refrigeration systems, including periodic inspection, testing and maintenance, are mandated by the model installation codes and standards, equipment and testing standards, listings (certifications) and manufacturer's instructions.
These model installation codes and standards include:
ASHRAE 15, Safety Standard for Refrigeration Systems
International Institute of Ammonia Refrigeration (IIAR) standards
International Mechanical Code (Chapter 11)
Uniform Mechanical Code (Chapter 11)
International Fire Code (Section 608)
National Fire Code, NFPA 1 (Chapter 53)
ASHRAE 15 and Chapter 11 of the mechanical codes provide the requirements for refrigerant piping design and installation for systems containing refrigerants other than ammonia. The IIAR standards are used for refrigeration systems using ammonia. ASHRAE recently published ASHRAE 15.2, which contains the requirements for residential installations from ASHRAE 15. However, this standard is not yet referenced in the model codes. Requirements addressing energy efficiency are covered by other codes.
Fire codes provide additional requirements regarding refrigerant detection, emergency shutoff and ventilation, and the storage, use and handling of refrigerants.
Self-contained, factory-built appliances are required to be listed (certified) and labeled, and installed in accordance with the listing and the manufacturer's installation instructions. The following table identifies the standards used and the UL Solutions product category designation.
| Equipment | Standards | UL Solutions Product Category |
| --- | --- | --- |
| Air-conditioning equipment | | KTFV and LZFE |
| Commercial refrigerators, freezers, beverage coolers and walk-in coolers | | FDIT, LZFE, SFWY, SGKW, SQVQ, and SQTV |
| Dehumidifiers | UL/CSA 60335-2-40 | LZFE |
| Packaged terminal air conditioners and heat pumps | | ACKZ |
| Refrigerant-containing components and accessories | UL 207 | MJAT, SEHU, SEYW, SFJQ, SKXY, SLPR, SLSV, SMGT, SMUR, SNHZ, SNLT, SNOY, SNVX, SOJV, SOMU and SROT |
| Refrigeration fittings, including press-connect, flared and threaded | UL 109 and UL 207 | SDTW |
| Refrigerating units and walk-in coolers | | LZFE, SQTV |
| Split-system air conditioners and heat pumps | UL 1995 or UL/CSA 60335-2-40 | LZFE |
| Unit coolers | UL 412 or UL/CSA 60335-2-89 | SPLR |
| Ice makers | UL 563 | SJBV |
Inspection, testing and maintenance
Both mechanical and fire codes require inspection, testing and maintenance of mechanical refrigeration systems in accordance with the manufacturer's instructions. Systems are required to be maintained in proper operating condition.  Periodic testing is required for emergency devices and systems such as treatment and flaring systems, components serving emergency refrigeration control boxes, components of the emergency ventilation systems, and detection and alarm systems.
Mechanical and fire codes also include specific requirements when changing the type of refrigerant used. The refrigerant is required to be new, recovered, or reclaimed in accordance with the codes.   
Refrigerant recovery equipment, including passive systems, intended to remove the refrigerant from commercial refrigerant systems, are tested in accordance with UL 1963, Refrigerant Recovery/Recycling Equipment, and are listed (certified) under the UL Solutions product category Commercial Refrigerant Recovery Equipment (SCIJ). This equipment has been investigated for safety when removing refrigerant in any condition from a system and storing it in an external container without testing or processing the refrigerant.
For more information related to product or system listing (certification) from UL Solutions, please contact [email protected].
X
Get connected with our sales team
Thanks for your interest in our products and services. Let's collect some information so we can connect you with the right person.