NORTHBROOK, Ill. – May 5, 2015: The following is a notification from UL that the solenoid-type oscillating water pump identified below bears an unauthorized  UL Certification Mark for the United States and Canada. This water pump has not been evaluated by UL and it is not known if this pump complies with any safety requirements.
Name of Product: Model DSB-Z, Type 400DSB.
Manufacturer: Wuxi Dexun Micro Motor Co., Ltd.
Identification:  On the product: These solenoid-type oscillating water pumps bear an unauthorized  UL Recognized Component Mark and the markings shown below. These pumps display production dates prior to 10/14, pumps marked with dates 10/14 or later are not included in this notification.
Shinlef micro pump-china
Model:DSB-W        Type 40DSB
E301528
Date:12/13
Photograph of the product: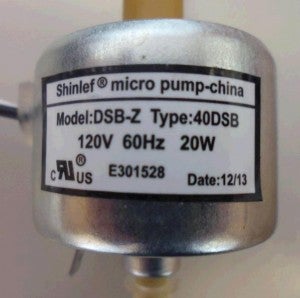 Sold at:  Known to be sold in Germany. UL has not received reports of these counterfeit water pumps in other locations.