What is value engineering and what does that mean to furniture manufacturers?
UL's global network of laboratories provides a variety of performance testing to support the manufacturer's value engineering processes. Value engineering focuses on evaluating products to verify acceptable performance at the minimum possible cost. The process identifies and engineers out redundant or unnecessary components. Done well, value engineering benefits the product manufacturers as well as their customers by providing a high performance, safe product at a market competitive cost. 
Depending on the product use and expected life, modifications may improve product quality. For example, additional pre-drilled screw holes used to secure adjoining furniture components may compromise the structural integrity of some materials such as composite wood. In this case, the overuse of fasteners, intended to build a more secure piece of furniture, may compromise its integrity. 
Many times, the decision to substitute a component is made in a functional silo. The procurement department may try a new vendor in an attempt to diversify the supply chain without testing or reviewing with an expert. These substitutions, replacements and modifications can impact the end product and set off a chain of unintended consequences.
One example would be a company that wants to replace a caster with a lower-cost option from a different supplier who claims the component is "exactly the same" as the old caster. However, testing may reveal that this caster is made of different materials and may have safety or performance implications. In these cases, the burden of proof rests on manufacturers to ensure the safety and quality of the final product when making changes and substitutions. Testing is essential for the company to mitigate the risk of recalls, fines, lawsuits and loss of trust. UL can help manufacturers in their value engineering process by being their go-to third party laboratory for these changes.
Different approaches to testing
Different approaches are used to evaluate products. One approach is using software to simulate performance based on previous test results and assumptions. This approach aims to determine if the product will meet the threshold of performance with the new component. This evaluation type offers value as a step process, but results are only as good as the assumptions used in the modeling. Additionally, it does not reveal details about the product's performance or margins of safety. For manufacturers that are testing to ensure a product meets a specific requirement, this can be the most expedient and economic option to access the needed data. However, if more comprehensive information is required, point-of-failure testing may be the better option. 
We recommend testing to the point of failure to obtain measurable data. The comparative data will help you verify if the new component matches or exceeds your current performance. Statistical variability is an important aspect, and testing multiple samples is preferred. Testing has several benefits. First of all, it provides specific and comprehensive data to plot and compares the strength values. By testing to the point of failure or testing two products that use two different components, manufacturers are able to compare one product with another. Lastly, they can understand and set safety margins for each component.
The current furniture standards were not developed for component testing specifically. You may wonder how to test a component if a standard does not exist. Let's review an example of testing an office chair replacement arm. Based on the construction of the chair, a test fixture will be developed to limit the testing to the arm itself. An industry-standard such as Business and Institutional Furniture Manufacturer's Association (BIFMA) can be used to conduct the following tests. The industry minimum acceptable vertical arm strength is 253 pounds. In this example, both chairs meet the industry standard, but replacement A significantly exceeds the standard performance and could be marketed as such. 
Arm strength vertical – static (x) three samples
| | | | |
| --- | --- | --- | --- |
| Current Arm | 313 | 320 | 314 |
| Replacement A | 340 | 344 | 336 |
| Replacement B | 300 | 310 | 305 |
Arm strength Horizontal – static (x) three samples
| | | | |
| --- | --- | --- | --- |
| Current Arm | 170 | 173 | 165 |
| Replacement A | 180 | 183 | 188 |
| Replacement B | 155 | 160 | 163 |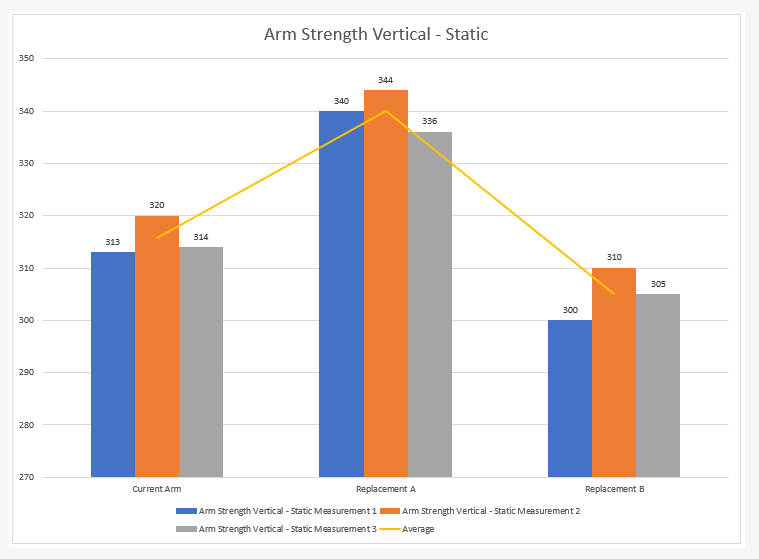 Companies may choose to state claims about their products based on their test results. ULs third party ISO/IEC 17025 accredited laboratory test reports can be used to support the customers claim such as, "single-occupant seating supports twice the standard weight requirement." 
Other service offerings by UL
In addition to performance testing, UL can also test for attributes like electrical safety, flammability, volatile organic compound (VOC) emissions and sustainability impact. 
To learn more about our state-of-the-art furniture testing laboratory in Holland, Michigan, we invite you to contact us. Explore options to understand how alternative materials and components impact the overall performance of your product.