UL has verified Furukawa's flame propagation prevention performance and low smoking property performance claims of PROTECO®SHEET and PROTECO®TAPE when wound onto building wires
TOKYO, February 21, 2019 – UL, a global safety science organization headquartered in Northbrook, Illinois, has issued the first UL Verified Mark in the field of wire and cable in Japan for PROTECO®SHEET and PROTECO®TAPE, manufactured by Furukawa Techno Material Co., Ltd.
For this investigation, UL used ANSI/UL 1685, Standard for Vertical-Tray Fire-Propagation and Smoke-Release Test for Electrical and Optical-Fiber Cables referenced in Article 725.179 of the National Electric Code (NEC). To verify Furukawa's marketing claims, flame spread prevention sheet and tape wound onto building wires were tested in accordance with the methods described in ANSI/UL 1685.
The frequent occurrence of fire and disasters have led to the recent review and strengthening of testing measures. ANSI/UL 1685 test protocol assesses performance characteristics such as cable char height, total smoke released, and peak smoke release rate. Wires wound with Furukawa Techno Material's PROTECO®SHEET and PROTECO®TAPE demonstrated the performance characteristics reported in Verification Claims displayed below.
UL's Verified Mark demonstrates that UL has Verified a specific marketing claim through independent, repeatable, science-based assessments. UL's Verification also provides objective credibility to the accuracy of the marketing claims that manufacturers use to differentiate their products from the competition, and enables easier purchasing decision making.
"Furukawa Techno Material's PROTECO®SHEET and PROTECO®TAPE are thin and lightweight flame retardant rubber, but can be easily wound onto the cable or cable rack to prevent fire spreading on the cable line and have been adopted for many years at major facilities throughout the country. With the UL Verified Mark on our product, it enables us to give our customers peace of mind that the products have a science-based, objective credential and it makes customers decision-making easier," said Mr. Masanori Owari, Director, Fire Prevention Division of Furukawa Techno Material Co., Ltd.
Product Overview
Type: Flame-spread prevention sheet and tape designed for building wires

Model designation :

PROTECO®SHEET and PROTECO®TAPE

Property: These products reinforce building wires' flame-spread and smoke emission prevention performance.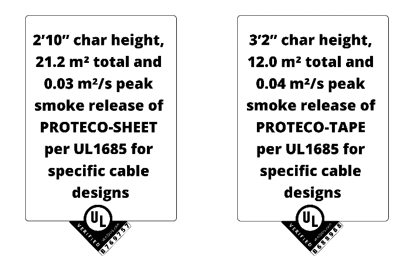 ANSI/UL 1685 measures cable char height for each specimen from the bottom of the cable tray to the highest char point of the cable covering after flame exposure. During UL's verification, building wires wound with Furukawa Techno Material's PROTECTO®SHEET and PROTECTO®TAPE demonstrated 2'10" (86cm) char height, 21.2 m2 total smoke released, 0.03 m2/s peak smoke release rate, and 3'2" (97cm) char height, 12.0 m2 total smoke released, 0.04 m2/s peak smoke release rate respectively.
About the UL Verified Mark
The UL Verified Mark is issued once a marketing claim is Verified by UL in an objective and science-based manner. The Verified Mark can be used on product, packaging and promotion and is available for products, systems processes, facilities and more with Verified marketing claims.
Specific information about each Verified marketing claim is publicly available at UL's online database UL Verify at verify.UL.com. The Verified Mark has been issued to products such as TVs, monitors, notebook computers, LED lighting equipment and many others.
About UL
UL fosters safe living and working conditions for people everywhere through the application of science to solve safety, security and sustainability challenges. The UL Mark engenders trust enabling the safe adoption of innovative new products and technologies. Everyone at UL shares a passion to make the world a safer place. We test, inspect, audit, certify, validate, verify, advise and train and we support these efforts with software solutions for safety and sustainability. To learn more about us, visit UL.com.