Written By: Chian Haw YONG, ASEAN and Greater China Global Market Access Lead
The Singapore National Environmental Agency (NEA) announced the introduction of Energy Efficiency (EE) requirements for variable refrigerant flow air-conditioners (VRF A/C). VRF A/C units sold in Singapore must be registered with NEA, meet minimum energy performance standards (MEPS) and carry Energy Labels (MELS).
Scope of MEPS and MELS for VRF A/C
1. Effective on April 1, 2021, the proposed MEPS and MELS will cover three-phase VRF A/C units of all cooling capacities at base module level. VRF A/C units are required to:
Be registered

Meet MEPS

Be labeled with an energy label
2. VRF A/C units will be rated based on the Integrated Energy Efficiency Ratio (IEER)[1] to take into consideration of VRF A/C unit's part-load performance. MEPS level for VRF A/C is proposed at IEER 4.35. It was previously announced by NEA that the test standard for VRF A/C would be ISO 15042:2017
[1] Based on the Air-Conditioning, Heating Refrigeration Institute (AHRI) Standard 1230, IEER is defined as (0.020*EER 100%) + (0.617*EER 75%) + (0.238*EER 50%) + (0.125*EER 25%), where Energy Efficiency Ratio (EER) is defined as ratio of cooling capacity to effective power consumption at a given set of rating conditions.
3. VRF A/C will be rated one-tick to five-ticks, with five-ticks being the most efficient. The energy label and rating system for VRF air-conditioners are shown in the diagram and table below: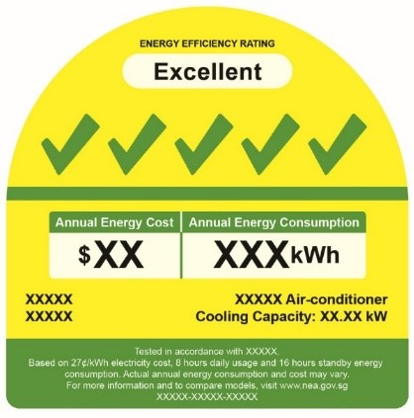 Example of Energy label for VRF A/C units
| | |
| --- | --- |
| Tick rating | VRF efficiency, IEER |
| 5 - tick | IEER 6.15 and above |
| 4 - tick | IEER 5.70 to < IEER 6.15 |
| 3 - tick | IEER 5.25 to < IEER 5.70 |
| 2 - tick | IEER 4.80 to < IEER 5.25 |
| 1 - tick | IEER 4.35 to < IEER 4.80 |
Energy rating system for VRF A/C units
Once mandated, suppliers in Singapore who supply VRF A/C units in market shall apply for the NEA energy label. The application shall be accompanied by an ISO 15042:2017 test report, issued by either the first-party manufacturer test laboratory or a third-party test laboratory.
How we can help
With our local presence in Singapore and by working closely with the NEA, we can provide timely regulatory monitoring and updates

Provide testing services and issue test reports that are recognized by the NEA through our test laboratory that is ISO 17025 accredited for above-mentioned ISO 15042 test standard

Provide NEA registration services with our local staff support in Singapore