Update: The enforcement date announced by SASO has been change from June 1, 2020, to September1, 2020. The article has been changed to reflect the updated enforcement date. 
On January 29, 2019, Saudi Standards, Metrology and Quality Organization (SASO) organized a workshop in Riyadh to announce the enforcement plan of the new standard SASO 2927 (Energy efficiency functionality and labeling requirements for lighting products – Part III: Street lighting)
The enforcement date announced by SASO to comply with the requirements of SASO standard 2927 for street lighting Part III is September 1, 2020. UL Lighting laboratories have been approved by SASO to carry out the performance testing according to the new standard.
The new standard covers the requirement for street and road lighting applications, including:
Classification of street/road lighting: three type of lighting classification (M, C and P)

Tunnel lighting: daylight and night for tunnels
The new SASO standard 2927 for lighting products covers three types of technology:
High-intensity discharge lamps (HID)

Control gears

Integrated LED luminaires
The main new technical requirements added to SASO standard 2927 Part III are shown in this table: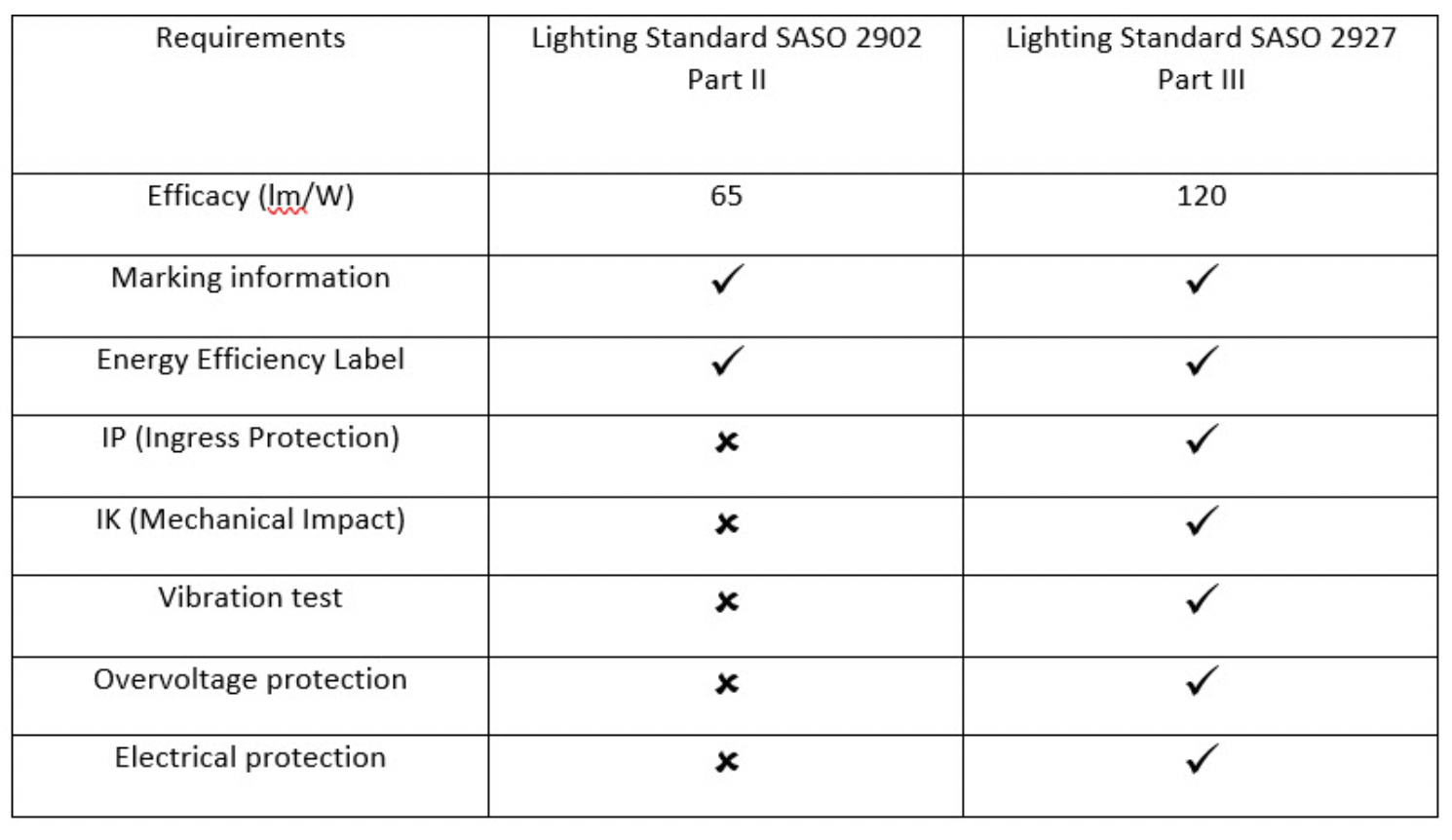 Since April 2020, SASO has developed the electronic platform for energy efficiency providing the possibility to start registering the street lighting products which fall within the scope of SASO 2927:2019 Part III.
In this context, SASO announced the following updates:
The products already registered under SASO 2902:2018; falls within the scope of SASO 2927:2019, can be upgraded online and transferred under SASO 2927:2019 without any additional fees after complying with the new requirements of SASO 2927:2019. The certificate will be valid for the same remaining period of the previous license.

Non-acceptance of the registration or renewal of products that fall within the scope of the lighting standard - Part III: Street Lighting (SASO 2927) on the electronic platform of the Lighting standard Part II (SASO 2902).

The validity of all EE licenses for Street Lighting products registered under SASO 2902:2018 Part II will expire on August 31, 2020.
It is worth mentioning that in order to facilitate the registration process under the new standard SASO 2927, SASO allows the submission of test reports that meet all product requirements, except for survival factor and lumen maintenance test at 2,000 hours and corrosion test at 2,500 hours until December 31, 2020, with the following evidence:
Provide a letter of commitment by the importer to submit the remaining test reports within 30 days from the test completion date through the electronic registration system (SLS). 
 

Submit proof of sample receipt from the laboratory showing the start and end date of the test.