Printed wiring boards (PWBs) are essential components in today's electronics and can be found in products ranging from automobiles to wearables and everything in between — cloud servers, toys, mobile phones — the list of products goes on and on.
As critical as PWBs are to electronics, addressing potential defects before product launch is an effective approach to protect against expensive repairs, recalls and material waste that may occur in the future. However, it's difficult for product designers and component suppliers to test the numerous soldering operations used during PWB assembly.
UL 796, the Standard for Printed Wiring Boards, as well as UL's suite of PWB standards, helps simplify the PWB selection process. Preselection is one of the more valuable tools available to product designers and suppliers as it assists with the selection of subassemblies, components, parts and individual materials that mitigate the risks of fire, electric shock, personal injury and environmental hazards.
UL's suite of PWB standards now includes the IPC standardized assembly profile for testing purposes. UL added the standardized assembly profile as an alternative to the previous solder float test methodology.
The IPC's thermal stress test replicates the thermodynamic effects of assembly on boards with standardized temperature profiles. These standardized settings allow PWB fabricators to specify the maximum/peak reflow temperature and the number of soldering cycles the PWB will be exposed to during assembly.
Standardized assembly profiles are considered representative of the assembly processes used by industry today. Testing with a standardized assembly profile simplifies the board evaluation and eliminates the need to test multiple profiles.
UL Principal Engineer for PWBs Crystal Vanderpan offered additional insight into the preselection process:
The preselection criteria include a maximum default test condition of 260 degrees Celsius for lead free assembly processes. 
The board maximum surface temperature measured during the assembly soldering process determines the peak temperature. 
The number of tested cycles is determined based on all soldering operations performed during assembly. The default test condition is six cycles.
When product designers and suppliers use independent preselection test data, end-product predictability is enhanced, product lead time shortened and performance testing and safety compliance is reduced, building confidence up and down the supply chain.
A modern search engine to locate UL Certified PWBs
Product designers and component suppliers can use UL Product iQ® to locate PWB preselection parameters. The online database allows users to search for boards that match each critical characteristic and helps verify UL certification of products and components.
The Product iQ® database has more than 50,000 materials and contains material preselection characteristics such as the Assembly Solder Process Temperature and Assembly Solder Process Cycles, which are used to identify the maximum assembly temperature and number of cycles tested. Anything outside of the recognized parameters listed with each board would need additional testing. 
The following example describes the recognized parameters for board type T1.  In this example, the board is recognized for use with assembly soldering processes up to 260 C peak temperature with a maximum of six cycles. The board is also recognized with a maximum operating temperature (MOT) of 130 C and a flammability rating of V-0, which meet the requirements of many end product standards.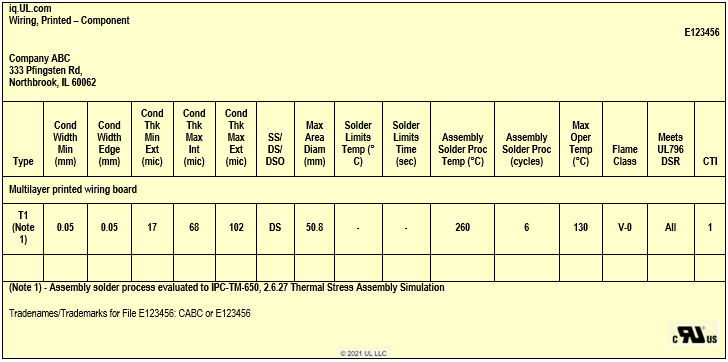 Are you interested in learning more about PWB preselection? We can help you reduce testing by offering standardized thermal stress preconditioning to simulate the assembly processes. Please contact us to learn more about our PWB testing capabilities. 
You can search the UL Product iQ® database to view the recognized PWB parameters.