Consumers are increasingly adopting wearables for fitness, fashion and medical purposes. As the industry continues to evolve and connect with changing networks, it must address new risks and safety challenges along the way. Explore some of the risks associated with the latest generation of wearables and consider how testing and certification can help ensure compliance and market acceptability. UL offers a range of testing, certification and other services to help wearables manufacturers navigate an increasingly complex landscape.
Consumers and medical professionals desire continuous monitoring of health and vital sign parameters, driving manufacturers to develop wearable devices. As data service continues to evolve, connected devices, including wearables, will require the ability to access changing networks in order to keep consumers in touch with their personal health and medical data.
The current and future state of wearables
Connected wearable technologies are worn close to the skin on the wrist, in clothing such as vests, footwear, headwear, earwear, and eyewear. The applications of these devices range from entertainment and fashion to activity tracking and health monitoring.
These products incorporate miniaturized Internet of Things (IoT) sensors with corresponding software capture and transmit data.
Our collective affinity and reliance on wearables are driving the development of more sophisticated features. While the technologies and the data providers seem to be setting the pace, manufacturers and developers are guided by regional jurisdictions, e.g., U.S. Food and Drug Administration (FDA) and Conformité Européenne (CE) requirements, and must be involved in safety testing.
Wearables and risk
Where there is innovation, there is risk. In the case of wearables, these risks can range from physical to virtual, such as:
Product safety and performance
Battery safety
Data security
Toxicology
Interoperability
Human factors
Usability
Mitigating these risks early in development is important to achieving device safety, reliability, market acceptability and user satisfaction.
Wearables safety and compliance testing
Wearable technologies may require safety, regulatory or certification testing to achieve market access or regulatory clearance. Many industries and markets have different requirements. For all wearable medical or health-related technologies, UL offers:
Electrical safety testing and certification (UL/C-UL Mark, CB Scheme, Europe, INMETRO)
Battery safety testing and certification
Specific Absorption Rate (SAR) testing
Biocompatibility
Cybersecurity
Electromagnetic compatibility (EMC)
Wireless device testing and certification solutions
Interoperability
Usability
Smart clothing and footwear quality and performance testing and claims verification
Custom testing and execution of verification and validation protocols
Wearable technology standards
A number of standards attempt to address risks associated with wearables.
Different countries outline different standards for compliance in order to be sold in the market. The U.S. FDA and Health Canada use many IEC standards to meet their country requirements. In the U.S., devices used in hospitals should also meet the Occupational Safety and Health Administration (OSHA) requirements and be certified by a Nationally Recognized Test Laboratory (NRTL). UL provides testing to the following standards:
Wellness or nonmedical wearable — IEC/UL 62368-1, the Standard for Audio/Visual, Information and Communication Technology Equipment – Part 1: Safety Requirements, UL 1431, the Standard for Personal Hygiene and Health Care Appliances
Medical device safety — IEC 60601-1, IEC 60601-1-11 — and all related standards
EMC — IEC 60601-1-2 (or equivalent for nonmedical applications)
Usability — IEC 60601-1-6 (or equivalent for nonmedical applications)
Biocompatibility — ISO 10993
Software cybersecurity — ANSI/CAN/UL 2900, the Standard for Software Cybersecurity for Network-Connectable Products, Part 1: General Requirements
Software Lifecycle Process — ISO 62304
SAR for wireless communication devices in EU — EN 50566, EN 50360, EN 62209-1, EN 62209-2, EN 62311, EN 62479
AR/VR/MR equipment — ANSI/CAN/UL 8400, the Standard for Safety for Virtual Reality, Augmented Reality and Mixed Reality Technology Equipment – Part 1: Safety (in development, world's first dedicated equipment safety standard for AR/VR/MR)
UL's experts can guide you through the regulatory landscape and available testing for your wearable devices. Our global services will help with safety, data risks and compliance issues so you can confidently bring your product to market.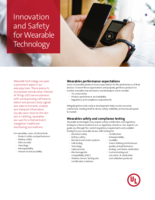 4.65 MB