Financial risk managers and insurers have an ever-increasing number of disruptions to consider as they protect the economic value of their investments and preserve business continuity. New risk exposures may  take many forms, including operational, credit, market, volatility, legal, and reputational risks. UL Solutions can help firms implement robust resiliency programs to identify and monitor potential risks before they become serious disruptors. Early detection enables more robust analysis, cost-effective management and mitigation options as well as peace-of-mind preparedness.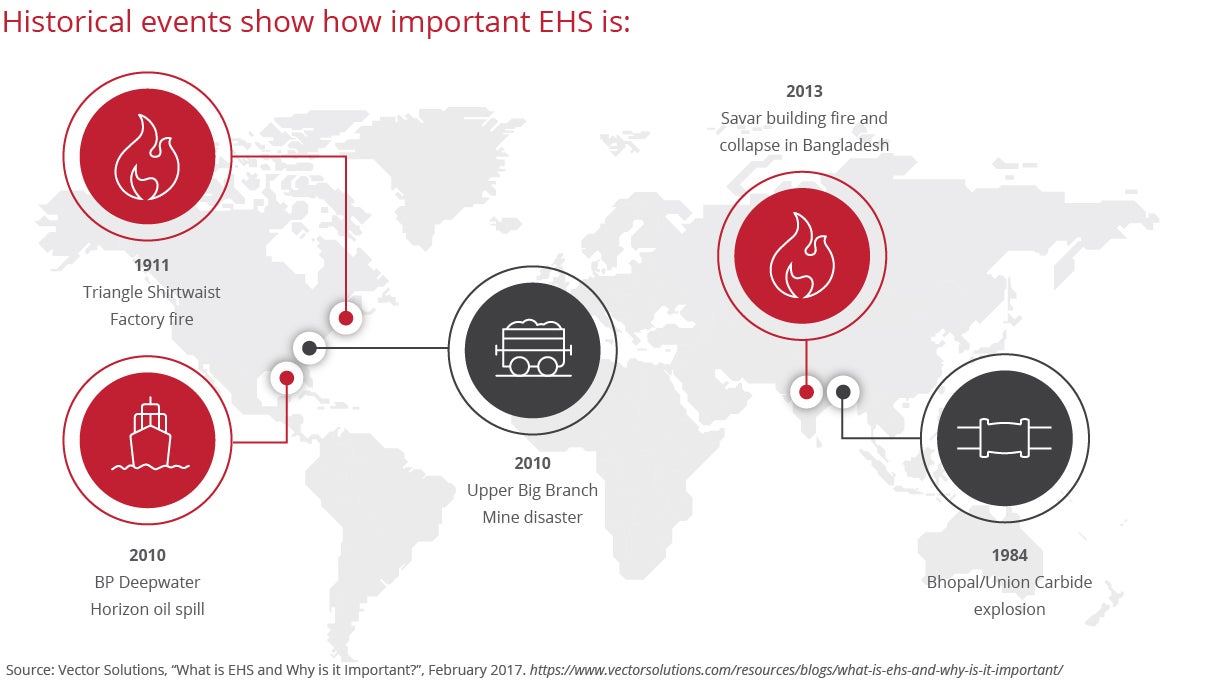 Facility safety
Just as it's important to ensure buildings and industrial facilities are structurally sound, it's also important to ensure the people using these investments are secure in terms of perspectives of process as well as appropriate interactions.
UL Solutions' EHS Advisory Services team partners with insurers and risk management companies to provide trusted subject matter expertise, support for organizational change, execution of practical action plans and implementation of measurable and lasting improvements across an organization's global operations. Our compliance management software solutions streamline data management and are relied upon to support occupational health initiatives in critical areas such as regulatory compliance and surveillance programs.
We also offer multi-module software packages that feature detailed tracking and reporting tools, plus user-friendly information management capabilities. This data visualization helps maximize consistency and accuracy, identify problem areas and risks, reduce workplace injuries, and maintain compliance. Our learning management system (LMS) software proactively helps facility employees learn how to safely perform their assigned functions, and includes built-in comprehensive event reporting, as well as investigation and performance management tools that can be utilized as employee training is being conducted.
Creating building occupant confidence
UL's Verified Healthy Buildings program is designed to assess and verify the truthfulness of your claims that indoor spaces provide healthy environments for occupants across five areas: indoor air quality (IAQ), water quality, building hygiene, lighting and acoustics. the UL Verified Healthy Building Mark can help building owners, managers or corporations demonstrate their commitment to built environments that foster occupant health, well-being and comfort, backed by UL Solutions' globally recognized expertise. 
Power grid resiliency
UL Solutions provides renewable energy forecasting services for over 100 Gigawatts (GW) of centralized and distributed wind and solar generation capacity across the world, including two-thirds of the capacity in North America. As the leading forecasting provider for grid operations in North America, we are uniquely equipped to meet the high levels of security, accuracy and reliability our customers, including plant owners and operators, energy storage providers and other industry professionals with specialized requirements, demand.
We customize sophisticated atmospheric models and adaptive statistical techniques to meet the needs of each client to produce the most accurate forecasts possible. Our tools allow us to predict the real-time impact of renewable resources on smart grid applications, as well as the effects of changing weather conditions on load profiles or grid operations. Our experience, combined with massive quantities of atmospheric data and our high-performance computing environment, allows us to conduct long-term climate change assessments and impact mitigation studies for our clients.
Minimizing cybersecurity threats and liabilities
Digital technologies have successfully penetrated the manufacturing sector and continue to do so at an ever-increasing rate. This merging of the cyber and physical worlds means improved efficiency, but also results in an increased exposure of your critical manufacturing infrastructure to cyber risks and vulnerabilities. Our IEC 62443 cybersecurity solutions help to instill cybersecurity rigor into your processes and facilities.
Achieving sustainable business practices
UL Solutions' 360 Sustainability and ESG reporting software enables financial firms and businesses around the globe to measure, manage, report and act on key initiatives including science-based targets, climate agreements and environmental impacts while also addressing the need to satisfy investment and stakeholder reporting requirements.
We also offer 360 Essentials, our simplified packaged software solution for ESG and Sustainability reporting, which features fast and efficient implementation designed for medium-sized businesses.
UL Solutions' 360 Supply Chain provides tools for managing the distribution, timelines and receipt of multiple questionnaires commonly used in supply chains;  such information is typically required via ESG reporting.
Supplier assessments and alternate sourcing
Our advisory services and supplier assessments allow you to identify, manage and mitigate potential security and sustainability risks. And when you do identify areas of need, UL Prospector® enables users to locate the exact materials specified by their product development criteria, and to identify possible equivalents and substitutes when supply chain interruptions occur. Premium tools like automotive search filters find materials pre-approved by specific OEMs and allow you to compare properties of similar plastics side-by-side. The powerful search engine UL Product iQ™ can also help you quickly identify alternate UL Solutions certified components and materials when you find you have sourcing constraints.