Northbrook, IL - April 30, 2013 - The following is a notification from UL to consumers, electrical installers and Authorities Having Jurisdiction (AHJs) that the duplex receptacle identified below may pose a fire or shock hazard. The receptacle does not comply with UL's safety requirements and is not authorized to bear the UL Mark. The receptacle is employed in lighting controllers sold for use in greenhouses, indoor gardening and hydroponics applications. The receptacles may also have been sold individually.
Name of Product: Duplex Receptacle referred to as a Universal X-Plug 120-240V Receptacle. 
Number of Units: 2000.
Manufacturer: Zhejiang Trimone Co., China.
Date of Manufacture: 2012
Hazard: The receptacle can accept plugs for either 120 or 240 volt products. A potential fire or shock hazard exists if the receptacle is not wired to match the voltage rating of the device plugged into the receptacle.
Identification: The receptacle is a duplex outlet with both slots having a "T"-shaped opening. The receptacle can accept 120 and 240 volt, 15 and 20 amp plug types. It can also accept a polarized type two prong plug, in either orientation. The receptacle may have "E243553" stamped into the metal mounting tab.
On the product: The product bears an unauthorized UL Mark and the following:

24GY
Receptacle
Photos of the product: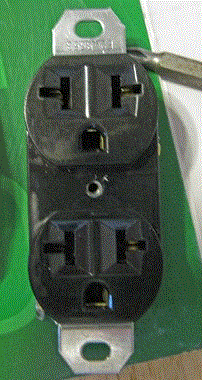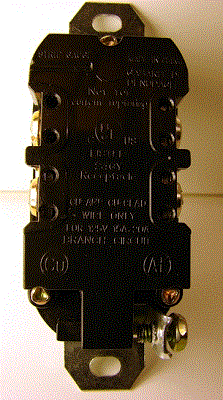 Sold at: The receptacles are known to be sold by Titan Controls as part of a lighting controller at http://www.titancontrols.net/ . They may have been sold by other retailers.