NORTHBROOK, Ill., January 9, 2009 - Underwriters Laboratories (UL) is notifying consumers and retailers that Heat Caps, manufactured by Specialife Industries, Ltd., may pose a burn hazard to consumers. This product is worn on the head by consumers and used to activate hair conditioner. These heat caps do not comply with UL safety requirements and are not eligible to bear the UL Mark.
Name of Product: Professional Condition Heat Cap, Model HC-626A
Units: Approximately 3,000
Manufacturer: Specialife Industries Ltd.
Date of Manufacture: 2003
Identification of Product: On the product: The product has a label with a UL Mark and the following information: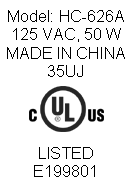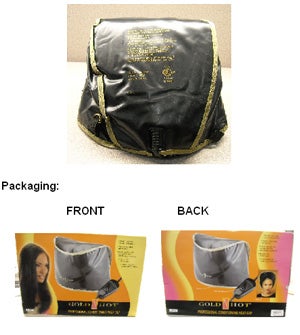 How to determine if your unit is included: Below the words "MADE IN CHINA" appears the date code. If the first digit in the date code starts with the number "3" then your product is included in this notice.
Hazard: These Professional Condition Heat Caps may overheat during use, posing a burn hazard.
What You Should Do: UL recommends that users stop using the product immediately and return it to the place of purchase.