Northbrook, IL - March 21, 2014- The following is a notification from UL that the communications cable identified below bears a counterfeit UL Mark for the United States and may pose a hazard. The communications cable has not been evaluated by UL to the appropriate Standard for Safety, and is not authorized to bear the UL Mark or any reference to UL.
Name of Product: Communications Cable, Type CMP (Plenum Cat6 Cable)
Hazard: This communications cable is missing required flame retardants.  This may cause an increased risk of fire.
Identification:
On the cable: The surface of the cable jacket displays the following description:
             BYTECC CAT6 PLENUM CMP UTP 4-PAIR 23 AWG EIA/TIA/ISO/UL                                                                
On the packaging: The packaging bears a counterfeit UL Mark and the following:
Category 6 Plenum Solid
Ethernet Cable
UL TYPE:          CMP
CONDUCTOR:   Solid
COLOR:            WHITE
QTY:  1000ft

Specifications
23AWG/4 PAIR

Plenum Jacket (CMP)

Conductor: Solid

Bandwidth:  400 MHZ

Unshielded Twisted Pairs (UTP)

UL NO: E328429

UL ETL and 3P verified to standards
Photo of the packaging: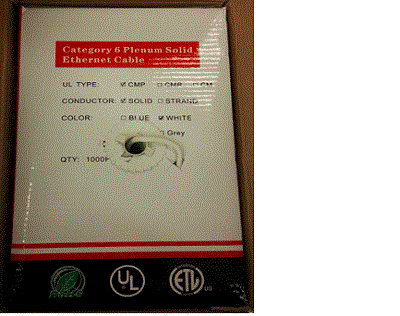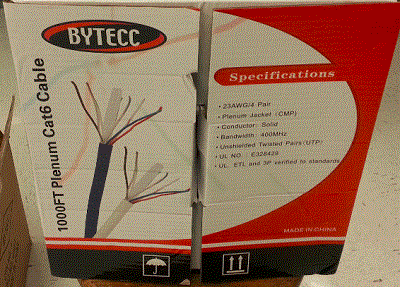 Photo of the Cable

Sold at:  Known to be sold at http://www.newegg.com/ and may have been sold at other locations.