Northbrook, IL - March 29, 2013 - The following is a notification from UL to consumers, retailers and manufacturers that the medium base lampholder identified below bears a counterfeit UL Mark for the United States and Canada.  This lampholder has not been evaluated by UL to the appropriate Standards for Safety and it is unknown if this lampholder complies with UL safety requirements for the United States or Canada.
Note that the Medium Base Lamp holder with the counterfeit UL Mark is similar to the UL Listed lampholder.  The authorized UL Listed lampholder is marked with the model number "RS-1908A".  The lampholder marked with a counterfeit UL Mark does not provide the required model designation on the lampholder body
Name of Product: Medium Base Lampholder, No Model Number
Identification: On product: The lampholder bears a counterfeit UL Mark and the marking below.

  LISTED  RUI CHENG  250V 660W  
Photographs of the product with counterfeit UL Mark: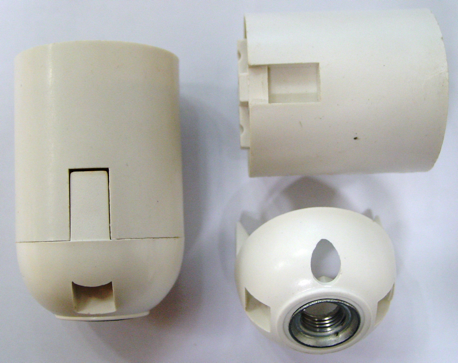 What Should You Do: Manufacturers of UL certified products that have used this lampholder are advised to contact UL at:
https://www.ul.com/global/eng/pages/offerings/perspectives/consumer/fieldreport/
About UL
UL is a premier global independent safety science company with more than 118 years of history. Employing more than 10,000 professionals with customers in over 100 countries, UL has five distinct business units – Product Safety, Environment, Life & Health, Knowledge Services, and Verification Services – to meet the expanding needs of our customers and to deliver on our public safety mission. For more information on UL's family of companies and network of 95 laboratory, testing, and certification facilities, go to UL.com.