Northbrook, IL - April 30, 2013 - The following is a notification from UL to distributors, contractors, fire departments, regulatory agencies, and authorities having jurisdiction that the heat detector  identified below bears a counterfeit UL Mark. The Heat Detector has not been evaluated by UL to the appropriate Standards for Safety and it is unknown if the Heat Detector complies with any safety requirements.
Name of Product: Heat Detector Model NB 988, Type 2
Identification: On the product: The following text appears on the counterfeit label:
wizMart
Rate of Heat Detector
MODEL: NB 988, TYPE: 2
Operating Volt: DC 18-34 VDC
Alarm Current Max. 100mA

The counterfeit label was printed and applied to the product by J&C IMPORT & EXPORT, S.A. (AV TECH).
Photograph of the product with counterfeit UL Mark: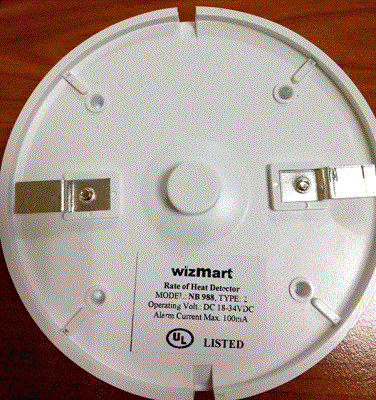 Photograph of the counterfeit label: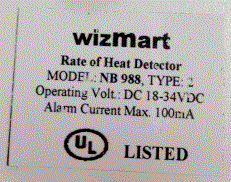 Sold By: J&C IMPORT & EXPORT, S.A. (AV TECH) . May have been sold by other retailers.