NOTE: This information is from a previously printed press release, newsletter, or other dated document. It is presented here for archival purposes only.
NORTHBROOK, Ill., October 8, 2008 -- Underwriters Laboratories (UL) is notifying consumers the AC adapter identified below bears a counterfeit UL Mark for the United States. The adapter has not been evaluated for safety by UL and is not eligible to bear the UL Mark.
Name of Product: AC Adapter, Model HF-01
Units: Unknown
Manufacturer: Unknown
Date of Manufacture: Unknown
Identification: On the product: The product has a label with several markings including a counterfeit UL Mark and the following information: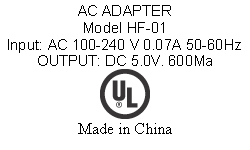 What You Should Do: UL recommends that users stop using the product immediately and return it to the place of purchase.
Where Sold: The adaptor is known to be sold on Ebay.