Moving swiftly with a unified purpose
Our commitment to our mission of working for a safer world remained steadfast.
We trusted science to guide our strategy and our investments. We introduced new innovations, invested in laboratories and facilities, and continued to attract top talent so we could be the best partner for customers seeking to deliver transformative products and services.
Our achievements and accolades this year are proof that hard work, done in service to a greater goal, will always matter.
A broader, deeper laboratory network
---
Strategic strengthening of worldwide capabilities
---
Building our core to embrace new opportunities
Manufacturers develop complex products and solutions that don't fit in a tidy box; they're complicated, interconnected systems of technologies and materials that require calculated, custom solutions to access new markets and mitigate risk. With our acquisition of Method Park, headquartered in Germany, we can connect dynamic manufacturers with core testing, inspection and certification (TIC) as well as process-based solutions, advisory services and software support for compliance and training.
Read more
Empowering renewable energy with strategic analysis solutions
The shift to renewable energy must be accelerated — and solar energy represents a vital part of the solution. As solar plants come online, operators need to analyze and respond to changing conditions to improve performance and gain actionable insights. The acquisition of Clear Sky Analytics enriches our portfolio and allows us to connect more operators with brilliant analysis.
Read more
New relationships offer new possibilities
---
Earning recognition for organizational expertise
---
A deeper look at our commitments
---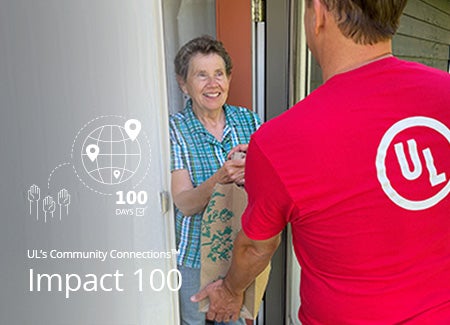 Making measurable impact on sustainability, globally and locally
Corporate Sustainability mobilizes UL's mission to work for a safer, more secure and sustainable world by fostering a culture of sustainability across our entire organization and throughout our communities.
Always focused on the power of science, in 2021, we joined the Science Based Targets initiative (SBTi), a collaboration between nongovernmental groups, research institutions, the United Nations Global Compact and more than 2,000 business members. Our partnership with the SBTi reaffirms our commitment to fight climate change and empower our customers with solutions to do the same, utilizing science-based, validated strategies.
We also view sustainability through a social lens and support employees' acts of service in their communities and beyond. This year, our network of Social Sustainability Champions launched Impact 100, a global campaign to reignite our UL spirit and reconnect us with colleagues as we returned to work. Impact 100 launched in November 2021 with 100 days of service. More than 600 employees recorded involvement with volunteer initiatives. To spur engagement, UL matched employee donations up to $100 to global nonprofits, including Doctors Without Borders, Safe Water Network, UNICEF, Watts of Love and Direct Relief.
Learn more about UL's Corporate Sustainability commitments and performance.
Enriching our potential through Diversity, Equity and Inclusion
At UL, we continue to work towards building an inclusive culture with equitable opportunities and balanced representation. In 2021, we added Equity into our Diversity and Inclusion practice to focus on providing access and opportunities to employees based on the support they need. We continued to invest time and resources across the Diversity, Equity and Inclusion (DEI) ecosystem, including our workforce, workplace, marketplace and education areas.
We also made notable progress toward our DEI commitments. Successes include increasing representation in the U.S. among our Black and Latino colleagues overall and in leadership, increasing representation among women in leadership, and receiving recognition for leaders, such as our CEO, Jennifer Scanlon, and Weifang Zhou, UL's executive vice president and president of Testing, Inspection and Certification.
In 2021, we added to our Business Resource Groups (BRG). These groups celebrate diversity, expand knowledge and elevate positive solutions and are open to all. More than 2,600 employees participate worldwide:
Black Business Resource Group
Latino Business Resource Group
Military Business Resource Group
PRIDE UL Business Resource Group
Tribal Voices Business Resource Group
UL Parents Business Resource Group
Women in Leadership Business Resource Group
Young Professionals Business Resource Group