Overview
Navigator highlights the main chemical regulatory requirements for more than 50 countries across the globe. These concise chemical regulatory summaries for each different country compile the most important information all in one place with plain language, easy to understand explanations of complex topics and links to laws and helpful resources. 
Each summary addresses:
Inventories and the requirements pertaining to them
Registration and notification requirements for chemical substances and products
Restrictions or prohibitions on use or import of certain substances 
Hazard communication, including GHS implementation, hazard classification, Safety Data Sheets, labels and more
Transport basics, including key regulations for transport via road 
Comprehensive and up-to-date content
Summaries are authored and updated by our global regulatory specialists whose primary responsibilities are to monitor and report the regulations in their given country. Navigator provides insights into current regulatory schemes and previews of major drafts and amendments to keep you up to date with the most important information. Content is updated as changes occur, with notes to communicate important changes.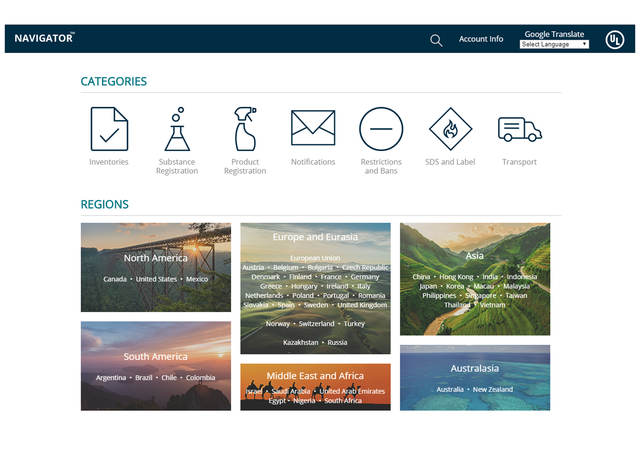 Navigator – Your Gateway To Regulatory Compliance
This comprehensive online tool includes the chemical regulatory requirements of today's largest and most important economies, and serves as an invaluable reference tool for anyone operating in the chemical regulatory environment. In addition to this, Navigator helps put the content of UL's other regulatory solutions – including our highly sophisticated LOLI Database – into context.
Learn more